Automakers Eye The Finish Line in Sprint To Rollout Driverless Vehicles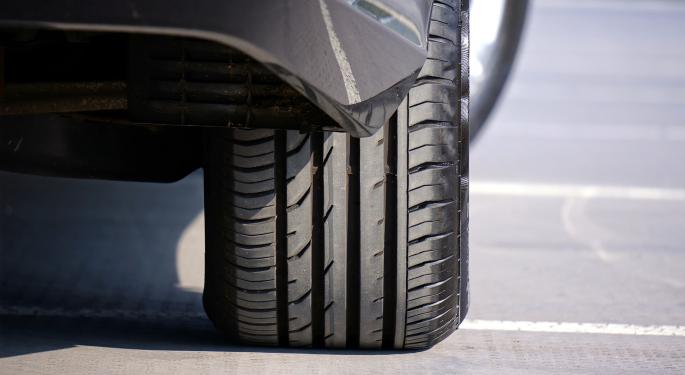 Traditional automakers are in a transition phase, where selling merely to retail customers and fleets will not place them in good stead. Disruptive technologies such as self-driving cars, ride sharing and ride hailing services are beginning to take hold, forcing the traditional players seek their share of pie in the emerging opportunities.
Foray Of Tech Companies
Technology companies such as Apple Inc. (NASDAQ: AAPL), Google's parent Alphabet Inc (NASDAQ: GOOG) (NASDAQ: GOOGL), Tesla Motors Inc (NASDAQ: TSLA) and Mobileye NV (NYSE: MBLY) are all currently working on autonomous vehicle technology, with Apple and Google initially suggesting that they would make cars, a radical move away from their core businesses.
With Google currently tying up with Fiat Chrysler Automobiles NV (NYSE: FCAU) to bring out driverless vehicles and Apple's self-driving car ambitions shrouded in secrecy, analysts now believe these technology companies will gradually limit their role to providing the technology, leaving the task of building the hardware to others.
Regulatory Hurdle
The journey of driverless cars isn't going to be a smooth one, with regulatory hurdles being the foremost worry. In September 2016, former President Barack Obama had unveiled his administration's new self-driving car policy. These were recommendations; firm rules have yet to framed.
For those cars that look like traditional vehicles, obstacles could be relatively fewer. However, a car with a radically different design from traditional or one that is devoid of a steering wheel and/or foot pedals could face intense regulatory scrutiny. The U.S. Department of Transportation and the National Highway Traffic Safety Administration have yet to develop operational guidelines for how driverless vehicle technology should be tested and regulated. Few states have allowed testing of self-driving car.
Companies At The Mark
Against this backdrop, Benzinga looked at some of the companies in the race for launching the first self-driving car.
Elon Musk, the CEO of Tesla, which already has an Autopilot feature in its vehicles built since 2014, suggested that the company's fully autonomous vehicles will be on road by 2018. However, he did say regulators may not allow fully autonomous vehicle on road beyond testing purposes for another one to three years after the company is ready with the product. Given that Tesla is notorious for missing deadlines, the answer to the question of whether it can keep up with the date is uncertain.
General Motors Company (NYSE: GM), which forayed into self-driving car technology through its acquisition of Cruise Automation, said in December 2016 that it would begin testing self-driving cars on public roads in Michigan after the state legalized the operation of these cars. The company's Orion Township assembly plant, which produces the all-electric Chevrolet Bolt, was earmarked to produce the autonomous car beginning early 2017. The company was already testing these vehicles on road in San Francisco and Scottsdale, Arizona. General Motors is also working on Super Cruise, a feature similar to Tesla's Autopilot. A 2020/2021 launch could be a safer bet for the company.
Cross town rival Ford Motor Company (NYSE: F) had suggested in late 2016 that it intends to sell autonomous cars to the public by 2025. The company had begun work on the technology way back in 2005. Meanwhile, the company has a 2021 deadline for developing a fully autonomous car that can be used by ride sharing or ride hailing services.
Bayerische Motoren Werke AG (FRA:BMW) said last year it would bring autonomous vehicles into series production by 2021, with the German automaker partnering with Intel Corporation (NASDAQ: INTC) and Mobileye on it.
Following the spin-off of its autonomous vehicle project into a new holding company called Waymo, Google has been partnering with Fiat Chrysler in installing self-driving technology into 100 Pacifica hybrid minivans. The search giant reportedly plans to start a ride sharing service with Fiat Chrysler, deploying a semiautonomous version of the Chrysler Pacifica minivan. Google's car could be made available to the public by 2020.
Toyota Motor Corp (ADR) (NYSE: TM), which lags behind most in autonomous vehicle technology, recently unveiled a concept car named Concept-I, which boasts of Level 2 autonomy, which refers to the self-driving capabilities being operational only when needed. To grow from here to Level 5 autonomy, which would mean the vehicles can drive themselves in any situation, it might take a long time.
Volvo AB (ADR) (OTC: VOLVY) has promised to roll autonomous features in stages so that it can look ahead to making a safer fully autonomous car by 2020.
Daimler AG (OTC: DDAIF) has partnered with Uber to produce self-driving Mercedes-Benz cars, with the car being tested using Uber's network. Uber also has a partnership with Volvo. Daimler also hinted a 2020 timeframe to be out with its driverless truck.
Nissan Motor Co Ltd (ADR) (OTC: NSANY) has fixed a 2020 deadline for going fully autonomous, having tested its ProPILOT feature in Japan last August.
Chinese search engine Baidu Inc (ADR) (NASDAQ: BIDU), which is also testing its self-driving technology in the United States and China, is rumored to make it available by 2020.
A Wired article quoted Raj Rajkumar, who runs autonomous driving research at Carnegie Mellon University, as saying, "Mastery of self-driving under real-world conditions is not going to be easy." Going by indications from each of these companies working on the breakthrough technology, a 2020 deadline could be considered realistic, although a lot will hinge on the regulatory landscape.
View Comments and Join the Discussion!
Posted-In: Barack Obama Chevrolet BoltEducation Travel Top Stories Tech Trading Ideas General Best of Benzinga