How Droughts Affect The Stock Market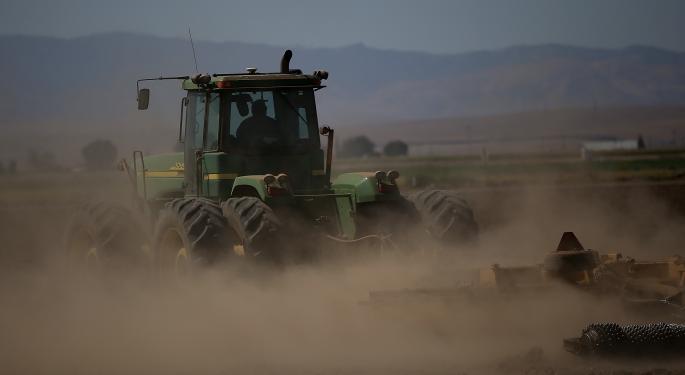 According to the most recent U.S. Drought Monitor report, drought conditions in the United States have moderated a bit recently due to some above-average summer rainfall accumulations. Yet, more than 46 percent of the contiguous U.S. is experiencing some drought conditions. The west and southwest have been hardest hit, with some troubled areas in the southeast as well.
There is little doubt that severe and ongoing droughts in places ranging from Brazil to California are having a significant economic impact. That impact is felt first in commodities, which should be a concern for commodities investors.
Drought Impact On Commodities And Stocks
Take coffee, for instance. The recent drought in Brazil, the world's biggest producer of coffee, has already sent coffee prices sharply higher. According to NPR, the nation could lose 10 percent of its coffee crop by 2020.
That's not only bad for the coffee growers, but for the likes of Starbucks Corporation (NASDAQ: SBUX) (and ultimately its customers and investors) as well. Starbucks shares are only up about one percent year-to-date.
Related Link: 2 Great Ways To Invest In Commodities
California, almost all of which is in what the USDA identifies as Exceptional or Extreme drought, is an agricultural powerhouse.
A lack of the likes of tomatoes, peppers and avocados affect food processors like ConAgra Foods Inc (NYSE: CAG) and General Mills, Inc. (NYSE: GIS), as well as restaurants such as Chipotle Mexican Grill, Inc. (NYSE: CMG). Prices get passed on to consumers, but that can lead to fewer sales and often fewer profits. All three have so far this year outperformed the S&P 500.
The prices of beef and dairy rise too, as feed gets more expensive and water scarce. According to the USDA: "In fact, fluid milk was seen as one barometer of the magnitude and duration of the impacts of the 2012 drought due to its perishability and strong dependence on commodities used as animal feed."
The effects of the drought then spread to agricultural equipment makers such as AGCO Corporation (NYSE: AGCO) and Deere & Company (NYSE: DE) (both down more than eight percent year-to-date) and then to other industries and sectors.
What Are Investors To Do?
Evan Smith of U.S. Global's Global Resources Fund recommends looking beyond the current crop for profits. When grain prices are high and inventory low, he says, farmers will grow more aggressive in planting for next year's to profit. Monsanto Company (NYSE: MON), which produces drought resistant seeds, has benefited and will do so again; shares are up almost 28 percent in the past two years. Fertilizer producers like Potash Corp. of Saskatchewan (NYSE: POT) are likely to see continued strong demand as well. Shares are up about 14 percent in the past year.
See also: Scott Nations Is Bearish On Corn
Commodities investors have the choice of moving to commodities less affected by drought or into emerging or other markets not currently affected by water shortages. And there is diversification.
Morningstar's Abraham Bailin follows commodity exchange-traded funds (ETFs), and he likes PowerShares DB Commodity Index Tracking Fund ETF (NYSE: DBC) for its diversification across commodities. The United States Commodity Index Fund (NYSE: USCI) offers relative stability as well as diversification. Note though that both retreated as summer wound down.
Investors looking for other ways to benefit from the drought may want to focus on water. The first place to look is at water utility companies like American Water Works (NYSE: AWK) and Aqua America (NYSE: WTR). Shares of each are up more than 80 percent in the past five years. Pall Corp. (NYSE: PLL) makes water filtration systems and is up more than 150 percent in five years. Lindsay (NYSE: LNN) makes irrigation systems and is up about 80 percent in five years.
For ETF investors, there is the Guggenheim S&P Global Water ETF (NYSE: CGW), First Trust ISE Water ETF (NYSE: FIW), PowerShares Water Resources ETF (NYSE: PHO) and PowerShares Global Water ETF (NYSE: PIO). All are up at least 40 percent in the past five years, despite recent pullbacks. The Pax World Global Environmental Markets Fund is about 40 percent invested in water, but The Calvert Global Water Fund invests exclusively in water.
At the time of this writing, the author had no position in the mentioned equities.
Keep up with all the latest breaking news and trading ideas by following Benzinga on Twitter.
Posted-In: AGCO American water works aqua america Chipotle Mexican Grill ConAgra DeereEducation General Best of Benzinga
View Comments and Join the Discussion!