6 Worst Biotech Stocks Of 2016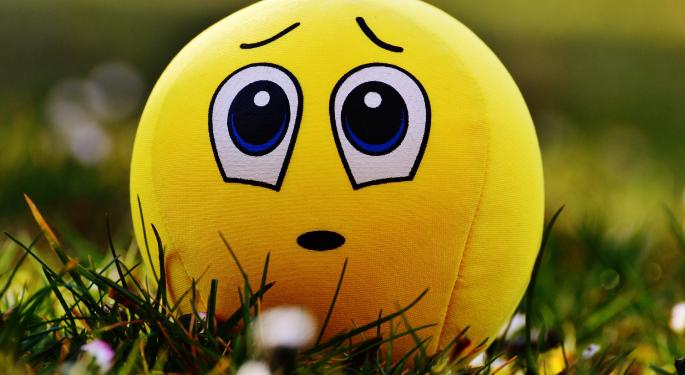 The biotech space is inherently fraught with risks, risks of failures in clinical trials, regulatory logjams, political policies hurting profits, just to name a few. Investment philosophy says high risks often correlate with high returns. However, the markets failed to reward these risky propositions this year, with bio stocks sold off left right and center, more due to fears of a policy backlash concerning drug pricing.
As opposed to strong gains by the broader gauges, the NYSE ARCA BIOTECH INDEX has lost 16.26 percent in the year-to-date period Biotech ETFs didn't fare any better. The iShares NASDAQ Biotechnology Index (ETF) (NASDAQ: IBB) is down 19.9 percent in the year-to-date period and the SPDR S&P Biotech (ETF) (NYSE: XBI) has fallen 13.6 percent.
Big name pharma companies also had mostly a down year, although Merck & Co., Inc. (NYSE: MRK) outperformed with a 15 percent gain for the year. Pfizer Inc. (NYSE: PFE) eked out a gain of about 2 percent for the year. However, AstraZeneca plc (ADR) (NYSE: AZN), Novartis AG (ADR) (NYSE: NVS), GlaxoSmithKline plc (ADR) (NYSE: GSK), Eli Lilly and Co (NYSE: LLY) and Bristol-Myers Squibb Co (NYSE: BMY) are all notably lower for the year.
Benzinga picked out six biotech stocks that came crashing down this year, leaving those invested in them in a lurch.
1. Ophthotech's Fovista Tears
Shares of Ophthotech Corp (NASDAQ: OPHT), which had been having a fairly decent run for much of this year, were undone in December, when the company said two of its late-stage trials evaluating its Fovista and Genentech, Inc.'s Lucentis for treating wet age-related macular degeneration failed to meet the primary endpoint.
Ending at $4.89 on Tuesday, the stock has been down 93.8 percent in the year-to-date period.
2. Tokai Pharma Slumps On Terminating Study
Tokai Pharmaceuticals Inc (NASDAQ: TKAI), which began declining in late 2015, was seen moving sideways for much of this year until late July. The stock nose-dived when the company decided to pull the plug on the late stage trials of its prostate cancer drug Galeterone after an independent committee concluded that it is unlikely to succeed in meeting the goal of improving progression-free survival. The stock has been flat lining around the lower level since then.
Tokai Pharma has been down 88.4 percent in the year-to-date period.
3. ImmunoGen Trial Modification Sends Investors Fleeing
After a steady decline in early 2016, ImmunoGen, Inc. (NASDAQ: IMGN) stock was just finding its feet before another sell-off in late-April took it lower. The decline steepened in June and was gradual thereafter.
The company amended the FORWARD trial for mirvetuximab soravtansine as a treatment for folate receptor alpha-positive ovarian cancer to a single Phase III trial from the originally proposed two Phase 2 trials, which increased the risk of data being less credible. Further, in June, investors did not take kindly to the company's offering of $100 million worth of convertible notes due in July 2021.
ImmunoGen has been down 87.7 percent in the year-to-date period.
4. CytRx Sarcoma Data Turns Sour
CytRx Corporation (NASDAQ: CYTR) could not recover from a mid-year slump after its drug aldoxorubicin meant to treat soft tissue sarcoma patients did not produce statistically significant difference in efficacy than other existing drugs. Though the company said at that time that it would conduct a second analysis, it did not pacify investors.
CytRx has lost about 85.3 percent in the year-to-date period.
5. Novavax Shakes Investors' RESOLVE
Novavax, Inc. (NASDAQ: NVAX)'s heydays were over in mid-September when it had a precipitous fall. The reason: a late-stage study dubbed RESOLVE did not show vaccine efficiency in keeping respiratory tract disease at bay.
In the year-to-date period, the stock is down roughly 83 percent.
6. Infinity Pharma's Infinite Woes
Infinity Pharmaceuticals Inc. (NASDAQ: INFI)'s moment of reckoning came in early June. Though the company's lead drug candidate Duvelisib for treating indolent non-Hodgkin's lymphoma met the primary end points in a mid-stage study, it said the results fell short of expectations. Subsequently, the company had to sever a collaboration with AbbVie Inc (NYSE: ABBV) and trim its workforce.
Infinity Pharma has been down 82.4 percent in the year-to-date period.
View Comments and Join the Discussion!
Posted-In: GenetechBiotech News Health Care Movers Trading Ideas General Best of Benzinga