Market Experts React To G20 Summit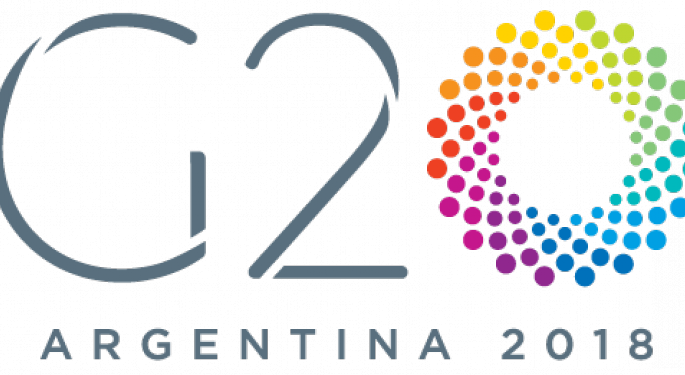 U.S. stocks got a big lift Monday after the G20 meeting over the weekend cleared up some major uncertainties for investors.
The G20 produced some major developments on the trade war front, with the U.S. and China agreeing to a 90-day truce while a deal is negotiated. In addition, Russia and Saudi Arabia announced they will continue to reign in oil production to help support global prices.
Several analysts and experts have weighed in on the G20 summit and its impact for investors. Here's a sampling of what they had to say.
Step In The Right Direction
U.S. Treasury Secretary Steven Mnuchin is hopeful President Donald Trump's G20 meeting with China president Xi Jinping will ultimately result in a concrete trade deal.
"This is the first time that we have a commitment from them that this will be a real agreement," Mnuchin said Monday. He said China discussed up to $1.2 trillion in commitments that could potentially help reduce the U.S. trade deficit.
Tigress Financial analyst Ivan Feinseth said Xi is starting to feel the trade war heat and may be more motivated to negotiate than he was in the past.
"Xi would be a lot more amenable to re-engaging in negotiations as China's economy continues to weaken as indicated by the fact that China's PMI for November dropped to its lowest level in 28 months, and the sustained decline in China's stock market that it have been experiencing since late January when Pres. Trump hit China with his initial tariff proposal," Feinseth wrote.
He said a pause in additional U.S. tariffs and an additional round of negotiations between the U.S. and China is exactly what he was hoping for from the G20 meeting.
No Firm Commitments
Goldman Sachs analyst Alec Phillips said the U.S. and China made little concrete progress at G20, which was what he anticipated heading into the meeting.
"With additional time to pursue negotiations, we think the chance of a comprehensive deal that involves rollback of tariffs is slightly higher than before, but still not our base case—perhaps a 20% probability over the next three months," Phillips said.
He also said China's post-meeting statement said the two sides would continue to work toward eliminating all tariffs, the U.S. statement didn't contain similar language.
Height Capital Markets analyst Clayton Allen said positive language from Trump without any firm commitments from China is nearly identical to the results from Trump's July meeting with European Commission President Jean-Claude Juncker. Trump and the EU announced a pause on tariffs and Trump touted additional deals for the EU to purchase American agricultural products, but Trump has recently begun threatening the EU with auto tariffs once again.
"We anticipate a similar outcome in the US-China case; without any firm commitments from the Chinese on larger intellectual property or other issues, Trump will likely return to threatening tariffs when he fails to get what he wants in the next three months," Allen wrote.
Former U.S. State Department official Mintaro Oba said the fact that Trump's statements about the meeting don't match the official White House version of what happened at the G20 means Trump's claims should be taken with a grain of salt.
"It doesn't matter to him what the details are, as long as he looks strong to his supporters," Oba said of Trump. "When it comes to anything associated with him, especially deals, things can't just be good, they have to be best."
Stock Market Implications
Rosenblatt Securities analyst Jun Zhang said the easing of trade war tensions between the U.S. and China could be good news for U.S. internet and software giants such as Facebook, Inc. (NASDAQ: FB), Alphabet, Inc. (NASDAQ: GOOG) (NASDAQ: GOOGL) and Microsoft Corp (NASDAQ: MSFT). She also said China's willingness to approve a merger between QUALCOMM, Inc. (NASDAQ: QCOM) and NXP Semiconductors NV (NASDAQ: NXPI) is good news, but not necessarily for NXP.
"Although we do not see Qualcomm approaching NXP again in the short-term, we believe the statement is a positive for M&A activity, especially in the tech space," Zhang wrote.
TD Ameritrade chief market strategist JJ Kinahan said Monday's market rally may be short-lived if there's no timely follow-up on details of a potential deal between the U.S. and China. Kinahan said the fact that U.S. earnings season has been so strong isn't necessarily an indication that the trade war isn't taking a toll.
"People say they haven't affected earnings yet, but what people forget is all the stuff being sold was planned in inventory before these tariffs were in place," Kinahan said.
Initial Market Reaction
Despite mixed opinions on the outcome of the G20, investors seem to be buying first and asking questions later. The SDPR S&P 500 ETF Trust (NYSE: SPY) traded higher by 1 percent on Monday, and the iShares FTSE/Xinhua China 25 Index (NYSE: FXI) traded higher by 1.5 percent.
The Dow was up about 250 points at time of publications.
Related Links:
China OKs Qualcomm-NXP Merger, But Companies Have Moved On
G20 Developments Send Oil Prices Soaring
The official logo of the 2018 G20 Buenos Aires summit; Government of Argentina.
View Comments and Join the Discussion!
Posted-In: Analyst Color News Futures Commodities Politics Events Top Stories Economics Best of Benzinga