Breaking Down The Footwear Sector: Adidas Pipeline Still Strong, Under Armour Under Pressure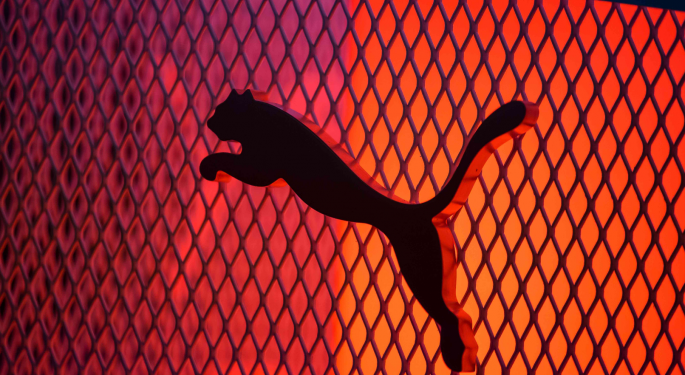 With major footwear brands' second-quarter earnings reports in the books, Benzinga caught up with NPD Group's footwear analyst Matt Powell to gauge sentiment.
The second-quarter sales trend in athletic footwear was better than the first quarter, primarily due to calendar shifts, not actual improvement.
Adidas
Adidas AG (ADR) (OTC: ADDYY) continues to capitalize on one the hottest trends in footwear — casual athletic — which grew nearly 50 percent in Q2.
Casual athletic can be defined as athletically inspired casual footwear; not shoes that are meant for performance, but shoes that are mid-market, moderately priced. In some ways, they're interpretations of classics for the mid-market.
"We are beginning to see moderation in the growth of classic footwear," Powell said. "The biggest drivers were Superstar and Stan Smith and have slowed up, but they have diversified into the modern runner look and casual athletic, which are both making up for those declines in classics. Adidas has made a nice adjustment to the changes in the market."
Puma
Alongside Adidas, Puma SE NPV (OTC: PMMAF) was among the top gainers in the second quarter. In a period where casual, not performance, is the style preference, this quintessential casual brand is performing well.
The German company, with its robust classics selection, also saw an increase in the mid-single digits and remains one of the hottest brands at the moment. Puma also is resonating with the female consumer, the one demographic that actually grew sales over the quarter.
"We are seeing a little moderation in their rate of growth as well but still growing nicely, my expectation is that will continue," Powell said. "We are in a non-performance market; when performance was in fashion, Puma really struggled. Now that we are in a market where casual is in fashion, Puma is winning.
"Performance running ran out of gas in 2013, performance basketball ran out in 2015, if my gut is right, we will see performance running coming back next year."
Nike
Two of Nike Inc (NYSE: NKE)'s greatest strengths have been performance basketball and performance running, which had run out of gas over the past four years. Current trends aren't favorable for Nike's lineup, and the brand knows adjustments need to be made.
"Nike still struggling in performance and they have the most to give up," Powell said. "The brand epitomizes the performance basketball business, and that businesses remained quite challenged. And performance running business remains quiet... those are the two for Nike. Their classics business is good, and that is offsetting some of the performance."
Another fear is that the Jordan brand appears to be losing its luster. Once seen as highly exclusive and coveted, Nike has expanded Jordan's availability of many of its previously most sought-after models. As a result, "we are not seeing retro sell out on the day of release like we used to see," Powell added.
Despite Nike's weakness, its styles continue to dominate the top selling list in Q2, with Air Huarache, Tanjun, Jordan XI Low and Converse All Star OX Low coming in as the four best-selling shoes in the quarter.
Under Armour
The big news from Under Armour Inc (NYSE: UAA) has politics. After receiving significant pressure, CEO Kevin Plank stepped down from President Donald Trump's Manufacturing Council, trying to distance himself from the president's previous comments.
Under Armour notably entered the basketball footwear market in recent years to capitalize on their most marketable asset Steph Curry. Unfortunately, basketball shoe sales have suffered a precipitous decline in the past few years, and Powell doesn't believe any one player can bring it back.
"Not much working for them at all in footwear. They are up against very difficult comparisons in basketball, and their running [segment] appears too soft because the emphasis is on performance and that is not where it needs to be," said Powell.
It may be wise for brands that have invested heavily in basketball endorsers to utilize them to promote or establish products that are selling well, like sportswear, a segment Under Armour has been determined to penetrate. Adidas recently announced a sportswear line, being promoted by James Harden.
Appealing to the female consumer has also been a struggle for Under Armour and will be a crucial hurdle for the brand moving forward. Powell believes Under Armour can be successful with women, but it depends on the product.
Lululemon
"The biggest problem is Lululemon Athletica inc. (NASDAQ: LULU) is [a] performance driven brand," Powell said. "I think there is some growth, but they will never reach the height of doing $1400 a foot like they used to."
Foot Locker
While Amazon.com, Inc. (NASDAQ: AMZN) has cannibalized so many retail stores, the announcement of Nike extending its partnership with Amazon had a devastating effect on Foot Locker, Inc. (NYSE: FL) shares, but then again, it might be overplayed.
"The stock market is completely overlooking that Nike was already the largest footwear brand at Amazon. Investors are acting like Nike had no Amazon business, instead of already have a substantial business," said Powell. "Nike's assortment on Amazon will emulate Nike's assortment at Zappos which is not premium product but moderate. I do not expect Amazon to have a material impact on the Foot Locker business."
Foot Locker is set to report its second-quarter earnings Friday.
Related Links:
Analysis Shows Foot Locker Can Stand Its Ground Against Amazon
Barclays Says If Foot Locker Never Grows Again, It's Still Worth More Than What It's Trading At Now
______
Image Credit: Used With Permission.
View Comments and Join the Discussion!
Posted-In: Analyst Color Earnings Long Ideas News Previews Retail Sales Sports Top Stories Best of Benzinga