Adidas Continues To Outpace The Competition; Brand Grew 33% In North America In Q2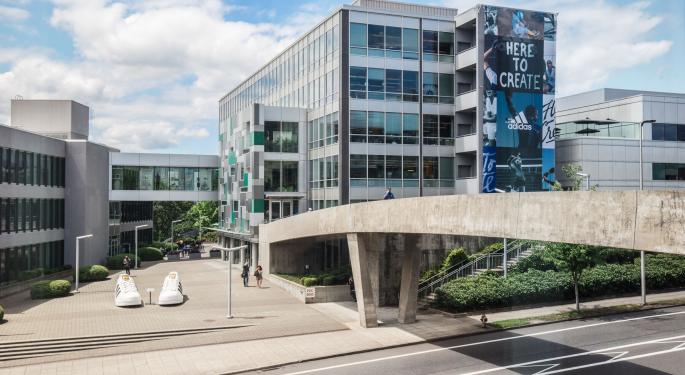 When adidas AG (ADR) (OTC: ADDYY) named Mark King president of North America in 2014, the company needed to win the region if it wanted to win in the world of sports apparel.
At the time, it was generally understood the company didn't place much focus on and didn't fully understand the North American consumer. King was in charge of shifting this sentiment.
Sentiment Shifted?
After releasing positive second-quarter results on Thursday, it appears Adidas has executed exceptionally well on its goals in just a few short years. The adidas brand was up 33 percent in North America in the second quarter, an significant increase coming at a time when the overall industry is struggling.
While Under Armour Inc (NYSE: UAA) and Nike Inc (NYSE: NKE) have both announced restructuring plans and employee workforce cuts, adidas has actually more than doubled in workforce at its North American headquarters in Portland, Oregon, from 800 to 1,700 workers.
To accommodate the brands growth, the company announced it's expanding its Portland headquarters, to create a new world-class collaboration center to capitalize on the brands revitalization in North America.
Adidas Is The Hottest Brand Around
"Adidas remains the hottest brand in the U.S. active market," NPD Group's Matt Powell told Benzinga. "They are still growing at a very quick pace, most of the other brands in the category are not growing at this point, so it is logical they are adding to the workforce, but Nike and UA are struggling in sales and both are reduce staffing."
The question that remains regarding adidas' North American surge is whether or not it's just capitalizing on current fashion trends or has undergone a systematic shift in its business strategy to the market.
"Trends never last forever," Powell said. "It's always about the brands ability to rise the fashion wave. I think adidas is pretty plugged in to the U.S. market and responds to it appropriately, but it's always a risk to every brand you never know what fashion trends"
Taking Over The Competition
In a zero sum game, Adidas is directly taking market share from its competitors. Under Armour delivered disappointing second-quarter earnings this week that announced a restructuring and a forecast cut.
"Under Armour is in a tough place. The marketplace is about sportswear; Under Armor really makes sports wear, two words," Powell said. "They make product for active use. Right now the cycle were in, it is not about performance wear, it's about fashion. It's a tricky pivot for them."
"The one opportunity for Under Armour is that the new COO Patrik Frisk, really understands the sportswear business," he said.
Clearer Focus
Now that adidas has finally sold off both its golf and hockey equipment segments, TaylorMade and CCM Hockey, the company's focus has gotten clearer, dialing in on the apparel and footwear market. This bodes well for adidas-owned Reebok, which could be the next brand to stage a comeback.
"I think they are making a lot of moves that can set Reebok up for recovery now that there are not as many distractions," Powell said. "We are still in a decent retro cycle. It's maturing but not over, and Reebok has a tremendous vault of retro product. I am hearing a lot of buzz surrounding retro products they're bringing back."
Related Links:
Adidas Signs $700 Million Extension With MLS, Its Largest Investment In US Soccer
Posted-In: AdidasEarnings News Retail Sales Sports Exclusives Interview General Best of Benzinga
View Comments and Join the Discussion!