22 Fintech Apps Coming To Apple Watch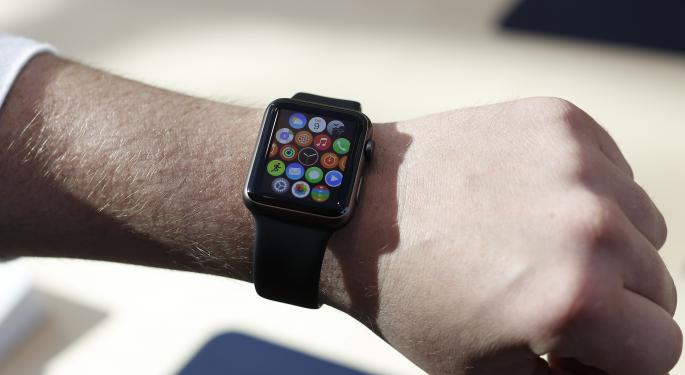 There are at least 22 fintech apps coming to Apple Inc. (NASDAQ: AAPL)'s smartwatch. Read on to see which apps have been confirmed.
1. Scutify
Scutify (a financial social network) was the first fintech company to confirm to Benzinga that it was developing an app for Apple Watch.
"Anyone that's an investor [will] want to be able to check stock quotes and interface with their portfolio and see if the portfolio is up or down and what it's doing for the day," Cody Willard, chairman of Scutify, told Benzinga. When asked why Scutify was so eager to jump on the Apple Watch bandwagon, Willard recalled the words of a hockey legend that was famously quoted by Apple co-founder Steve Jobs.
"You want to be as, Wayne Gretzky famously said, skating to where the puck is going, not to where it is," said Willard. "We've got to move forward if we're moving to a wearables culture."
2. NewsHedge
NewsHedge, a Chicago-based fintech startup that develops software solutions for the global financial community, is working on an app for multiple smartwatches.
"We have been excited by the results so far," Kevin Evenhouse, founder and CEO of NewsHedge, told Benzinga. "The vibration features are great for keeping your focus where it needs to be. As we all know, bankers and traders love watches."
Evenhouse said that NewsHedge recently discovered that there is a "good possibility that the mono speaker in the Apple Watch should support our squawking (mp3) technologies."
"We're following the same methodology for developing our phone apps," he added. "You build it for Android first, then port it to Apple. It's an easier development path."
Related Link: Prism Is Raising More Money To Succeed Where Big Banks Have Failed
3. Prism
Prism, a startup devoted to simplifying the way consumers pay bills, has developed an Apple Watch companion app for use with its iPhone app.
"With the companion app, you will be able to see at a glance if you have any bills coming due, and if you do, you will be able to quickly pay them right from your watch," Steve Gordon, co-founder and CTO of Prism, told Benzinga. "We are particularly excited about Apple's execution with the Apple Watch and believe that there are a variety of lightweight scenarios, including paying your bills, that are a natural fit for the watch form factor. Quickly paying your bills is a feature that resonates with our current customers, so we believe they will love the option to use their watch."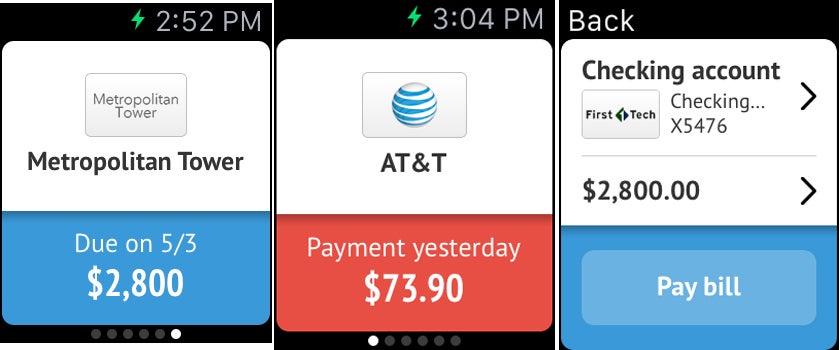 A look at Prism's companion app. Image Credit: Prism.
4. Unspent
Unspent, an app that allows users to track their spending and set up budgets for multiple spending types, is coming to Apple Watch.
5. Fidelity
Fidelity is building an app for Apple Watch that will give its customers a "distinctive overview of global markets and alerts on stocks and investments in real-time right on their wrist."
6. iBank
iBank sounds like it will provide some of the same features as Unspent -- plus a whole lot more.
7. MoneyWiz 2
MoneyWiz is bringing its latest app to Apple's highly anticipated smartwatch. The app will allow users to check account balances and create expenses/incomes on the go. Users will also be able to change the theme to match the look of their watch.
8. Citibank
Citigroup Inc (NYSE: C) has developed an Apple Watch app that will allow customers to check their account details and locate the nearest ATMs, among other features.
9. E*TRADE
E*TRADE Financial Corp (NASDAQ: ETFC) plans to have an app available in time for the Apple Watch's domestic debut on April 24. Finance Magnates detailed the app, which will allow users to "follow the markets and their own portfolios." Users will not be able to enter trades, however.
10. IG Group Holdings
In a separate story, Finance Magnates reported that IG Group Holdings Plc (OTC: IGGHY) was the first company to announce an actual trading application for the Apple Watch.
11. Chronicle
Some people need help remembering when it's time to pay their bills. Chronicle hopes to meet their needs.
12. Redfin
Scheduled to debut at launch, the Redfin home buying app will allow users to find nearby homes that are for sale, view photos and statistics (prices, square footage, etc.) and info with friends and family, among other features.
13. Trulia
According to Time, Trulia will also bring real estate listings to the Apple Watch.
14. BillGuard
Lots of apps allow users to track their spending -- this one also lets them know when a fraudulent charge has been made. According to Time, BillGuard (which is already on iOS and Android) will provide those features to Apple Watch users.
15. Discover
Time also reported that Discover Financial Services (NYSE: DFS) is making an app that will allow Discover cardholders to check available credit, bank balances and other tidbits.
16. BankMobile
According to Bank Innovation, BankMobile is among the startups that are interested in Apple's new smartwatch. The company, which claims to be the only banking service in America with "absolutely no fees," is reportedly working on an Apple Watch app.
17. DAB Bank
Bank Innovation also reported that German company DAB Bank is developing an Apple Watch app.
18. PortfolioWatch
PortfolioWatch is one of the few apps that actually requires users to pay a couple bucks. Buy the iPhone/iPad version today and get the Apple Watch version for free when it becomes available.
19. 24me
There has been a lot of talk about the Apple Watch's various health and fitness features, but few have talked about its ability to act as a personal assistant. 24me could change that. Best of all, users can add info from their favorite financial service providers.
20. Pennies
Another personal budgeting app, Pennies is available for the iPhone and is being developed for the Apple Watch.
21. Call Levels
Call Levels announced this week that it is bringing its real-time financial monitoring and notification service to Apple's smartwatch.
22. Mint
Mint was one of the first apps confirmed for the Apple Watch. The company describes it as a "companion to the Mint iPhone experience."
Disclosure: At the time of this writing, Louis Bedigian had no position in the equities mentioned in this report.
View Comments and Join the Discussion!
Posted-In: Cody Willard Kevin Evenhouse NewsHedge PRISM ScutifyTop Stories Exclusives Tech Best of Benzinga