IAnthus CEO Talks About Raising Capital For U.S. Cannabis Companies In Canadian Markets – And Marijuana Stocks To Watch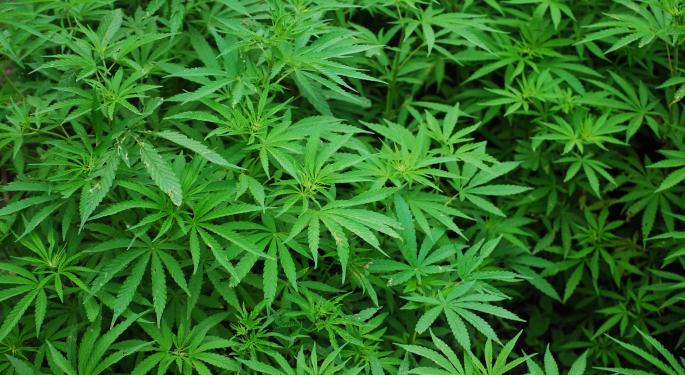 About three years ago, Randy Maslow approached his friend Hadley Ford with a business idea: He wanted to set up a fund to invest in cannabis.
"It's a $50 billion market going from black to white. It's sort of the entrepreneur's dream. It's a gold rush," he thought at the time.
However, getting people to put their hard-earned dollars in a fund that invests in marijuana was not as easy as these two experienced money managers believed.
There were two reasons for this. The first: There was no regular, institutional capital available for the industry; no Bank of America Corp (NYSE: BAC), no Goldman Sachs Group Inc (NYSE: GS), no Citigroup Inc (NYSE: C), no Morgan Stanley (NYSE: MS) — Ford, now CEO of iAnthus Capital Holdings Inc (CNSX: IAN) (OTC: ITHUF), told Benzinga.
"The second piece is: because there's no money, you don't have the usual camp followers, the accountants, the lawyers, the advisors, and the consultants that typically come into a market when there's money flowing into it," he continued.
"For the same reason that Bank of America wasn't giving a Prime +2 loan to your greenhouse, you weren't going to get CalPERS or Toronto Teachers [Pension Fund] to give you a $20 or $30 million check into a blank fund."
The Birth Of iAnthus
That's when Ford and Maslow came up with iAnthus Capital Holdings, a Canadian publicly-traded company — with access to a cannabis-friendly capital market, which only invests in U.S. marijuana companies through a U.S.-based firm, iAnthus Capital Management.
"Typically, what we do is find a project and then raise the money. So, it's a little bit like a capital call, but rather than going to a limited partner for the capital call, we go to the public markets and raise the money as we need it for the project at hand. That way we don't have what I would call 'dead money.' Like if we went out and raised $100 million and just put it in the bank, that doesn't do anyone any good. That dilutes our current shareholders and the investment isn't getting an adequate return for anybody," Ford explicated. "But, if we identify a very nice project, then we go out and raise capital for it, put the money to work right away [...] that benefits our current shareholders and benefits the new shareholders as well."
So far, iAnthus is invested in licensed operators, dispensaries and pre-licenses.
"Our typical model: We find someone who's got a license, who is growing, processing, or selling cannabis. They either have to be in what we call a restricted license market, where there are a handful of licenses so that we know there is effectively a state-granted oligopoly, or we'll invest in a more competitive market, into someone who's proven they can actually be a market share leader.
"We think that gives us enhanced returns and a lower risk profile than just going into the California's of the world and trying to compete against thousands of people," Ford concluded.
The 2-Step Approach
Benzinga: Given that you trade in Canadian exchanges, why do you not invest in Canada? Why do you recur to what Bloomberg has defined as a "two-step approach" to investing?
Ford: What we do is raise money publicly in Canada at one cost of capital and then put that to work as an investment in the United States at a higher return than our cost. In effect, we're a conduit to provide Canadian public investors access to the U.S. market.
On the flip side of that, we're a conduit for U.S. entrepreneurs to have access to Canadian capital.
If we were to invest in Canada, we're basically providing a conduit to give Canadian operators access to Canadian capital, which might beg the question, "Well, they already have access to it."
I can envision a time five years from now when the cost of capital is significantly less in the United States than it is in Canada. Perhaps at that point we'll raise money from U.S. investors and invest in Canadian operations. But right now there's such an advantage to be able to have access to Canadian markets and put it to work in the United States that that is where we spend 100 percent of our time.
Companies To Watch
BZ: Which companies are you watching?
Ford: We only do private investing, so we don't really follow the public markets from an investment perspective, but clearly, we're aware of companies like Canopy Growth Corp (TSE: WEED) (OTC: TWMJF).
Canopy, from a capital formation perspective, is really the model that we aspire to be. They were very early in recognizing that a differentiated competitive advantage would be access to capital and they did a really nice job separating themselves from the pack on investor relations, information, stock offerings, trading volume, and sort of that emphasis around capital liquidity and trading volume, and which exchange you're going to be on.
So, when the casual investor in Canada said, "Oh, I want to invest in cannabis," his broker would look up and go, "Oh, here's a company that has got much more volume than anyone else. We can get into and out of this without moving a stock a boatload. Why don't you invest in Canopy?"
That becomes self-reinforcing. It lowers their cost of capital because they trade at a premium, which means they can raise more capital, which means they can build out more quickly, which means people are more interested in them… and it is this nice positive spiral.
So, we were very interested in that model going back about two years. That was really the model we looked at.
Within the U.S., similarly, there is a company called Terra Tech Corp (OTC: TRTC), which has done a similar thing. They had done a really nice job from an IR perspective, really created a lot of volume around their stock and a lot of awareness on it, so that when people want to invest in someone who touches the plant in the United States that is probably the go to bell weather at this point.
So, I think from a public perspective we look at companies and model ourselves (from a capital access perspective) after them.
I think there are a lot of good public companies up in Canada, like Organigram Holdings Inc (CVE: OGI) (OTC: OGRMF). They've done a really [good] job up there, but they've also, strategically, from a global perspective, got this partnership with The Green Solution in Colorado for doing a lot of their recreational branded products up in Canada when it goes full recreational.
Some of these other companies, like Aphria Inc (TSE: APH) (OTC: APHQF), the deal they just did in Florida. Obviously, we're very big fans of the Florida market; it's going to be very powerful. In fact, we're in close discussions with a couple of operators down there.
More From Benzinga:
Cannabis Expert On Marijuana Legalization: Rhode Island, Texas Might Be Next, Vermont Will Have To Wait
2 New Ways To Invest In Marijuana Stocks: Cannabis ETFs
From NCAA Outlaw To Medical Marijuana Entrepreneur: Treyous Jarrells Talks Opioids, Weed And Changing The Stigma
View Comments and Join the Discussion!
Posted-In: Cannabis Long Ideas Emerging Markets Topics Top Stories Success Stories Exclusives Markets Best of Benzinga