How Social Media Stocks Fared During The Pandemic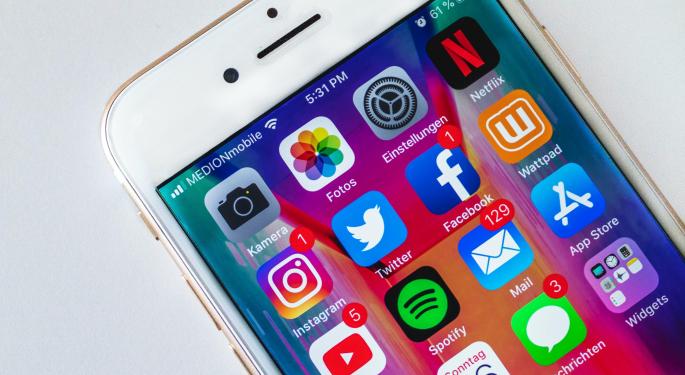 With half of the world's population in isolation for the better part of two months, businesses are slowly starting to come back online. But one industry that never stopped during this crisis was social media. Unlike the global economy, these companies were anything but on a virtual standstill, proving that short of a mass power outage, social media will always be on.
Facebook
Facebook Inc (NASDAQ: FB)'s announcement of its Shops platform came at a time when small businesses need a lifeline. By launching Shops, Facebook not only helped many small businesses in need, but this major new push into e-commerce is also helping economic recovery as we still don't know the end of the pandemic. Other e-commerce platforms have benefited from the crisis, as Etsy Inc's (NASDAQ: ETSY) sales have doubled from three years ago and Shopify (NYSE: SHOP) became Canada's most valuable company during the pandemic.
Facebook has taken a series of steps to ensure its user base remains intact. Although the company warned of "unprecedented uncertainty" for the future of its ad business, it witnessed a significant spike in the number of new users with nearly 3 billion people using at least one of Facebook's apps during the quarter. It comfortably surpassed estimates for its first-quarter revenues of $17.74 billion as they rose 17.6% on a year-over-year basis.
Twitter
For many, the pandemic only made the need for Twitter (NYSE: TWTR) even stronger, though the company now finds itself in the political crosshairs. On Thursday, it set the model for proper "content moderation" on its platform after President Trump called for violence against American citizens. Twitter has covered the tweet with a warning. Those who were determined to read it regardless could not "like" it or reply to it, thus slowing its expansion throughout the system and somewhat limiting its reach.
On April 30, Twitter surpassed estimates by 10% when it reported first-quarter 2020 non-GAAP earnings of $0.11 per share with revenues growing 2.6% year over year to reach $807.6 million, which also beat the Zacks Consensus Estimate by 4.5%. The company's expected earnings growth rate for next year is 43.9%.
Snap
Snap Inc (NYSE: SNAP) which also enjoyed a surge in users saw its shares jump 5% last Thursday. The company's famous app Snapchat gained 11 million daily active users during the first-quarter of 2020, which is a 20% rise from 2019 thus taking the total user count to 229 million. The time spent on voice and video calls grew more than 50% in late March as compared to the month-ago period. The majority of the application's users are Generation Z, which includes individuals between 13 and 24 years of age. First-quarter revenues surged 44% from the year-ago quarter to $462.5 million, beating the consensus mark by 9.1%.
Don't dismiss Pinterest Just Yet
Despite trading well below its 52-week highs, Pinterest's (NYSE: PINS) potential remains intact. Pinterest is a unique medium. Unlike Amazon, which gives its users what they want, Pinterest helps users discover new things in the range of their interests. This unique platform is about discovering and getting inspired so this remains a powerful appeal to advertisers.
Its ad load is still significantly below peers like Facebook, and the company is still in the early stages of finding ways on monetizing the relationship between pinners and advertisers. And it has a lot of room to do so.
Pinterest is growing aggressively into that opportunity with 51% revenue growth last year to $1.14 billion, while monthly active users (MAUs) grew 26% to 335 million. So despite the setback in advertising spend, the important growth objective to expand and engage users which can be later monetized on was achieved during the crisis. Pinterest is growing faster than both Facebook and Twitter.
Whether you love social media or hate it, no one can deny it has became an integral part of our lives. Between Facebook's 2.6 billion MAUs, to YouTube's 2 billion, Instagram's 1 billion and Twitter's 330 million, social media looks like it's getting bigger.
This article is not a press release and is contributed by Ivana Popovic who is a verified independent journalist for IAMNewswire. It should not be construed as investment advice at any time please read the full disclosure . Ivana Popovic does not hold any position in the mentioned companies. Press Releases – If you are looking for full Press release distribution contact: press@iamnewswire.com Contributors – IAM Newswire accepts pitches. If you're interested in becoming an IAM journalist contact: contributors@iamnewswire.com Questions about this release can be send to ivana@iamnewswire.com
The post Social Media Stock That Managed to Beat the Pandemic appeared first on IAM Newswire.
Photo by Sara Kurfeß on Unsplash
View Comments and Join the Discussion!