What's New This Week In The EV Sector: 4 Major Updates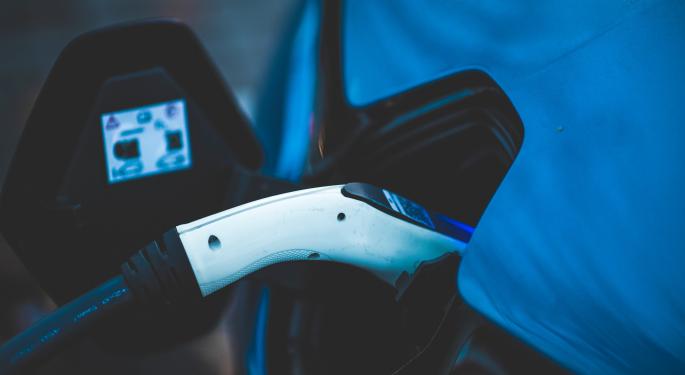 The EV world is filled with a lot of news and happenings, and that is without mentioning Tesla Inc (NASDAQ: TSLA). Elon Musk will not just sit down and let other producers take the wheel, but competitors are raising their bets as the EV race is about to intensify.
Worksport
Worksport Ltd (OTC: WKSP) has made another important step forward with its ground-breaking TerraVis system, a fusion of cutting-edge solar power, power storage, and delivery, for pickup trucks. The innovative tonneau cover manufacturer announced today that it has qualified for a Regulation A offering with the U.S. Securities & Exchange Commission, which enables the company to issue securities and raise investment as of today. Despite the global crisis, this has been a remarkable year for Worksport that sealed exclusive deals for its TerraVis to be integrated within the upcoming Hercules's Alpha and Atlis' XT electric pickups. The proceeds that come from Regulation A qualification will be used for further developments and product inventory as Worksport continues to grow exponentially.
Arrival Of Arrival
British startup Arrival, producer of electric vehicles, announced on November 18th its decision to go public. To do so, the company must merge with CIIG Merger Corp, a special purpose acquisition company set up by U.S. businessman Peter Cuneo, former CEO of Remington Products, a subsidiary of Spectrum Brands Holdings Inc (NYSE: SPB) and Marvel Comics, owned by Marvel Entertainment, a subsidiary of Walt Disney Co (NYSE: DIS), as well as president of Black & Decker of Stanley Black & Decker, Inc. (NYSE: SWK). Cuneo will join Arrival's team, as non-executive chairman, while Denis Sverdlov, the founder of Arrival, will remain as CEO. Cuneo's arrival to Arrival raises the seriousness to a higher level as the company reached an enterprise value of $5.4 billion. It is expected that the company will raise $660 million in gross cash proceeds. The deal should be completed in early 2021.
Rivian
Arrival will be a direct competitor to the upcoming Rivian, an electric van, SUV, and truck producer that has emerged as one of the more promising challengers to Tesla. As of Monday, the company opened its order pages to the public Monday and the first batch is already gone from preorders. This startup has support from Amazon.com, Inc. (NASDAQ: AMZN), which led the financing party by leading a $700 million investment round in 2019, followed by Ford Motor Company (NYSE: F) with $500 million. Altogether, Rivian managed to raise $6 billion without selling a single SUV or truck. Amazon's main interest in Rivian is the production of a purpose-built electric van that will be used for delivery.
On its website, Rivian currently offers R1T (truck) and R1S (SUV) electric vehicles, with expected delivery dates in June for the truck and August for the SUV next year. Both models are currently in pilot production in the plant in Normal, Illinois, formerly owned by MITSUBISHI MOTORS CORPORATION (OTC: MMTOF). However, after Monday's developments, most buyers probably won't receive their R1S or R1T before the first quarter of 2022, as the Rivian founder and CEO RJ Scaringe revealed to Bloomberg the company will be supply-supply-contraints. The company also has new electric models in mind, tailored specially for European and Chinese markets.
"Old-school" Automakers Are Going All In
Last week, General Motors Company (NYSE: GM) announced its plan to increase its number of offered electric vehicles by 2025, to a total of 30 models. To do so, the company stated that it will increase the financial portion of the EV and autonomous vehicles development to $27 billion during this period. Comparing to the prior plans, this is an increase of 35%. The company's current task is to cut the cost of the manufacturing of battery packs by an incredible 60%. If GM succeeds in this, it will reach the cost parity with gasoline vehicles by 2025, meaning that some of those 30 models will be priced lower than $35,000. GM has confirmed that aims to position itself as the number 1 producer in the EV industry.
Let the race begin.
This article is not a press release and is contributed by a verified independent journalist for IAMNewswire. It should not be construed as investment advice at any time please read the full disclosure . IAM Newswire does not hold any position in the mentioned companies. Press Releases – If you are looking for full Press release distribution contact: press@iamnewswire.com Contributors – IAM Newswire accepts pitches. If you're interested in becoming an IAM journalist contact: contributors@iamnewswire.com
The post Weekly EV Updates appeared first on IAM Newswire.
Photo by Markus Spiske on Unsplash
*A previous version of this article stated Rivan had raised $1.7 billion in funding, it has been updated to reflect the correct figure of $6 billion.
View Comments and Join the Discussion!
Posted-In: Ford Motor Co. IAM Newswire TeslaNews Penny Stocks Economics Markets General