Mark Cuban Says 'Nothing Will Change' After Net Neutrality Repeal: 'It Would Be Business Suicide'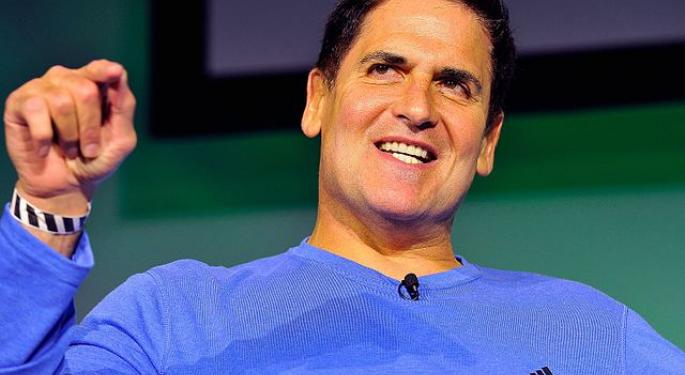 "It would be business suicide."
This is how Mark Cuban, former computer consultant, serial entrepreneur and nonconformist billionaire, describes the notion that in a world without net neutrality, titans of telecommunications will engage in "throttling."
"It hasn't happened more than twice before and was quickly rectified," Cuban recently told Benzinga. "It would be business suicide to throttle."
When it comes to internet bandwidth, throttling is the term used to describe the practice of limiting the speed at which a user can access something online.
Cuban: 'Nothing Will Change'
One fear some proponents of net neutrality — a set of rules enacted during President Barack Obama's administration aimed at promoting fairness and treating the Internet almost like a public library — have expressed is that without it, an internet service provider could use the power of throttling as a competitive weapon.
Imagine Comcast Corporation (NASDAQ: CMCSA) deciding that it'd prefer its customers watch TV shows and movies on its Xfinity Stream app as opposed to Netflix, Inc (NASDAQ: NFLX), and reserving its highest speeds for customers using Xfinity Stream, while slowing down the connections of Netflix users.
Eventually, the logic goes, frustrated customers in this imaginary scenario throw up their hands and drop Netflix in order to enjoy the sweet, streamy speeds they crave on Comcast's app.
Related: Detroit Apparel Startup Ash & Erie Lands $150,000 From Mark Cuban On 'Shark Tank'
But is this scenario likely in a sector where the balance of power seems so evenly dispersed? In our made-up example, what would stop Netflix from getting its partners at T-Mobile US, Inc (NASDAQ: TMUS) to apply a similarly sluggish experience for its users attempting to view the content of Comcast properties like NBC or Universal Studios?
In other words, would any telecom take the risk of sparking a throttling war with their broadband brethren?
"Nope. Not a single one," says Cuban. "There will be some claims because that is what politics says has to happen. But all the throttling will come from network management testing. Which is and was allowed under the rules just reversed. Nothing will change."
Back in July, when Verizon Communications Inc (NYSE: VZ) was accused of throttling data for Netflix and Alphabet Inc (NASDAQ: GOOGL)'s YouTube, the company told Benzinga it was a result of network testing to optimize the performance of video applications on the network and added: "The customer video experience was not affected."
Some ISPs made public statements swearing off the practice of throttling even before the repeal occurred.
For Or Against?
At the very least, Cuban deserves credit for being consistent on the issue. He's decried the defects of these rules for years, while corporations have been less constant. Comcast had issued statements in support for net neutrality from July of this year all the way up to the day of the FCC vote in December. Then, in an announcement following passage of tax reform, the company publicized a special holiday bonus for employees that also made sure to credit "the FCC's action on broadband."
So, are companies like Comcast and Netflix — which issued a statement criticizing the repeal — legitimately worried, or are their pro-neutrality sentiments just optics?
Cuban's take? "Optics."
What's At Stake?
In Cuban's view, the massively controversial nature of the net neutrality debate is not just about how quickly Americans can load the latest episode of their favorite TV show.
The stakes could literally be life or death, he has said. In a 2014 interview with the Washington Post, Cuban advocated for the allowance and necessity of "fast lanes" for applications and innovations that need to have priority in bandwidth allocation in order to ensure quality of service for the good of all.
Using the example of the future of medical apps, Cuban said: "There will be apps that doctors will carry on 5G networks that allow them to get live video from accident scenes and provide guidance."
Believers in net neutrality tend to point to two potential dangers: lack of competition and discouraging entrepreneurism.
Companies like AT&T Inc (NYSE: T) have, in the past, complained that content providers like Netflix or YouTube are mooching off the bandwidth they paid dearly for, and have floated the idea of charging both the user and the content provider for access. In this scenario, the customer would pay the ISP provider for access to its router, and the ISP would charge the content provider for the "last mile" to connect with the user's device.
This raises several issues. Clearly the content provider would be tempted to pass that cost on to viewers, but more broadly than that, what happens when the next mom-and-pop shop equivalent of Netflix can't afford to pay the toll? Will all content be controlled by conglomerates with deep pockets?
Cuban, a widely recognized supporter of entrepreneurism, has responded to this in the past by citing both a lack of real-world experience with this complaint among the numerous businesses and entrepreneurs he works with, and a strong support of municipal or government broadband.
Related: Mark Cuban: Amazon Is The Best Startup In The World
Net Neutrality's Relative Importance
Speaking of the real world, it may be fair to question whether net neutrality rules were anything more than a buzz word: a set of ineffective controls that did little to foster competition or boost entrepreneurism in the internet space.
Of all the barriers to entry providing a moat to the existing telcom empire, was the lack of net neutrality that important? The Department of Justice's attempt to block the AT&T merger with Time Warner Inc (NYSE: TWX), whatever its true motivation, may suggest that other regulatory avenues may be available to ensure competition is maintained.
And isn't it equally fair to question the wisdom of scrapping these consumer protections, modest though they may be, in the absence of any more meaningful regulatory effort to forestall the oppressive power of a potential internet access oligarchy?
Whatever the case, the issue is certainly bigger than how long it takes our next episode to buffer. Some food for thought for us all to binge on.
Image Credit: TechCrunch - 509306865DH00026_TechCrunch, CC BY 2.0, via Wikimedia Commons
Posted-In: Mark Cuban net neutralityMovers & Shakers Politics Top Stories Exclusives Tech General Best of Benzinga
View Comments and Join the Discussion!