Detroit Apparel Startup Ash & Erie Lands $150,000 From Mark Cuban On 'Shark Tank'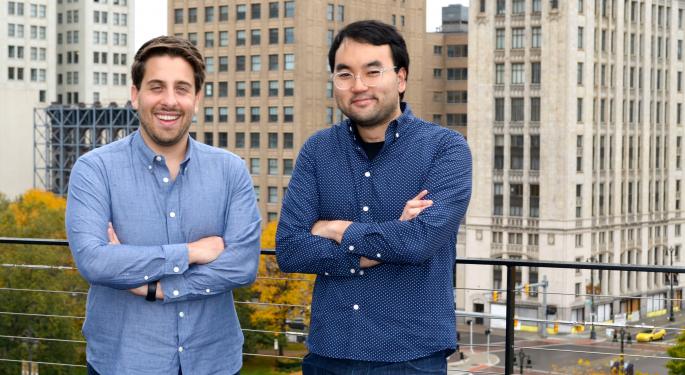 Mark Cuban made the ultimate short investment on "Shark Tank" Sunday.
Ash & Erie, a Detroit startup with a clothing line for men 5-foot-8 and under, is the recipient of a $150,000 investment from the billionaire Dallas Mavericks owner, who receives a 25-percent stake in the company in return.
Founders Eric Huang, 27, and Steven Mazur, 26, had to keep the biggest of secrets for nearly a year until the episode aired.
"It was tough. Man, it was tough," said Mazur, who was unable to share the news with even family and close friends.
Cuban's team had to keep quiet as well until Sunday's episode aired, Mazur said.
"We've all been waiting for it go public before getting the full benefit of him working with us."
Ash & Erie's apparel — which starts at $79 for a signature "Everyday" shirt or flannel, $85 for dress shirts and jeans for $149 — is designed with narrower collars, shorter sleeves and shorter body lengths. The company's denim products are U.S.-made.
'I Hate Shopping With You'
Huang and Mazur met when both were the recipients of a Venture For America fellowship, which places recent graduates at a startup job for two years in one of 18 cities. They were placed at Waymark, a Detroit startup profiled by Benzinga in June.
The pair wanted to go into business together. "We spent a lot of time trying to come up with ideas, and we had a ton of bad ideas," Mazur said.
A mentor advised the entrepreneurs to mine problems in their own lives for business ideas, and Ash & Erie's genesis comes from a problem Mazur, who stands 5-foot-6, knows intimately.
"'I hate shopping with you,'" he said, quoting his fiancé.
A survey of Huang and Mazur's family and friends revealed that many shorter men had difficulty finding clothes that fit well and often resorted to bringing them to a tailor for alterations — or worse.
The two fit more than 100 men with their samples and clothing that was already on the market. "You're short, we're short, here's what we're doing," Mazur said, describing his pitch to Ash & Erie's testers.
"Some guys even shop in the kids' section," Mazur said. "These are 30- or 40-year-old men shopping in the kids' section."
Billionaire investor Mark Cuban, left, and Ash & Erie cofounder Eric Huang in a "Shark Tank" episode that aired Sunday, Oct. 21. Photo courtesy of ABC.
Cuban Drops Out, Then Reconsiders
Ash & Erie was contacted by "Shark Tank" producers in early 2016.
"There were two shorter producers — wonderful guys. They liked what we were doing and encouraged us to apply," Mazur told Benzinga in his downtown Detroit office Monday.
After completing the audition process, Huang and Mazur were called last year on about a week's notice for a "Shark Tank" taping in Culver City, California. The two arrived with a pitch for a $100,000 investment and 12.5-percent stake in order to build inventory.
"We were interested in all the sharks for different reasons," Mazur said of the show's celebrity investors: Cuban, Barbara Corcoran, Lori Greiner, Robert Herjavec, Daymond John and Kevin O'Leary.
Cuban made his offer, but wanted Huang and Mazur to take the deal on the spot. "While we were discussing it, Kevin jumped in and made a better offer," Mazur said: $100,000 for a 15-percent stake.
The Ash & Erie founders asked if Cuban and O'Leary would work together, and Cuban dropped out.
"I immediately reacted and said, 'I want to work with you,' and [Cuban] decided to come back in," Mazur said.
The company's name in the "Shark Tank" episode was Ash & Anvil, with "ash" referring to Detroit's motto and "anvil" referring to the city's manufacturing history.
The name was tweaked Aug. 1 to Ash & Erie, as in Lake Erie, due to "a concern with a larger company," Mazur said.
The Detroit entrepreneurs knew "Shark Tank" would be a good fit for their product, Mazur said.
"Our goal is to build the first major brand for shorter guys, and meeting key partners like the sharks will really help us get there."
Ash & Erie plans to build a product line that covers a full wardrobe. And while Mazur told Benzinga he's open to experiments with physical retail, the company's focus is on e-commerce.
"It's the future of apparel," he said.
Related Links:
The American Dream In 1 Minute: 'Shark Tank' Casts A Net For Entrepreneurs In Detroit
Kevin O'Leary Talks Plated's $300 Million Acquisition And How He Wants To Beat Fintech At Its Own Game
Main image: Ash & Erie founders Steven Mazur, left, and Eric Huang, in downtown Detroit on Monday, Oct. 23. Photo by Dustin Blitchok.
View Comments and Join the Discussion!
Posted-In: Entrepreneurship Movers & Shakers Top Stories Startups Small Business Exclusives Interview General Best of Benzinga