Amid 'Greyball' Investigation, Uber's Reputation Continues To Take A Beating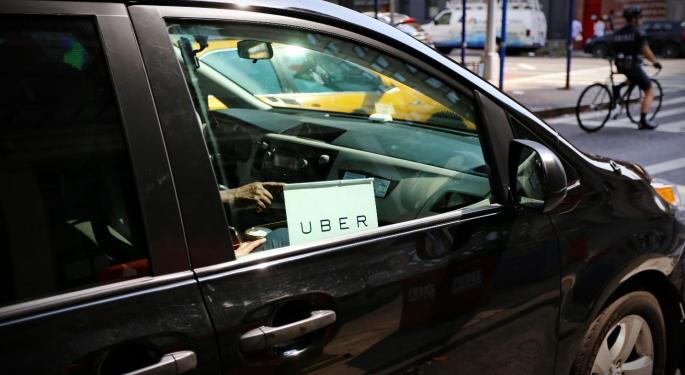 This spring has not been kind to Uber.
In early May of this year, Portland Commissioner Dan Saltzman (D-Ore.) asked the city to subpoena Uber in a probe of its software tool "Greyball," which has allegedly allowed Uber to escape city regulators nationwide.
Undercover city investigators were looking into Uber after it illegally began operating in Portland in December 2014. However, its Greyball software identified the undercover agents as city employees, and the company refused to give them rides, according to the Portland Bureau of Transportation. (The company recently promised not to continue using its software to evade regulators.)
Just a month earlier, Massachusetts released the first state-run background check of Uber drivers, and what it found wasn't pretty. Among other things, the state records review turned up 51 registered sex offenders and hundreds of other Uber drivers who were banned for sex-related crimes and a record of violence.
Massachusetts wound up rejecting 8,200 of the 71,000 ridesharing drivers who passed Uber's background check.
Uber calls itself a technology company, but critics and government agencies say Uber is essentially a taxi service — and that it should follow the same safety regulations as cabs. Unlike most state-run cab companies, for example, Uber has set up shop in cities without permission and does not require that its drivers be fingerprinted.
The ride-hail company rejects charges that its background checks on drivers are inadequate, contending that many were unfairly rejected for petty offenses. Uber has long fought government attempts to fingerprint its drivers. (For a glimpse at Uber and ride-sharing regulations state by state, visit this guide to auto insurance and safety.)
Just a year earlier, Uber had paid millions to settle a 2014 lawsuit claiming the company had misled customers about its background checks for drivers. San Francisco and Los Angeles district attorneys had sued Uber for suggesting its background checks of drivers were the best in the industry and superior to that of taxis, according to the lawsuit. Uber agreed to pay up to $25 million to stop calling its criminal checks "industry leading."
SF District Attorney George Gascon told reporters that the settlement "sends a clear message to all businesses, and startups in particular…that laws designed to protect consumers cannot be ignored."
Image Taking a Beating
Once the darling of the gig economy, Uber's public image has taken a beating over the last few years. Recently, some customers were angered that Uber lowered its pricing during a January strike called by the New York Taxi Workers Alliance during a protest against Trump's so-called Muslim ban. They began a #DeleteUber movement, in which former customers terminate the Uber app on their smartphones. (Uber later set up a $3 million legal defense fund to help drivers affected by the Muslim ban.) The company is also haunted by allegations of sexual harassment and discrimination against women in the company.
Another problem dogging Uber is vehicle safety.
If you get into an Uber, Lyft or taxi, you have a one in three chance of riding in a vehicle with an unrepaired recall defect, according to a 2016 independent investigation from Cars.com, KING 5 television in Seattle and TEGNA sister stations. That compares to 20 percent for the general population. Checking Vehicle Identification Numbers against a federal database of recalls, the investigators found problems range from potentially exploding air bags to steering columns and engine defects.
In June of last year, the federal government started requiring rental car companies to fix all recall defects before renting a vehicle. There is no comparable regulation affecting vehicles operated by drivers-for-hire who work with companies like Uber and Lyft.
Critics say CEO Travis Kalanick cultivates a "win at any cost" ethos that has begun to backfire on Uber, with Kalanick himself recently conceding he needed assistance in his management role and style. Driver turnover hovers around 50 percent annually.
"We provide resources to our drivers and encourage them to fix recalls and maintain their vehicles," said an Uber company spokeswoman. "In addition to that, our drivers receive reminders quarterly to stay up to date on recall notifications. In 2016 we joined the US Department of Transportation in raising awareness of active recalls. This is a problem generally, not just with Uber or taxis. We're trying to be part of the solution to get these cars fixed, to remind drivers how important it is."
However, Uber does not require drivers to fix recall issues as a condition of partnering with the company.
In a written statement, Uber also says all its drivers go through an extensive vetting process that includes checking motor vehicle and criminal records, as well as the sex offender registry. Additional safety features built into Uber technology include the driver-passenger rating systems that allow both sides to evaluate each transaction.
The company also notes that Uber's app enables passengers to send their ETA, or Estimated Time of Arrival, to a friend or family member upon entering the car. All rides are GPS tracked, and customers are assured they are entering the correct vehicle with the correct driver behind the wheel, according to Uber.
Whether Uber fixes its image or not, the size of its fleet alone is causing problems in major cities, according to political author Steven Hill, author of the book Raw Deal, which investigates the downside of so-called 'sharing economy' companies like Uber and Airbnb.
About 45,000 Uber and Lyft drivers have flooded into San Francisco compared to 1,800 taxis, Hill says. "You have 20 times the number of Uber and Lyft cars," he says. "You get a ride in five minutes but spend 20 minutes longer in traffic. It's become a [major source] of congestion. And it was predictable."
Posted-In: contributor moneygeekTopics Travel Legal Management General
View Comments and Join the Discussion!