Uber's Terrible, Horrible, No Good, Very Bad 2017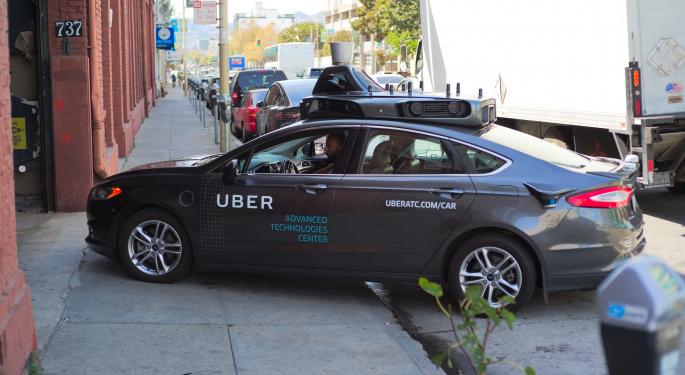 Uber's announcement on Monday that President Jeff Jones is leaving the company after less than a year on the job is just one of the many issues affecting the company.
Jones joined Uber after leaving his post as Target Corporation (NYSE: TGT)'s chief marketing officer late last year. His move from one of the biggest retailers to the relatively new Silicon Valley startup was seen as a sign that the ride-hailing app is established enough to attract top executives.
But Jones' statement to Recode that he is leaving the company because his approach to leadership is "inconsistent" with what was seen at Uber is raising serious questions — especially ahead of its much anticipated initial public offering.
Sexual Assault Allegation
A former Uber engineer Susan Fowler explained in a personal blog post what drove her from leaving Uber. Within a few weeks of joining the company in 2015 she said that the work atmosphere "started getting weird" as her manager made it obvious that "he was trying to get me to have sex with him."
Fowler expected Uber's human resources team to handle the situation appropriately but "things played out quite a bit differently." She was told by the human resources team that it won't be giving the manager anything more than a warning because he is a high performer. In fact, she was only given the option of switching to another department or continue at her current job under the assumption she will receive poor performance reviews from the manager.
The bigger problem for Uber is that Fowler wrote that many other women at Uber suffer from similar experiences, and her manager has received other complaints of sexual assault and inappropriate behavior.
Aside from sexual assault allegations, Fowler described Uber's work culture as being in complete disarray:
"In the background, there was a game-of-thrones political war raging within the ranks of upper management in the infrastructure engineering organization," she wrote. "It seemed like every manager was fighting their peers and attempting to undermine their direct supervisor so that they could have their direct supervisor's job."
Travis Kalanick Vs. The President
President Donald Trump quickly created a group of some of leading CEOs and executives. The business council served as a direct line of communication in which business leaders expressed their concerns to the president, and in return, the president asked of them how the regulatory and business environment can be improved on the White House's end.
Uber's CEO Travis Kalanick was a member of the council which could have been viewed as a tremendous honor as Kalanick's name was ranked with the most prestigious executives in the world, including Tesla Inc (NASDAQ: TSLA)'s CEO Elon Musk, JPMorgan Chase & Co. (NYSE: JPM)'s CEO Jamie Dimon and Jack Welch, the former CEO of General Electric Company (NYSE: GE) who is considered to be one of the most highly respected CEOs in corporate history.
However, given the political climate, Kalanick's membership on Trump's council was viewed by many as being an endorsement of Trump. As such, the hashtag #DeleteUber quickly spread across all social media platforms and the executive decided to remove himself from the group.
"Joining the group was not meant to be an endorsement of the President or his agenda but unfortunately it has been misinterpreted to be exactly that," Recode quoted Kalanick as saying in a statement. "There are many ways we will continue to advocate for just change on immigration but staying on the council was going to get in the way of that."
Is Kalanick The Right Leader?
Bloomberg published a video in which Kalanick is arguing with an Uber drive. His "pugnacious personality and short temper" was now showcased to the world in a viral video.
In fact, this isn't the first time Kalanick's attitude has gotten him in trouble. The Bloomberg report noted that he once referred to Uber as "Boober" because his celebrity-like status as the CEO of a "unicorn" improved his dating prospects. Also, Kalanick was described as being empathetic at times and "tyrannical" at others.
So Now What?
Chamath Palihapitiya, a notable venture capitalist, told CNBC last week that Uber can be a "fantastic" company but only after it fixes everything that is wrong with its culture. The problem is many would-be investors in an Uber IPO are now taking a second look at his comments which were made prior to Uber's president harsh words as part of him leaving the company in such a short span of time.
Uber isn't the only pre-IPO company to face its fair share of controversies, including accusations of sexism at Twitter Inc (NYSE: TWTR).
The fact is, it is quite common for companies to make mistakes as leaders are human after all. But when the mistakes pile up and there appears to be no accountability, investors could become unforgiving.
Will Uber fix its image? The damage control appears to be growing by the day. Coupled with the fact that the company loses billions of dollars, the company's outlook isn't as bright today as it has been in the past.
Related Link:
Palihapitiya: Uber Can Be A 'Fantastic' Company, As Long As It Fixes The Culture
Nasdaq's Head Of Listings Says IPOs So Far Are 'Muted'
______
Image Credit: By Dllu - Own work, CC BY-SA 4.0, via Wikimedia Commons
Posted-In: Donald Trump Susan Fowler Travis Kalanick UberTravel Tech Media General Best of Benzinga
View Comments and Join the Discussion!