Where The Lyft-Waymo Deal Steers Ride-Hailing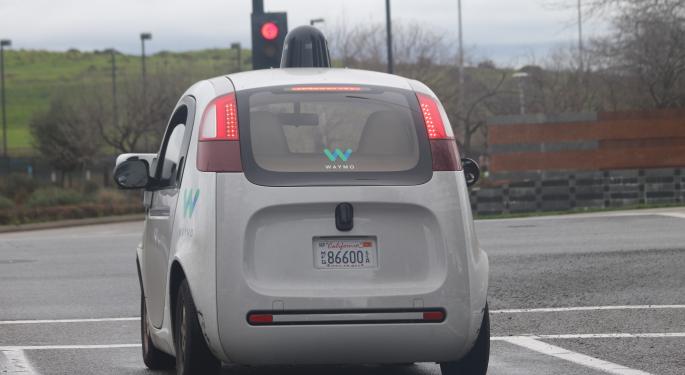 Last week, a deal was confirmed between the ride-hailing service Lyft and autonomous car company Waymo (parent company, Alphabet Inc (NASDAQ: GOOG) (NASDAQ: GOOGL)). While the companies are keeping hush on details, each offered statements confirming the deal.
"We're looking forward to working with Lyft to explore new self-driving products that will make our roads safer and transportation more accessible," said a Waymo spokesperson.
A Lyft spokesperson stated, "We can confirm that we are partnering with Waymo to safely and responsibly launch self-driving vehicle pilots. Waymo holds today's best self-driving technology, and collaborating with them will accelerate our shared vision of improving lives with the world's best transportation."
The Market Today
Kimberly Trautmann, director of venture capital investments at DRW VC and a personal investor in Lyft, spoke with Benzinga in April and detailed the market caps of the privately held ride-hailing companies using publicly available data:
Uber: $70 billion.
Lyft: $7.5 billion.
Gett, Inc.: $1 billion.
Via Transportation, Inc.: $1 billion-plus.
Juno: $5 billion-plus (Gett bought Juno in April).
The Future Of Ride-Hailing
Now partnered with an autonomous driving technology leader, Lyft may be poised to lead the way for shifts in the ride-hailing industry, especially if Waymo's lawsuit against Uber goes well.
Waymo is expected to provide Lyft with a fleet of self-driving cars that can be called on with their app — a project Uber has been working on solo.
"I have struggled to understand why [Uber] needs to own their own autonomous driving technology," said Michael Ramsey, Gartner analyst and former automotive reporter.
For Lyft, Waymo provides a way to test the viability of using a fleet of autonomous cars without having the develop them itself. "The business use is about removing the biggest cost, the driver, that's why think it's existential for them," said Ramsey of ride-hailing companies in general.
That may be of bigger near-term concern for Uber, though. The analyst noted that Lyft lags behind Uber primarily because of it has fewer drivers. "People would probably use Lyft just as much as Uber if there more drivers around."
Uber controls roughly 82 percent of the rail-hailing market, but a chain of bad press, including the #DeleteUber trend, has hurt the business.
For now, Ramsey doubts costs will come down significantly, but the publicity from the Waymo deal is definitely helpful for Lyft.
Related Links:
Uber's Biggest Rival Just Struck A Deal With Alphabet's Waymo To Explore Self-Driving Cars
Assessing The Threat Waymo And Lyft Pose To Tesla
__________
Image Credit: By Grendelkhan (Own work) [CC BY-SA 4.0 (http://creativecommons.org/licenses/by-sa/4.0)], via Wikimedia Commons
Posted-In: Analyst Color M&A News Emerging Markets Travel Startups Exclusives Markets Best of Benzinga
View Comments and Join the Discussion!