Trump Fires Comey: 'It Looked Bad Right Away'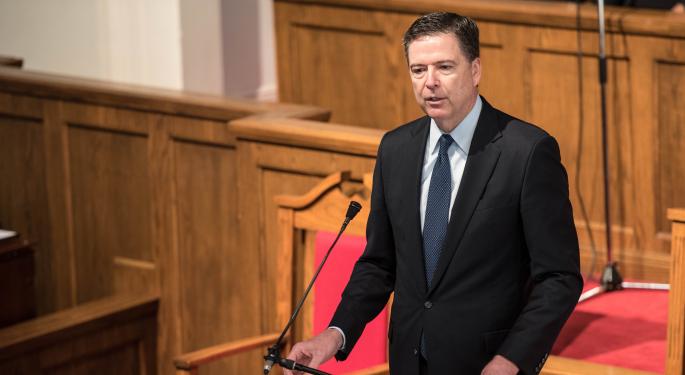 President Donald Trump's firing of FBI Director James Comey might not be Watergate in Russian, according to one political science professor, but it could have the same effect on the public's view of government.
Watergate — the scandal surrounding a break-in at Democratic National Committee headquarters that ended in then-President Richard Nixon's resignation — ushered in an era of distrust in American government that continues today, said Matt Grossmann, the director of Michigan State University's Institute for Public Policy and Social Research.
"Certainly this kind of incident is creating the same problem, but we're already at a pretty low level of trust in government," Grossmann told Benzinga Wednesday.
"It's unclear how much further we can drop," he said with a chuckle.
All Eyes On Capitol Hill
One similarity between Nixon and Trump's presidencies is the degree to which members of their own party can shift the narrative, Grossmann said.
If five to 10 Republicans broke with Trump, the next nominee for FBI director could be blocked, and an independent counsel could be demanded, the political scientist said.
"What really matters is whether members of the president's party are willing to break with him."
'It Looked Bad Right Away'
Comey's firing, which the law enforcement official learned about on TV, is "the second most shocking thing that's happened in the Trump administration," Grossmann said, with the first being the executive order on immigration signed by Trump on Jan. 27.
The order was "severe and immediate," Grossmann said, coming seven days after the inauguration. "That was sort of a shock."
The firing of the FBI director "looked bad right away [...] and it has few historical precedents, so it's certainly going to occupy the public and media mind for a while," Grossmann said.
Comey's dismissal is tied to two of the biggest political stories of the year, Grossmann said: The investigations into Russian influence on the U.S. presidential election and Trump advisers, and into emails on former presidential candidate and Secretary of State Hillary Clinton's private account.
The morning after reaction to Comey's firing shows that Trump's stated rationale for the dismissal isn't holding up, Grossmann said.
"It hasn't held up very well in the discussion so far," he said.
Leaks from inside the White House, such as those reported by Politico Wednesday, seem to indicate Trump was indeed reacting to the FBI's Russian investigation.
"It seems clear so far that Trump didn't like the fact that he wasn't aware of what was going on with the Russian investigation. It was taking place outside of his sight," Grossmann said. "It's also pretty clear that he thought Comey was disliked by Democratic senators for his role in the Clinton email investigation, and thought he might not get as much pushback as he otherwise would."
People exist "throughout" the government who believe the Clinton case was improperly handled, Grossmann said.
"It's not that the assessment of the attorney general or the deputy attorney general is mistaken," he said, but that leaks from the White House and FBI point toward the firing being driven by reasons other than the Clinton case.
"Trump's decision can be about Russia without that necessarily implying there was anything major about to happen on Russia."
What's Next?
The FBI's investigation into Russian influence won't stop because of Comey's firing, Deputy White House Press Secretary Sarah Huckabee Sanders said during Wednesday's daily press briefing.
Grossmann said that will likely prove to be true, and said FBI staff, particularly those who were close to Comey, might be motivated to do just the opposite.
"I don't think the investigation will stop because James Comey isn't there," he said. "It's fair to wonder whether it will not be stalled officially, but stalled in practice in the sense [that] they wait for direction from the next FBI director."
The political science professor said Trump's choice of nominee for the top FBI post will be key.
If the nominee "is someone really close to Trump," it will fuel more speculation that the president has something to hide, he said.
Conversely, if the nominee is from within the FBI, "[that] might make those insinuations less strong."
Related links:
President Trump Fires FBI Director James Comey
Former Nixon Library Historian Has Familiar Feeling About Trump
_________
Image Credit: By Federal Bureau of Investigation (FBI) - FBI Director Speaks on Civil Rights and Law Enforcement at Conference, Public Domain, via Wikimedia Commons
Posted-In: News Futures Politics Management Exclusives Markets Interview General Best of Benzinga
View Comments and Join the Discussion!