Former Nixon Library Historian Has Familiar Feeling About Trump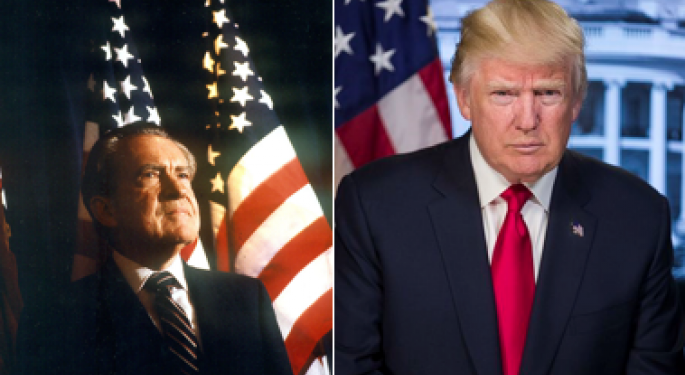 The historian hired to repair the Richard Nixon Library and Museum's problems with the truth sees something similar in the current president: a sense of paranoia and frustration that might spill over into bad decisions.
Timothy Naftali is a Canadian-American historian and a clinical associate professor of history and public service at New York University and a frequent CNN contributor. He was appointed to the Nixon Library when control was transferred from the Richard Nixon Foundation to the more empirical historians at the National Archives.
His most daunting task was bringing objective historical context to what had been a pro-Nixon section that downplayed Watergate. Though he says the 100-day threshold for a new president is an arbitrary construct, he's getting a vibe anyway.
"The start of a presidency can reveal some things. His willingness to learn. So much of what you face as president is uncontrollable. The world will throw you curveballs all the time," he told Benzinga.
"What is so different now is (President Donald Trump) came in with huge boasts and comes into office and suddenly he has a lot of trouble trying to achieve his agenda. We're witnessing a moment where a man doesn't know how government works. We don't know if he will adapt or get more frustrated."
The Road Ahead
Trump can't build a consistent coalition in a GOP-controlled Congress and can't overcome the contradictions in his shifting policy positions. But Naftali said that is oddly a beautiful thing.
"What has been most revealing is how the system has reacted to prevent extremism," he said.
The lack of support by moderate and hardline conservative Republicans of Trump's Affordable Care Act ("Obamacare") replacement plan saved health care for 24 million people, Naftali said. The courts blocking his Muslim-based immigration bans, and his attempts to punish so-called sanctuary cities with undocumented migrants, is a remarkable example of an askew political system triggering the necessary correctives.
Though Naftali has examined the most top-secret of historic espionage documents, he is reluctant to predict Trump's next 100 days in office. But only a little bit.
"He actually believes his ideas to be valid," Naftali said of Trump. "He is not being schooled in the presidency, but in the way the world works."
Tricky Dick Redux
The dark side of Nixon resonates with Trump, he said.
"They both are intensely paranoid and they did believe that there were forces organized against them. The thing to watch is the frustration. Nixon used every tool to stay in power. He was amoral."
"But some of the Trump language indicates that he is willing to cross that line."
Related Links:
Why Trump's Tax Cut On Repatriated Cash Would Be Great For Investors, And Pretty Much No One Else
Historian Who Picked Trump Presidency Now Forecasts His Impeachment: Second 100 Days More Important Than First ______ Image Credit: Compiled from "Portrait of President Nixon, 1986, San Francisco, California" (By Nancy Wong - Own work, CC BY-SA 4.0, via Wikimedia Commons) and "Official Portrait of Donald Trump" (Executive Office of the President of the United States [Public Domain], via Wikimedia Commons)
View Comments and Join the Discussion!
Posted-In: ACA Affordable Care Act cnnPolitics Top Stories Exclusives Interview General Best of Benzinga