Hillary Clinton Emails Under Investigation Again, Markets Get Rocked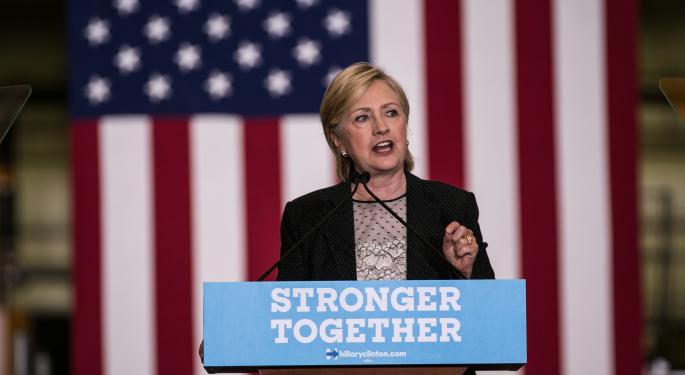 Hillary Clinton is in some hot water again.
Bradd Jaffy, a senior news editor and writer for NBC Nightly News, Tweeted a copy of what appears to be a letter sent by the FBI's Director James Comey.
In the letter, Comey said the FBI has "learned of the existence of emails that appear to be pertinent to the investigation" of Hillary Clinton's emails. The letter was sent to the Senate Judiciary Committee, Select Committee on Intelligence, and various other agencies and members of Congress.
"I am writing to inform you that the investigative team briefed me on this yesterday, and I agreed that the FBI should take appropriate investigative steps designed to allow investigators to review these emails to determine whether they contain classified information, as well as to asses the importance to our investigation."
CNN reported that this appears to be a case of newly discovered emails, unrelated to the previous round of emails.
U.S. equities appear to have reacted to the report and dipped lower. The timing of the announcement, just days before the U.S. election, is creating some panic and uncertainty among investors. The three major stock indices immediately plunged lower on heavy volume following the report. However, some indices moved higher.
The S&P 500 was trading at 2,122.30 at time of writing, down 10 points on the day.
Given Clinton's stance of regulating the biotechnology sector, investors were seen buying the iShares NASDAQ Biotechnology Index (ETF) (NASDAQ: IBB) index. The assumption here being that the FBI could uncover damaging evidence of misconduct by Clinton which could lower her chances of winning the White House race.
The biotech index was trading at an intra-day low of $257.49, but has since rebounded more than $5 per share to abotu $261.
Posted-In: Clinton Emails FBIBiotech News Politics Legal Top Stories General Best of Benzinga
View Comments and Join the Discussion!