Keeping You Informed And Entertained At The Pump: Gas Station TV, Verifone Join Forces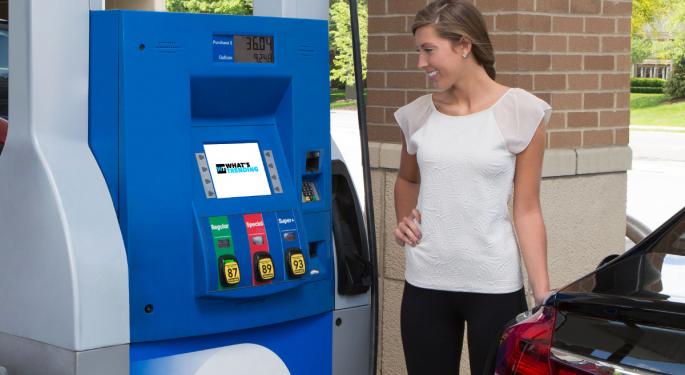 Detroit's own Gas Station TV — which reaches one-third of American adults at the pump each month — announced a joint venture with VeriFone Systems Inc (NYSE: PAY) Wednesday.
Gas Station TV started 11 years ago with the concept of bringing television content and advertising to the gas pump. The now-ubiquitous TVs are present at roughly 10-12 percent of the nation's estimated 100,000 gas stations.
After combining its network with Verifone, Gas Station TV will reach more eyes in the "premium millennial" demographic this year than Snap Inc (NYSE: SNAP) has forecast for its platform, said President and CEO David Leider.
"It just seemed like it was a good idea for us to come together," Leider said of Verifone during an interview with Benzinga at his downtown Detroit office. Gas Station TV's nationwide infrastructure and Verifone's Pump Media division are now a single platform, Leider said, and the companies' respective sales forces and content have been merged. The financial terms of the joint venture were not disclosed.
See Also: MadDog Technology, A Fintech Incubator In The Heart Of The Rust Belt, Invests Millions In Cloud Platforms
The partnership is a powerful one, said Joe Mach, president of San Jose, California-based Verifone.
"Under the GSTV umbrella and with Verifone's influential backing, we will draw on our collective partnerships and experiences to strategically accelerate growth, push the boundaries of technology and deliver the proven effectiveness of video at the pump," Mach said in a statement.
The Changing World Of TV Ads
DVRs and Netflix, Inc. (NASDAQ: NFLX) are two reasons why engagement with traditional TV ads has declined, Leider said.
That isn't the trend at Gas Station TV.
"Our ratings go up everyday," Leider said. "Everyday we are installing televisions at gas stations. Everyday. So when [traditional media companies] are going down, we're going up."
Gas Station TV's programming comes from nameplates such as ESPN, CNN, AccuWeather and The List.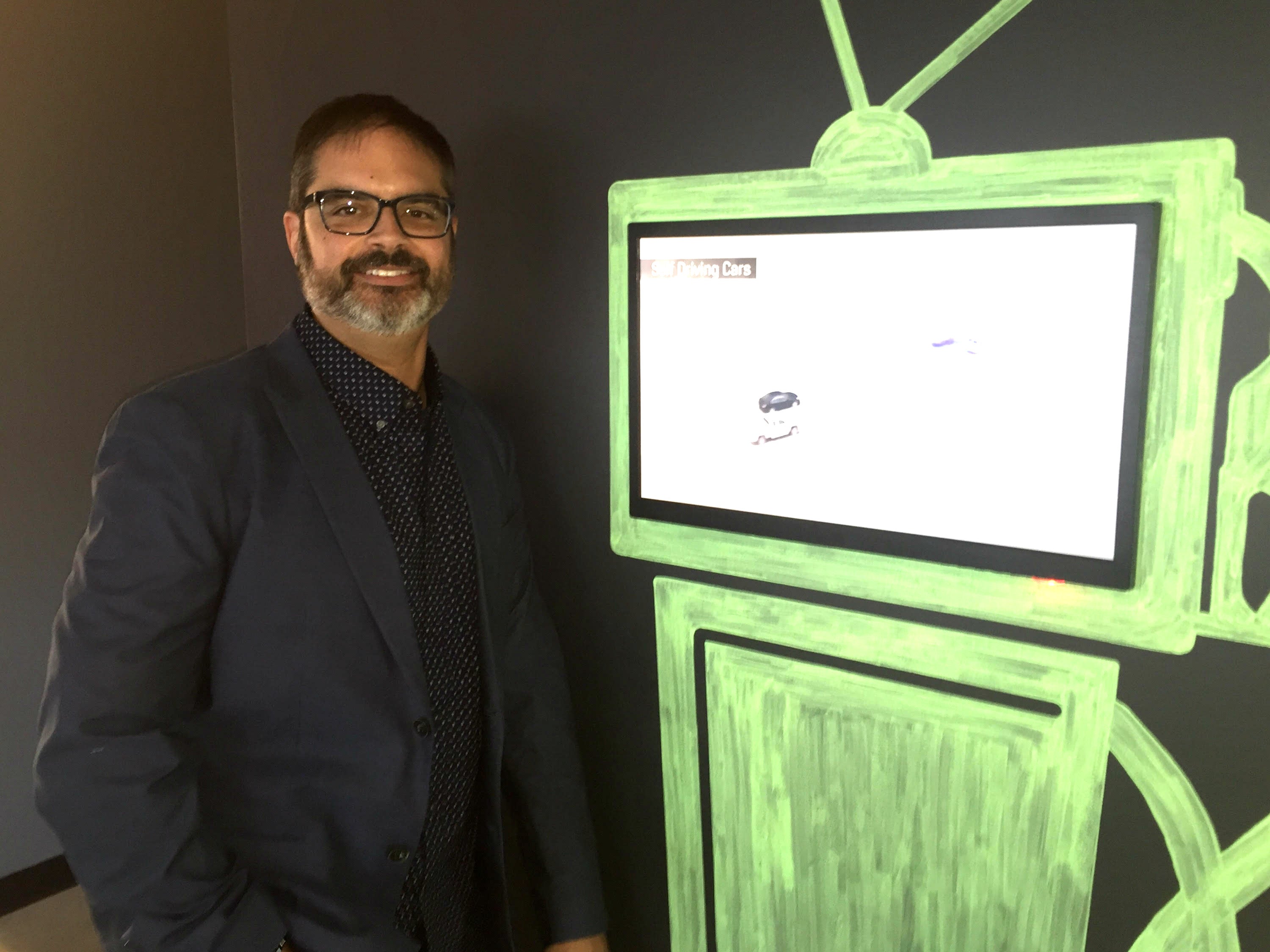 Gas Station TV CEO David Leider in the company's downtown Detroit headquarters. Photo by Dustin Blitchok.
Gas Station TV was founded in suburban Birmingham, Michigan in 2006, and now has 110 employees and offices across the country. It's owned by Rockbridge Growth Equity, a firm cofounded by Quicken Loans Chairman Dan Gilbert, and Falcon Investment Advisors.
While the business has matured, Gas Station TV retains a startup mentality, Leider said: "We have a small business mentality that every dollar matters."
As the company has grown, so has its ability to target consumers and provide clients with detailed analysis of their return on investment, Leider said.
Gas Station TV and its advertisers both employ geofencing — using signals from consumers' smartphones — to track the impact of the ads consumers view while gassing up. The data points are anonymous and don't identify consumers, Leider said.
The data can illustrate the follow-through of, for example, someone viewing a McDonald's Corporation (NYSE: MCD) ad at a Gas
Station TV-equipped pump and then visiting a nearby Golden Arches afterward.
Quick service restaurants have found success advertising with Gas Station TV, Leider said, because 70 percent of the sector's business comes from drive-through customers — and every Gas Station TV viewer has a car.
In the same vein, Gas Station TV is the largest automotive video network worldwide and carries substantial automotive advertising, Leider said.
"I deliver three times more drivers than all [automotive websites] combined."
Gas Station TV ads can be nationwide or targeted to as small of an audience as one specific station, Leider said. The company maintains detailed demographics for each gas station it's partnered with and uses market research from services such as Nielsen Consumer Insights.
Gas station customers spend an average of 4 1/2 minutes at the pump, Leider said.
Not all of Gas Station TV's clients are obvious ones. Amazon.com, Inc. (NASDAQ: AMZN), for example, runs employee recruitment ads with the company. The rationale: the viewers of the ad generally live nearby and have a car, making Gas Station TV valuable from a recruitment perspective, Leider said.
Motor City Roots
Gas Station TV has been headquartered since 2015 in the renovated Kresge Building, which dates to 1917, on Woodward Avenue in downtown Detroit.
The company's relationship with the city could be partially explained by Leider's upbringing. His parents were raised in Detroit and often took Leider, 51, to visit when he was growing up in the 1970s and 1980s — decades when crime, blight and population loss were the city's dominant narrative.
"My parents never treated the city as a place to avoid," Leider said.
In the time since Gas Station TV moved downtown from suburban Birmingham, Nike Inc (NYSE: NKE), eyewear brand Warby Parker and clothing retailer Kit and Ace have all opened within a block of the Kresge Building.
Under Armour Inc (NYSE: UAA)'s first Detroit location was opening its doors nine floors beneath Leider's feet on Wednesday.
"We totally love to be part of this," Leider said of the city's ongoing renaissance. "It's very natural."
Out-of-state clients often assume Gas Station TV is headquartered in New York City, Leider said. Once they see the company's address, "it [becomes] a whole conversation about Detroit."
Posted-In: News Travel Top Stories Startups Small Business Exclusives Tech Interview Best of Benzinga
View Comments and Join the Discussion!