MadDog Technology, A Fintech Incubator In The Heart Of The Rust Belt, Invests Millions In Cloud Platforms
In a Michigan city synonymous with manufacturing, the most cutting-edge business ventures — fintech startups — are taking shape at MadDog Technologies. The firm, founded by former Compuware CEO Peter Karmanos and business partners, has leased 15,000 square feet of space on three floors in the Riker Building in downtown Pontiac, the suburban Detroit city once home to the car brand of the same name.
MadDog is capitalizing and operating startups such as Lenderful, which designed a mortgage application platform already in use by one of the nation's top five banks, and Deliver My Ride, which allows car buyers to competitively shop for a vehicle online and have it delivered in 24 hours.
MadDog Technology and its finances are privately held. The company's investments in startups are substantial, co-founder Mark Hillman said. "It's millions. And not single-digit millions."
The common thread running through MadDog's business is cloud computing, Hillman said in an interview with Benzinga at his office on the Riker Building's 10th floor.
"[Karmanos and I] believe it was — debatably — the largest change in the use of technology in the last 20 or 30 years," said Hillman, 58, referring to the cloud. He previously worked as a senior vice president for development and strategy at Compuware.
The two longtime tech execs set out to develop enterprise-level software that would leverage cloud infrastructure, Hillman said.
Since then, MadDog has added a venture capital arm that seeks to invest in both startups the company has partnered with and in outside companies that are developing cloud-based applications, according to the fund's website.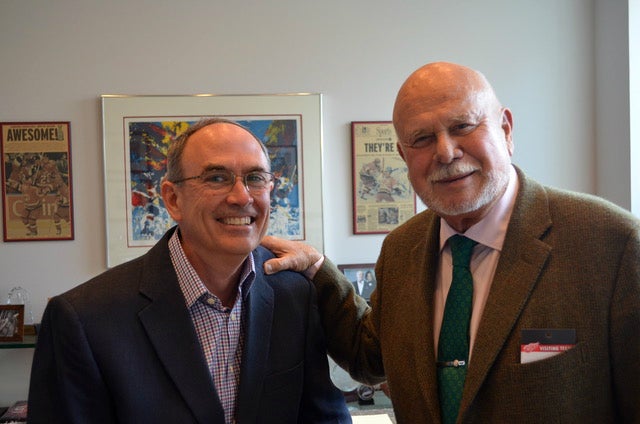 MadDog Technology cofounders Mark Hillman, left, and Peter Karmanos. Courtesy photo.
MadDog's Startup Umbrella
Here's a look at the fintech startups under the MadDog Technology umbrella.
Lenderful is a software platform for lending companies founded by Hillman. The company converts digital traffic into mortgage applications "with no people involved," he said.
Lenderful started in December 2015, became licensed to write mortgages and has made millions in loans. The company went live with bank partners this year, and the results "have exceeded our and their expectations."
Most processes in the financial industry — such as mortgage applications — are not completed online, Hillman said.
Lenderful is now providing the back end of online mortgage applications for multiple banks, including one customer that ranks among the top five largest U.S. banks, Hillman said. "There's only one company on the planet that builds an e-commerce platform for mortgages, and that's us."
Resolute Building Intelligence is an energy management platform for large buildings that produces data analytics for customers such as hospitals.
The company was founded by former Taubman Centers, Inc. (NYSE: TCO) executive Robert Reese.
Deliver My Ride is a year-old platform that allows car shoppers to buy a new car online with next-day delivery. The company is in its beta phase and is kicking off with participation from Michigan dealerships.
Quotes from auto dealers are generated on the website and are anonymous, Hillman said, meaning customers don't know which dealers are competing for their business and dealers don't know who the customer is until the sale is being finalized.
"Every single website you can think of that deals with buying a car sends you to a dealer," Hillman said.
Deliver My Ride founder and president Mike McInerney spent about 20 years working in the car business and is the nephew of the late Detroit-area auto dealer and philanthropist Hoot McInerney.
The idea for Deliver My Ride came when McInerney was buying a car and experienced the process from a customer's perspective. He walked away thinking the process could be streamlined.
"The paths haven't really crossed in terms of technology and car buying," McInerney said. "Buying a car without visiting a dealership is counter to what the dealer wants, but it's what the consumer wants."
Pontiac Trading is an early stage startup scrap metal brokerage.
"The scrap business is huge … but it's all done manually," Hillman said. "That, we believe, can be transformed."
Perfect Realty, founded by Joseph Bergin, aims to modernize processes in the retail real estate market and is in the early stages of development, Hillman said.
Service.com is a platform that connects customers with services such as home repair and allows them to connect with service providers, hire and pay once they're satisfied with the job.
It's a "modernized, holistic look at finding service providers" that takes the idea behind websites such as Angie's List and Craigslist a step further, Hillman said. The start-up is in its beta phase and operating in select markets.
Aquasight is a MadDog investment that provides a digital platform for data-based water management.
Obi is a company MadDog is investing in that's developing a robot with fine motor skills in order to feed people with a disability who are unable to do so themselves.
Tech In A Former Factory Town
MadDog's new Pontiac location is in extension of its existing Birmingham offices. Four startups — Lenderful, Deliver My Ride, Pontiac Trading and Perfect Realty — are now located in the city.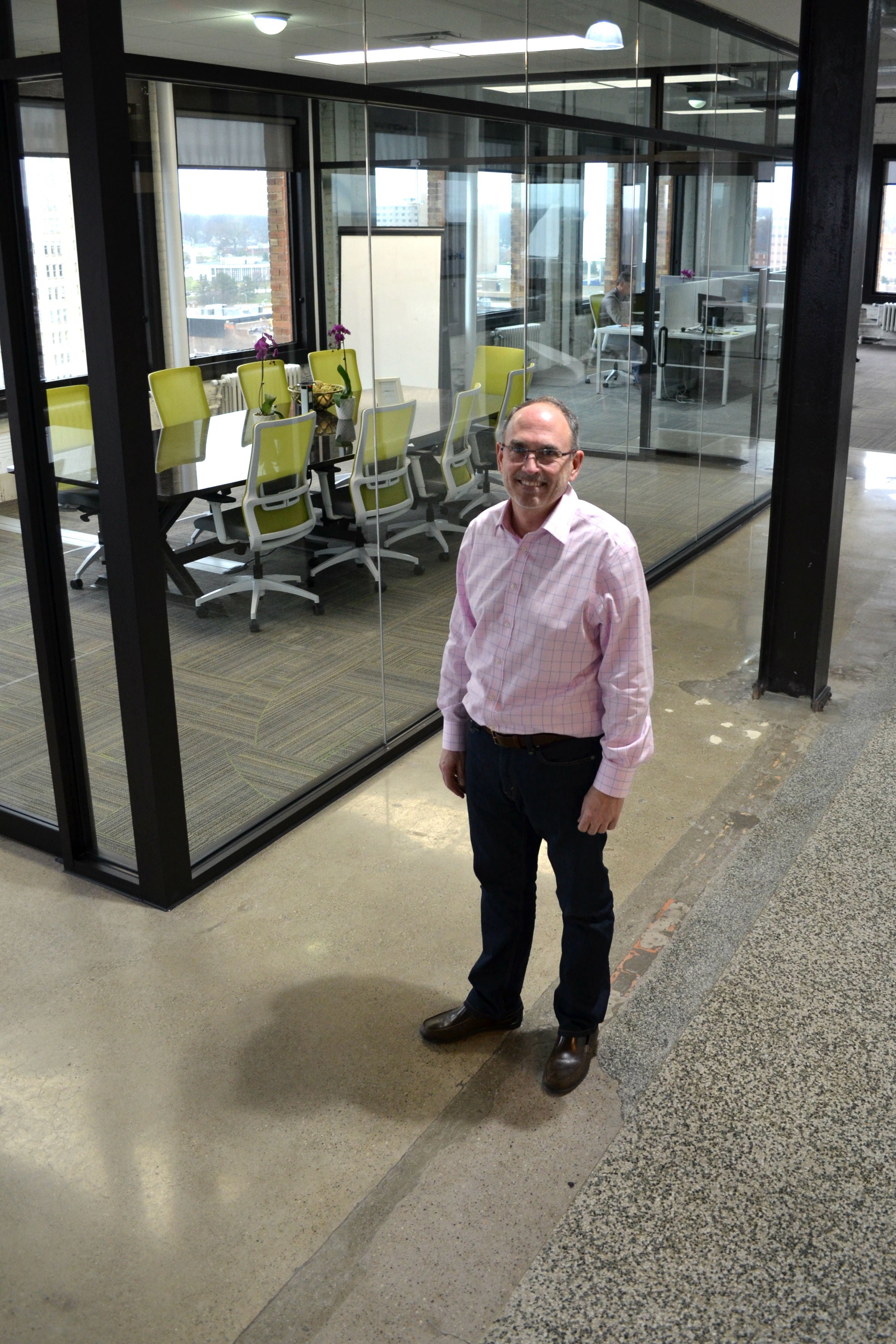 MadDog Technology cofounder Mark Hillman stands in the firm's renovated open office space in the historic Riker Building, which dates to 1928. Photo by Dustin Blitchok.
The decision to invest in Pontiac had everything to do with location, Hillman said: "Access to top talent. That's the answer."
After years of disinvestment by General Motors Company (NYSE: GM) and upside-down budgets at City Hall, Pontiac's finances were placed under the control of a state-appointed emergency manager from 2009 to 2013.
The city of 60,000 has seen tens of millions in investment in its downtown in recent years, including residential loft developments and the renovation and reopening of the Renaissance-style Strand Theatre.
Hillman said he receives inquiries every week from companies interested in moving to Pontiac.
"This specific town has a very unique dynamic. It's ideal for what we were trying to accomplish."
Related Links:
How A California Filmmaker Won Two Emmys Living Broke In Detroit—And Came To Love The City
Attention Detroit Entrepreneurs: Google Demo Day Is Right Around The Corner
Main article image: MadDog Technology cofounder Mark Hillman stands in the firm's renovated open office space in the historic Riker Building, which dates to 1928. Photo by Dustin Blitchok.
View Comments and Join the Discussion!
Posted-In: Fintech Entrepreneurship Top Stories Startups Exclusives Tech Interview General Best of Benzinga