Potential Losers If Trump Terminates U.S.-Cuba Relations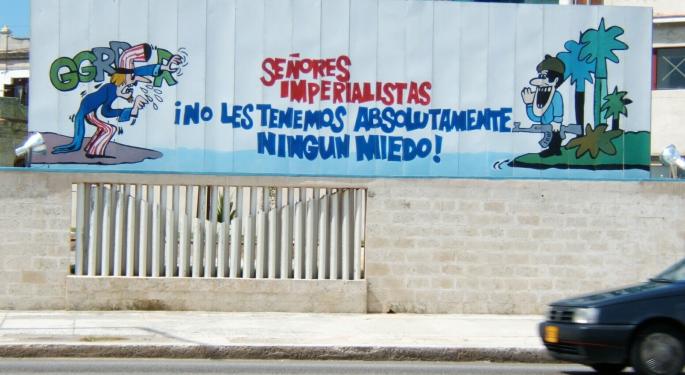 The political ramifications of Trump's ascendancy to the president's office are far too many to fathom. One of the most likely policy changes Trump is expected to bring about is snapping off ties with Cuba, with which the United States resumed diplomatic relations only recently.
Understanding The Checkered History Of U.S.–Cuba Relations
After severing ties with Cuba in 1961 during the Cold War, the United States resumed diplomatic relations in July 2015. The frosty relationship between the countries begun thawing since the stepping down of the recently deceased Fidel Castro from the official leadership and the coming to office of President Barack Obama.
In stages, Obama eased many of the restrictions imposed on Cuba as punitive measures. Some economic sanctions as well as travel restrictions were eased in 2009. Easing of restrictions on the telecom sector in the same year saw Cuba benefiting from quicker and easier access to the internet. Officially, Cuba was taken off the Terrorist Sponsor list of the United States in 2015, following which, embassies of each of the countries were opened in the other. Commercial flight operations restarted in 2016 after a 54-year hiatus.
Back To Square One?
Monday, Trump dropped the Cuban bombshell, threatening to sever the fragile ties with Cuba, which were slowly and steadily nurtured by the Obama administration. Trump, though seeing the logic in patching up with Cuba, has taken exception to the terms of the diplomatic relationship. With Castro now dead, Trump apparently is striving to use the political transition in Cuba to renegotiate terms.
In a tweet, the president elect said, "If Cuba is unwilling to make a better deal for the Cuban people, the Cuban/American people and the U.S. as a whole, I will terminate deal."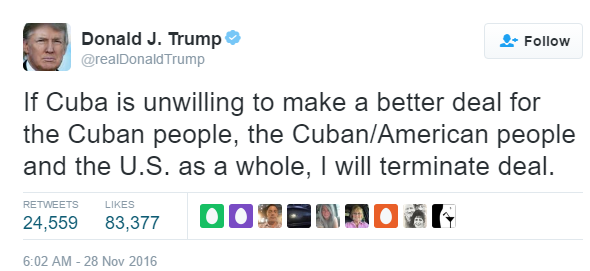 Where Does The Development Leave U.S Firms Invested In Cuba?
The restoration of direct flights between the United States and Cuba following the resumption of ties led many airlines to make financial investments. Travel and tourism operators have also begun investing in Cuba, which they see as new tourist hotspot. A rollback in relations could nullify the payback from these investments and in turn substantially and irrevocably hurt these companies. Some analysts even broach the possibility of these companies taking legal recourse in the eventuality of the risk materializing.
Clipping The Wings
American Airlines Group Inc (NASDAQ: AAL), Spirit Airlines Incorporated (NASDAQ: SAVE), Southwest Airlines Co (NYSE: LUV), Delta Air Lines, Inc. (NYSE: DAL) and JetBlue Airways Corporation (NASDAQ: JBLU) are among the airline companies that could face the music of a U.S.–Cuban relations rollback.
An American Airlines spokesperson when contacted by Benzinga had this to say, "While we can't speculate, we're full steam ahead to begin service to Havana this week and we're proud to be the leading air carrier between the U.S. and Cuba."
"Yesterday [Monday], American began scheduled service between Miami and Havana and tomorrow [Wednesday] we begin scheduled service between Charlotte and Havana."
Telecom: Call Disconnecting?
Telecom companies now have roaming coverage in Cuba. In May this year, T-Mobile US Inc (NASDAQ: TMUS) announced an interconnect and roaming agreement with Cuban telecom company Empresa De Telecomunicaciones De Cuba for providing more affordable voice calling for customers who wish to keep in touch with friends and family in Cuba, as well as voice, text and data roaming for customers traveling to Cuba starting this summer.
In an admission by none other than their CEO John Legere, T-Mobile has more Cuban descent customers than any other wireless providers.
T-Mobile, when contacted by Benzinga, declined to comment for this story.
Other wireless carriers such as Sprint Corp (NYSE: S), AT&T Inc. (NYSE: T) and Verizon Communications Inc. (NYSE: VZ) could also take a hit.
All these companies will be all ears toward the president in the coming days, as they attempt to safeguard their investments made in the muddled U.S.–Cuban waters. Likewise, so are investors in the stocks of these companies.
At Last Check
American Airlines was down 0.54 percent at $46.19 in Thursday's pre-market session.
AT&T was flat at $38.63.
Delta was down 0.44 percent at $47.97.
Herzfeld Caribbean Basin Fund, Inc (NASDAQ: CUBA) was up 0.02 percent at $6.70.
JetBlue was down 0.1 percent at $20.11.
Southwest was down 0.64 percent at $46.31.
Spirit was down 0.9 percent at $55.10.
Sprint was up 0.77 percent at $7.90.
T-Mobile was up 0.41 percent at $54.43.
Verizon was down 0.12 percent at $49.84.
Image Credit: By Михаил Ковенский [GFDL or CC-BY-SA-3.0], via Wikimedia Commons
Posted-In: 2016 presidential electionNews Emerging Markets Politics Markets Movers Trading Ideas General Best of Benzinga
View Comments and Join the Discussion!