Barron's Picks And Pans: Media Stocks, Hilton, ITT And More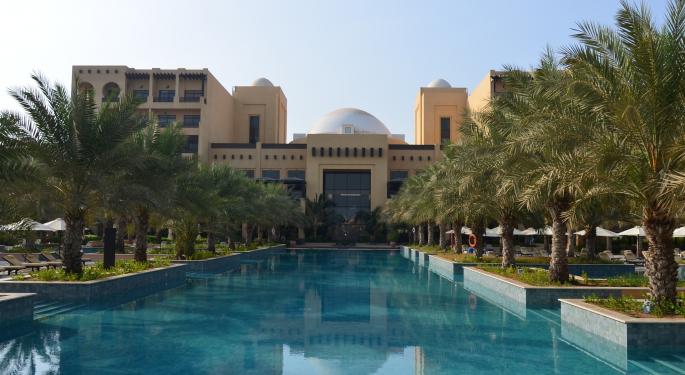 This weekend's Barron's cover story takes a look at the prospects for mega-mergers among the media giants.
The prospects for a fabled hotelier, an industrial conglomerate and a Canadian excavations company are also examined.
This issue also offers three thrifts worth betting on that could be lucrative for investors.
"What's Next for Media Stocks" by Andrew Bary suggests that the AT&T Inc. (NYSE: T) deal for Time Warner Inc (NYSE: TWX) has set off a fresh round of speculation about other mega-deals, and among the most attractive candidates is T-Mobile US Inc (NASDAQ: TMUS). See which media stocks Barron's says to buy and which to avoid.
In "Hilton's Breakup Could Boost Value by 25%," Avi Salzman takes a look at the plan for fabled hotel operator Hilton Worldwide Holdings Inc (NYSE: HLT) to split three ways -- into a franchiser, a timeshare company and a real estate investment trust -- and push further into profitable overseas markets. See why Barron's believes the stock looks like a bargain now.
Jack Hough's "ITT Could Return 20% as Brake-Pad Business Soars" points out that shares of conglomerate ITT Inc. (NYSE: ITT) are down about 30 percent in the past two years, as oil-industry demand for the company's pumps has dried up -- for now. However, the company's brake-components business is zooming higher and has plenty of room to grow in North America and China.
Based in and traded in Canada, this hydro-excavation specialist looks overpriced as growth slows, according to "Badger Daylighting Could Tumble Around 30%" by Bill Alpert. Shares rallied after a better-than expected June quarter, but questions about accounting anomalies have gone unanswered. Barron's takes a look at why the company's shares could fall by as much as a third.
In David Englander's "Three Thrifts Worth Betting On," the case is made that Kearny Financial (NASDAQ: KRNY), Clifton Bancorp Inc. (NASDAQ: CSBK) and Waterstone Financial Inc. (NASDAQ: WSBF) could produce solid gains, either from operations or from being sold. Over time, thrift conversions have proved to be lucrative for investors.
Also in this week's Barron's:
Why commodity ETFs pose a challenge
What investors can expect if Hillary Clinton wins
Why to choose the scary over the safe when stock-picking
Whether Amazon.com, Inc. (NASDAQ: AMZN) and Alphabet Inc (NASDAQ: GOOGL) the new Apple Inc. (NASDAQ: AAPL)
A sneak peek at the new TD Ameritrade Holding Corp. (NASDAQ: AMTD) robo-advisory
How the Dogs of the Dow have fared this year
The most recent "October surprise"
Whether Brexit will benefit U.K. small businesses
Mutual funds that invest in high-yielding illiquid assets
Keep up with all the latest breaking news and trading ideas by following Benzinga on Twitter.
View Comments and Join the Discussion!
Posted-In: Alphabet Amazon Amazon.com Apple AT&T Badger Daylighting Barron'sMedia Best of Benzinga