Benzinga Market Primer: Thursday, July 11: Futures Rise After Bernanke Speaks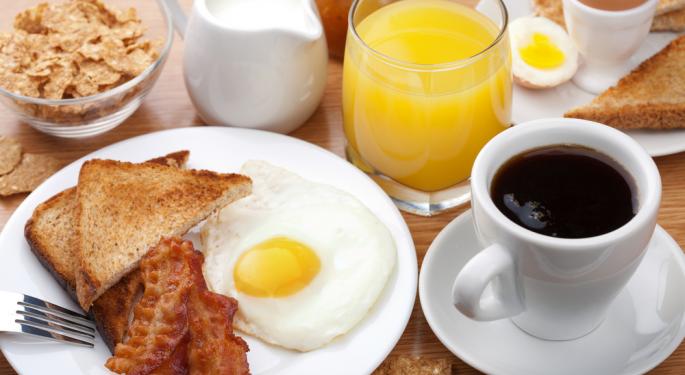 Futures Higher On Dovish Bernanke
U.S. equity futures rose sharply as a speech from Federal Reserve Chairman Ben Bernanke after the close Wednesday was much more dovish than expected. The comments show that the Fed is not looking to end its easy money policies any time soon.
In other news around the markets:


Bernanke said in the Q&A after his speech that both sides of the Fed's dual mandate, full employment and stable inflation, argue for more easing and that interest rate hikes are no where near the horizon even if the tapering of purchases were to begin soon. However, he did close with slightly hawkish statements by saying that inflation is low due to transitory factors and should moderate back towards the medium-term target.

The Bank of Japan raised its forecast for the Japanese economy overnight citing a moderate recovery and inflation that is likely to turn positive. The BoJ raised its 2013 Real GDP forecast to +2.5-3.0 percent from +2.4-3.0 percent in April and raised the median CPI forecast to +0.7 percent from +0.6 percent.

Australia's employment report once again showed strength in June as the Australian economy added 10.3 thousand jobs vs. an expected flat reading and the unemployment rate ticked up unexpectedly to 5.7 percent from 5.6 percent due to an increase in the labor force. Part-time jobs drove jobs gains in June, a similar theme to those jobs added in the U.S. in June.

The Shanghai Composite Index closed 3.2 percent higher, its best gain of 2013, building on the more than 2 percent gain from Wednesday. The Financial Times is attributing the strength in Chinese markets to a speech by Premier Li Keqiang which suggested the government will focus on restructuring the economy and focus on reforms.

S&P 500 futures rose 16.5 points to 1,665.10.

The EUR/USD was higher at 1.3041, well off the post-Bernanke highs near 1.32.

Spanish 10-year government bond yields fell 8 basis points to 4.73 percent as Prime Minister Rajoy is set to roll out new taxes, according to Bloomberg.

Italian 10-year government bond yields fell 8 basis points to 4.37 percent.

Gold gained 3.05 percent to $1,285.50 per ounce.
Asian Markets
Asian shares were mostly higher following the dovish comments from Bernanke and the comments from Chinese Premier Li. The Japanese Nikkei 225 Index rose 0.39 percent and the Topix Index fell 0.04 percent. In Hong Kong, the Hang Seng Index rose 2.55 percent and the Shanghai Composite Index rose 3.23 percent in China. Also, the Korean Kospi gained 2.93 percent and Australian shares rose 1.31 percent.
European Markets
European shares were also higher overnight on the back of the bullish sentiment from around the world. The Spanish Ibex Index rose 0.11 percent and the Italian FTSE MIB Index gained 0.58 percent. Meanwhile, the German DAX rose 1.03 percent and the French CAC 40 Index gained 0.72 percent while U.K. shares rose 0.77 percent.
Commodities were mostly higher, especially metals, after Bernanke talked down the dollar. WTI Crude futures rose 0.17 percent to $106.70 per barrel and Brent Crude futures gained 0.04 percent to $108.55 per barrel. Copper futures rose 3.12 percent to $318.75 per pound. Gold was higher and silver futures gained 4.41 percent to $20.01 per ounce.
Currency markets showed broad dollar weakness overnight however moves in most major dollar pairs were off of extreme levels. The EUR/USD was higher at 1.3041 after touching nearly 1.32 and the dollar fell against the yen to 99.39 after falling as far as 98.60. Overall, the Dollar Index fell 1.13 percent on weakness against the Swiss franc, the Canadian dollar, the pound, the euro, and the yen.
Key companies that reported earnings Tuesday include:


Yum! Brands (NYSE: YUM) reported second quarter EPS of $0.56 vs. $0.54 expected on revenue of $2.9 billion vs. $2.93 billion expected. The company also announced that it was reaffirming full year guidance despite second quarter China comps were down 20 percent but said that Chinese comps in the fourth quarter "could be positive."

Family Dollar (NYSE: FDO) reported third quarter EPS of $1.05 vs. $1.03 expected on revenue of $2.57 billion, in line. Family Dollar narrowed its full-year earnings forecast to $3.77 to $3.82 per share, versus its earlier view of $3.73 to $3.93 per share.

Fastenal (NASDAQ: FAST) reported second quarter EPS of $0.41, in line, on revenue of $847.6 million vs. $857.13 million expected.
MSM Industrial (NYSE: MSM) reported third quarter EPS of $1.05 vs. $0.97 on revenue of $636.9 million vs. $635.18 million. However, guidance for the fourth quarter was weak with the company seeing EPS of $0.87-0.91 vs. $1.01 estimate and revenue of $661-673 million vs. $687.73 million estimate.

PriceSmart (NASDAQ: PSMT) reported third quarter EPS of $0.61 vs. $0.64 on revenue of $571.1 million vs. $568.33 million.
Pre-Market Movers
Stocks moving in the pre-market included:


Costco (NYSE: COST) shares gained 0.39 percent pre-market as the company reported that same-store sales rose 6.0 percent in June vs. an expected gain of 5.4 percent.Net sales rose 8 percent to $9.92 billion in June.

PriceSmart (NASDAQ: PSMT) shares fell 2.88 percent pre-market as the company reported weaker than expected third quarter EPS.

Yum! Brands (NYSE: YUM) shares rose 0.88 percent pre-market after reporting better than expected EPS despite weaker than expected revenue. Also, some of the China related comments were worrisome.
Notable companies expected to report earnings Thursday include:


Commerce Bancshares (NASDAQ: CBSH) is expected to report second quarter EPS of $0.71 vs. $0.76 a year ago on revenue of $262.43 million vs. $265.92 million a year ago.
On the economics calendar Thursday, initial jobless claims and import and export prices are due out followed by the Bloomberg Consumer Comfort Index. Also, Fed Governor Daniel Tarullo is expected to speak and the Treasury is set to auction 30-year bonds and give its budget statement. Overnight, the Spanish CPI report and Eurozone Industrial Production data are due out.
Good luck and good trading.
Tune into Benzinga's PreMarket Info show with Dennis Dick and Joel Elconin here.
For a recap of Wednesday's market action, read Benzinga's daily market wrap here.
View Comments and Join the Discussion!
Posted-In: Earnings News Bonds Guidance Dividends Emerging Markets Eurozone Futures Best of Benzinga