Flight Delayed? Get Paid! This Startup Will Get You Compensated For Your Air Trouble (It's Justice As A Service)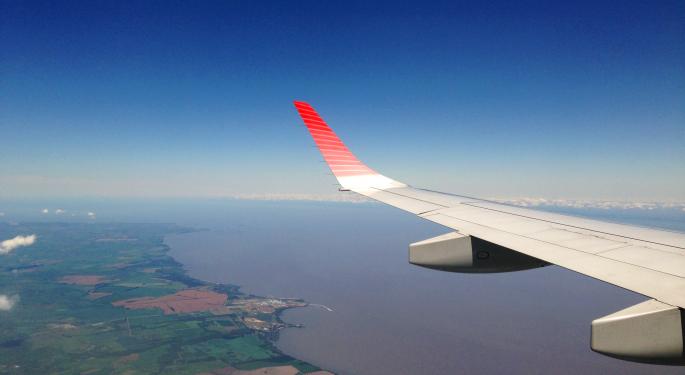 Air travel is amazing: Being able to get across the globe in just a few hours is mind-blowing. Right?
However, frequent travelers and occasional flyers can agree on the fact that there are a few very frustrating things involved in air travel. As the most recent scandals involving United Continental Holdings Inc (NYSE: UAL) have proven, airline practices like kicking someone off an overbooked plane, cancelling flights or simply delaying them without giving an explanation, can be quite infuriating. And, while there is no way to make up for lost time, or for arriving late to a business meeting or wedding or just having one day "stolen" from your hard-earned vacation, there can be some consolation found in Ben Franklin and Ulysses S. Grant.
But, again, if you've ever tried to claim a much-deserved compensation from an airline, you know it can be a long and often futile process.
Meet AirHelp
Few apps have made such a good first impression on Benzinga as AirHelp, a service that helps passengers get money back from airlines whenever their flights get delayed or cancelled.
Let's walk through the fairly simple process: First, you access the site and find two dialogue boxes that ask for you to disclose where you departed from and what your final destination was. Once you complete these fields, the site asks a few more questions and, in about three minutes, let's you know if you're entitled to compensation. If this is the case, it offers to help you get it in exchange for 25 percent of whatever they get you.
Nonetheless, it was not this feature that got us, but the email integration tool. Basically, we logged in through a gmail (Alphabet Inc (NASDAQ: GOOGL) (NASDAQ: GOOG)) account, and the system picked up all of the flights we'd taken over the past three years, analyzing the data for each one and telling us if we could claim money for the delays in any of them.
This is what a result looks like:

Impressed by the service, Benzinga decided to reach out to the company's CEO Henrik Zillmer, who shared some further insight into the service.
Know Your Rights
Zillmer started by explaining that, all over the world, countries have air passenger rights codes. "These are rights that have been made by the departments of transportation in order to stop the airlines from speculating or delaying their passengers to make more money, so to speak."
Notwithstanding, most passengers are not familiar with these rights. So, how would someone know when he/she is entitled to compensation from an airline for a delayed, cancelled or overbooked flight?
This is where AirHelp comes in. AirHelp is "a private initiative made to inform people about their rights in a time of need," the CEO said, adding that users can also communicate via email, chat or phone, and get information about their rights.
"It's actually a lot of law that has been converted into code for the first time, and that is then applied to your specific case and you are given a legal answer instantly. We call it 'justice as a service,' JAAS for short, because it is quite revolutionary in that sense," Zillmer continued, pointing out how AirHelp eliminated the need to reach out to a lawyer when dealing with delayed or cancelled flights and compensation.
Other Products
On top of the basic information and compensation redemption services, AirHelp offers a couple other products that might result interesting for frequent flyers.
One of them is called AirHelp Plus, which can be acquired when purchasing a ticket. What the company does is scan your flight, automatically notifies you if you are entitled to compensation and handles the claim on your behalf. In this case, the passenger gets 100 percent of the money obtained, because the service has been paid upfront – at a $5 to $10 rate.
The other product is called AirHelp Pro, which is aimed at "road warriors," or people who fly a lot – so subscription is paid on an annual basis. Similar to the previous one, AirHelp Pro automatically tracks your flights and, if they are disrupted, the company gets you instant access to the VIP lounge, plus compensation, and the option of getting on an alternative flight.
Still Taking Off
While AirHelp's service is not new, it is still in its initial expansion phase. So far, AirHelp covers:
All flights out of or into Europe operated by EU airlines like Deutsche Lufthansa AG (ADR) (OTC: DLAKY) and Air France KLM SA (ADR) (OTC; AFLYY)
All flights out of and into the U.S. operated by a U.S. airline likeAmerican Airlines Group Inc (NASDAQ: AAL) and Delta Air Lines, Inc. (NYSE: DAL)
All domestic flights within Europe and the U.S.
All flights out of or into Brazil – operated by Brazilian airlines like Gol Linhas Aereas Inteligentes SA (ADR) (NYSE: GOL).
All flights out of or into Canada.
All flights out of or into Hong Kong.
Chose Wisely
Going through the site, we stumbled up AirHelp's Airline Ranking and Airport Ranking. So, we thought we'd ask about the best airlines and the most prone to cooperating when compensations are due.
"We have close collaboration with certain airlines like SAS [Scandinavian Airlines], Qatar Airways, TAP Portugal, Wizz Air … So, full service airlines and low cost carriers," Zillmer said. "In those, we are processing thousands of claims and actually helping them with the claim processing. It's much cheaper for us, because this is what we do."
Then, on the other side of the spectrum, the CEO mentioned a few not-so-friendly airlines when it comes to compensation claims. Among them are Ryanair Holdings plc (ADR) (NASDAQ: RYAAY), EasyJet Plc (OTC: ESYJY), Lufthansa and KLM.
When companies don't respond to claims, AirHelp takes legal action. "We've done that more than 30,000 times, and won over 95 percent of those lawsuits," Zillmer told Benzinga.
What Investors Want To Know
Finally, Benzinga went into the financials.
While AirHelp does not disclose revenue at the time, Zillmer told Benzinga that the company has already processed claims for total value of $180 million. Taking into account that they tend to take a 25 percent cut out of every claim, revenue since inception should stand around $45 million.
Benzinga: Do you have any plans to go public or will you remain private for the time being?
Zillmer: I think we will remain private for the time being. We are still very much in a growth stage, and we want to expand this to many other places than just Europe and the U.S. However, I think once we reach a size where you we can say we are like the AAA for air passengers, then we'd be super happy if we could go public.
BZ: Are you comfortable with your cash position or do you have any plans to raise capital anytime soon? What about debt?
Zillmer: Around last year, we raised roughly $12 million in a Series A. That will last for 18 to 24 months. We might be profitable before that, so in theory we don't need to raise. But, if we are to grow very fast we will need –probably- working capital to do that. So, I would say within the next year we're going to go for a Series B.
More From Benzinga:
Mr. Gonzalez Goes To Washington: Tax Engineer Explains Trump Admin's Proposed Tax Reform And How He's Advising DC
Marijuana Industry Insiders On Why The IRS Is Targeting Them — And How To Avoid Business Disruption
Image Credit: Javier Hasse
View Comments and Join the Discussion!
Posted-In: AirHelpTopics Travel Startups Exclusives Tech Interview General Best of Benzinga