Elon Musk's Wildest Predictions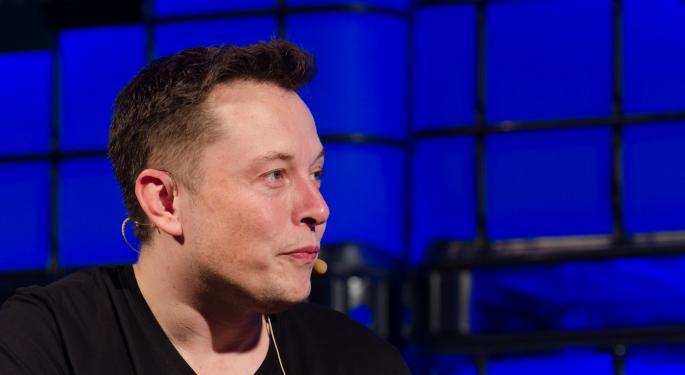 Tesla Inc (NASDAQ: TSLA) CEO Elon Musk has built quite a reputation as a creative visionary. Tesla investors are betting on Musk's ability to pull off one of his more realistic visions of the future: an affordable, long-range electric vehicle with mass market appeal. However, while Musk's Model 3 will soon be a reality, some of his other predictions are a bit more of a long-shot.
Here's a look at a few of Elon Musk's most out-there predictions.
1. Before there are flying cars, there will be thousands of miles of underground tunnels.
In Musk's latest interview, he discussed his newest company, The Boring Company.
"Obviously, I like flying cars, but it's difficult to imagine the flying car becoming a scalable solution," Musk said. Instead, The Boring Company will focus on Musk's vision for the future of transportation" complex networks of underground tunnels with as many as 30 different levels.
2. Tesla will surpass Apple Inc. (NASDAQ: AAPL)'s $700 billion market cap by 2025.
Tesla's market cap has already skyrocketed from under $5 billion to more than $44 billion, However, back in 2015, Musk said Tesla's market capitalization "would be basically the same as Apple's is today" by 2025. That would be some serious growth.
3. Humans can make Mars inhabitable by nuking its poles.
On the Late Show last year, Musk called Mars "a fixer-upper of a planet." However, when Stephen Colbert asked Musk how we could make Mars livable, he said, "The fast way is to drop thermonuclear weapons on the poles."
Related Link: 6 Things Elon Musk Is Working On Other Than Tesla
4. Life is or will be a simulation.
Last year, Musk argued the speed at which computer simulations have evolved in recent decades suggests the reality we perceive either already is a simulation or will be at some point in the future.
"The strongest argument for us probably being in a simulation is the following: forty years ago we had Pong, two rectangles and a dot, that's what games were. If you assume any rate of improvement at all, the games will become indistinguishable from reality," Musk said. He concluded that the chances of us living in the real word are "one in billions."
5. Artificial intelligence will pose a real threat to the human race within two years.
Back in 2014, Musk pointed out that the human race is much closer to a science-fiction-like robot uprising than most people realize.
"The risk of something seriously dangerous happening is in the five year timeframe," Musk said in 2014. "Ten years at most."
6. Humans will need to become cyborgs to avoid being ruled or exterminated by artificial intelligence.
Last year, Musk declared the only way humans will be able to maintain their dominance in the word is by incorporating technology into our bodies and brains.
"Under any rate of advancement in AI, we will be left behind by a lot," Musk said. "The benign situation with ultra-intelligent AI is that we would be so far below in intelligence we'd be like a pet, or a house cat." Musk endorses the idea of "neural lace," which would be a way to link the human brain to the internet and to artificial intelligence.
Image: Web Summit, Flickr
Posted-In: artificial intelligence Elon Musk SpaceXEntrepreneurship Movers & Shakers Opinion Top Stories General Best of Benzinga
View Comments and Join the Discussion!