6 Things Elon Musk Is Working On Other Than Tesla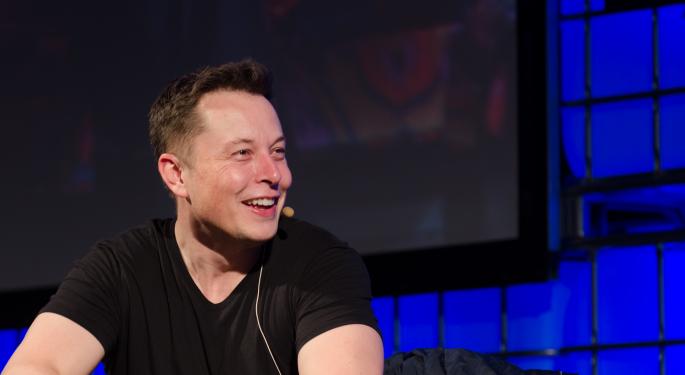 An updated version of this article can be found here.
This year will be a critical year for Tesla Inc (NASDAQ: TSLA) and its shareholders. Visionary billionaire CEO Elon Musk has pledged that Tesla will ramp its vehicle production from 76,000 in 2016 to 500,000 in 2018. Musk has also promised to ship 100,000 Model 3s by the end of 2017.
It seems Tesla has a lot on its plate this year in its uphill battle to wrestle meaningful market share away from General Motors Company (NYSE: GM) and Ford Motor Company (NYSE: F). However, Tesla is only one of a number of projects Musk is involved with. Here's a look at six other projects Musk is working on.
1. SolarCity Corp (NASDAQ: SCTY)
Now that SolarCity Corp and Tesla have officially merged, Musk must set about integrating the two companies. He called the merger a "no-brainer," but some Wall Street analysts believe SolarCity will require major restructuring to be able to continue to easily access debt. Tesla purchased SolarCity just as growth in the U.S. solar market began to dip below the double-digits.
Related Link: 9 Things You Need To Know From Bloomberg's Elon Musk Interview
2. SpaceX
Building a major American auto titan from scratch may seem like a tall order. But Musk has said the ultimate goal of SpaceX is to enable the human race to colonize Mars. That goal may seem like a pipe dream, but SpaceX revealed details about the proposed Interplanetary Transport System just last year. Details included info on launch vehicles, spacecraft and mission architecture.
3. The Boring Company
Musk recently revealed his latest company, The Boring Company. In December, Musk came up with the idea that an extensive network of thousands of miles of underground tunnels is the most realistic solution to traffic problems. Less than two months later, Musk's new company has already begun digging up SpaceX's parking lot. His ultimate goal is to build an underground tunnel network with up to 30 different levels in major cities.
4. Hyperloop
Musk revealed the blueprints for Hyperloop on the SpaceX website back in 2013. Hyperloop is a high-speed transportation system that is comprised of pod-like vehicles propelled by electricity through near-vacuum tubes. In theory, these pods could transport passengers and freight at speeds higher than the typical commercial air plane.
5. OpenAI
Musk founded OpenAI in 2015 as a nonprofit research institution devoted to developing artificial intelligence (AI) technology. All of OpenAI's patents are open to the public. The goal of the organization is not to profit from its research but to ensure artificial intelligence technology is shared freely to help mitigate the potential threat AI poses to the human race.
6. Strategic Presidential Advisor
Musk's newest role pairs him with an unlikely partner-President Donald Trump. Musk was extremely critical on Trump throughout the campaign, even calling his election victory "not the finest moment in our democracy in general." However, Musk has agreed to put personal differences aside and work with Trump as strategic presidential advisor.
"The more voices of reason that the president hears, the better," Musk said of the position.
Image: Heisenberg Media, Flickr
View Comments and Join the Discussion!
Posted-In: Elon Musk Hyperloop OpenAiEducation Management Top Stories Tech General Best of Benzinga