Women In The Workforce Talk Gender-Based Challenges, Advantages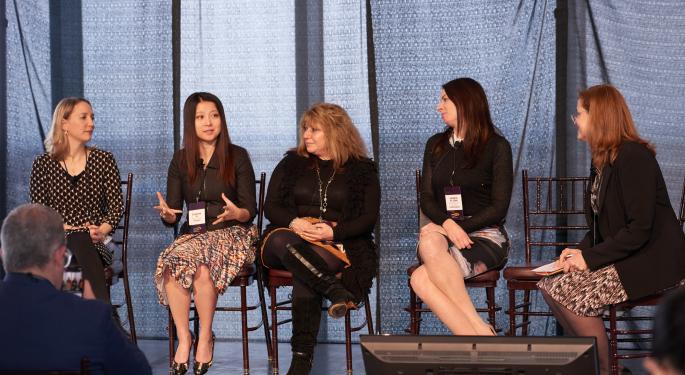 As some see it, basic biology has stunted success for half the U.S. workforce. An historical bias has limited women in compensation, responsibility and role.
The unfavorable conditions prompted recent protests in the form of bronze and absence, and they inspired corporate strategies addressing pay disparities and concerns around maternity and paternity leave.
Panelists at the Benzinga Women's Wealth Forum discussed their experiences as women in industry and the changes they hope profit future leaders.
The Less-Than-Ideal Conditions
The particular task of balancing family and work responsibilities was a widely-cited problem.
"Having a young family was hard," Dale Sperling, CMO of Stash Invest, said on a panel at the March 21 event. "I had to pull back on leadership roles and I got passed on opportunities to run bigger teams because I had other priorities I was juggling. Those were hard choices I had to make at the time… You have to make tradeoffs, you can't have it all."
Sperling considers herself lucky to have secured her current position and professional stability, and she sympathizes with those forced to make sacrifices.
"I think other women who want that flexibility and who want to also be involved in their family life are up against a mountain," she said. "You can't give 100 percent to work and 100 percent to your family."
Another challenge Sperling navigates is moderate communication: speaking with conviction without appearing too hard. She considers the issue unique to women, who are often perceived as aggressive whereas men come across strong.
"It's off-putting for women to self-promote," she said. "It's just what we have to work against, and it's not going away anytime soon."
Turning Lemons To Lemonade
It's not all dark skies, though.
Kathryn St. John, senior director of user experience at Recognia, said the struggles unique to mothers challenged her to become sharper and more deliberate with her time and productivity.
At the same time, the dearth of women in certain industries has been a boon to April Rudin, CEO of The Rudin Group.
"I feel like it's been an actual benefit in my second career because there's such a shortage of good, smart, capable women in financial services," Rudin said, noting opportunity in other sectors, as well.
She advised young women to take advantage of the current job market favoring women candidates.
To be sure, many of these high-achieving panelists didn't attribute professional setbacks to gender-based limitations. Click here to learn more about their strategy for success.
Related Links:
How The Top Strategist Of A Major Investment Firm Keeps Her Cool In A Suddenly Uncertain Market
Starbucks CEO Talks Gender Equality, Long-Term Commitment To China
Posted-In: April Rudin Benzinga's Women's Wealth Forum Dale SperlingMovers & Shakers Psychology Top Stories Success Stories General Best of Benzinga
View Comments and Join the Discussion!