On International Women's Day, Nearly A Quarter Of Americans Still See Women As Less Capable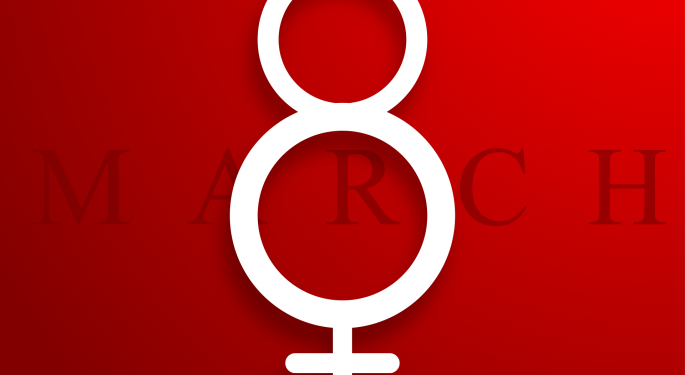 Wednesday marks International Women's Day, a time when individual people are called to help forge a better working world comprised of a more inclusive, gender equal environment. Needless to say, the topic of gender cap also comes to mind.
The organization is calling for people to be leaders within their own spheres of influence to accelerate gender parity and help women "advance and unleash the limitless potential offered to economies the world over."
The sad reality is there is a long way to go, at least according to data compiled by Statista. The publication noted that many countries still make use of "antiquated attitudes and gender stereotypes that define women as being less capable than men in performing certain tasks, such as earning money and even teaching."
Globally, Gender Stereotypes Remain
People in China rank the worst in their attitude toward women. When asked if "men are more capable of doing things in society such as working, earning money, being educated and teaching than women," 56 percent of respondents agreed.
Russia ranked a close second at 54 percent, followed by India at 48 percent and South Korea at 33 percent.
Here is a ranking of the remaining countries surveyed:
United States: 22 percent.
Germany: 20 percent.
Great Britain: 16 percent.
Sweden: 12 percent.
Canada: 11 percent.
Spain: 9 percent.
Earlier this month, Polish MEP Janusz Korwin-Mikke said, "Of course women must earn less than men because they are weaker, they are smaller, they are less intelligent, they must earn less, that's all." His outcry has spurred backlashes from across the world ahead of and leading into International Women's Day.
In a small victory, a European Parliament spokesperson stated, "European Parliament President Antonio Tajani has started an investigation which may result in sanctions against Polish MEP Janusz Korwin-Mikke for sexist remarks made during the plenary session on Wednesday night."
These antiquated views remain across the globe, but there's always potential for progress. Women of the world, thank you.
Related Link: TEW Design Studio Raises Awareness of International Women's Day on March 8
Related Link: 3 Critical Accelerators To Closing The Gender Pay Gap For Class Of 2020, Accenture Research Finds
View Comments and Join the Discussion!
Posted-In: Gender Gap International Womens Day Pay Parity StatistaNews Events Global Media Best of Benzinga