Among Dow 30 CEOs, Day Without 'A Woman' Is Spot On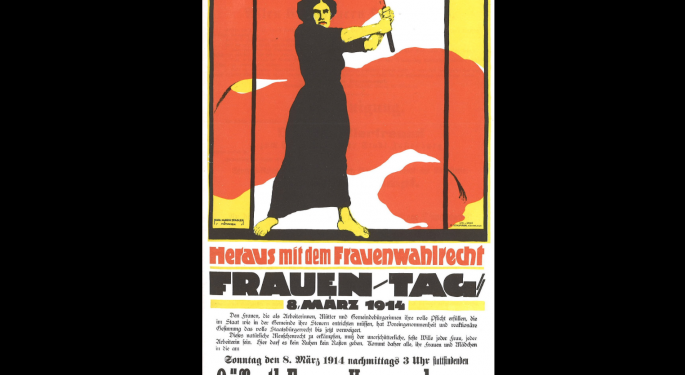 Last month, American workers celebrated — or endeavored to prove — the economic contributions of foreign talent through a national Day Without Immigrants campaign.
Now, a new demographic is champion.
To demonstrate the economic influence of nearly half the global population, women across the world are partaking in Wednesday's "A Day Without A Woman," avoiding economic participation from the office to the marketplace.
The movement — a continuation of the campaign launched with the Women's March on Washington — is unrelated to but coincidentally follows recent controversy surrounding workplace harassment, including allegations of sexism at Uber and Signet Jewelers Ltd. (NYSE: SIG).
The pullout has so far disrupted school districts and sectors with largely female workforces, but the executive teams of the Dow 30 remain relatively undisturbed.
Meet The Mighty Rometty
Only one woman heads an SPDR Dow Jones Industrial Average ETF (NYSEARCA: DIA) company. But the lone CEO, International Business Machines Corp. (NYSE: IBM)'s Ginni Rometty, has earned her spot in the boys' club.
Rometty launched her career as a systems engineer with General Motors Company (NYSE: GM) before joining IBM's consulting group and rising through the ranks. In 2011, she became the company's first female president and CEO, and a year later, she assumed the additional role of chairman.
Rometty has been recognized through first-place rankings on Fortune's Most Powerful Women List in 2012, 2013 and 2014, and a third-place rank in 2015.
Quantity Doesn't Reflect Quality
Despite the dearth of women in leadership roles, business elites acknowledge their value and capacity to transform their industries.
In fact, Warren Buffett said in 2016 that he is looking to add women to his Berkshire Hathaway board and invest in companies with female CEOs. At the time, he'd already been investing in six, and he was eager to empower more.
"What makes me even more enthusiastic about the future, is that 90 percent of that time, we were only using half of our talent," Buffett said at the United State of Women summit. "Think about what would happen if we used all the talent for 100 percent of the time. It's like having one hand behind your back."
Shark Tank's Kevin O'Leary shared a similar perspective. During a 2014 speech at the University of Notre Dame, O'Leary said he has hugely profited by investing in women-run companies.
"Not some of my returns, but all of my returns, have come from companies either owned or run by women," he said about his Shark Tank investments.
O'Leary acknowledged common tactics women tend to employ that generally garner success — among them the pursuit of pragmatic goals, accessibility to employees, ego-free delegation and unparalleled time management.
Related Link: On International Women's Day, Nearly A Quarter Of Americans Still See Women As Less Capable
Related Link: Gender Bias Remains Strong In Science Jobs Field, Study Suggests
______
Image Credit: Poster for Women's Day, March 8, 1914. Claming voting right for women. By Karl Maria Stadler (1888 – nach 1943) - Scan from an old book, Public Domain, via Wikimedia Commons
View Comments and Join the Discussion!
Posted-In: A Day Without A Woman FortuneNews Education Politics Psychology Events General Best of Benzinga