Finance Leaders Talk About The Glass Ceiling At Benzinga's Women's Wealth Forum
It's an era of milestones for women worldwide.
From the "Me Too" movement to the Women's March to Hillary Clinton's presidential run, the last few years have been marked by active empowerment.
Channeling this energy, glass-ceiling breakers of the financial industry gathered Wednesday at the Benzinga Women's Wealth Forum in Boston to sustain the momentum.
"Money is power, and without power, you're screwed," Sandy Chaikin, cofounder of Chaikin Analytics, said at the event. "It's important that women have the power and financial resources to get our voices across and make our impact known."
By Chaikin's assessment, women manage 51 percent or $14 trillion of U.S. wealth. They comprise 51 percent of the workforce, and 40 percent of them outearn their spouses.
"We have the wealth, now we just need to grab the power that goes with the wealth," Chaikin said.
How Women Rise In Finance
The process of managing wealth first involves securing it.
Apeksha Garga, head of design at Wealthfront, said step one is finding companies aligned with personal values.
"Irrespective of the industry or gender makeup of the industry, success is a byproduct of how inspired you are about your work," Garga said, noting the value of intrinsic motivation.
From there, it's a matter of internalizing the narrative and numbers of the company, proving oneself with time-intensive dirty work, and speaking up. That's how tastytrade CEO Kristi Ross did it. And Stash Invest CMO Dale Sperling. And Unison Finance Director Laura Wensley.
"It's not about sitting back and waiting," Wensley said.
Leveraging networks is also a recurring theme in success stories among women in finance.
"It's about finding people who can give you insight and knocking on their door repeatedly," Wensley said.
Some have grown from or found success in corporate experiences, and others have leaned into startup opportunities, which demand high-stakes accountability for skills.
"The owner mindset that comes from working at a small company has been instrumental to my professional success," Kathryn St. John, senior director of user experience at Recognia, said on a panel.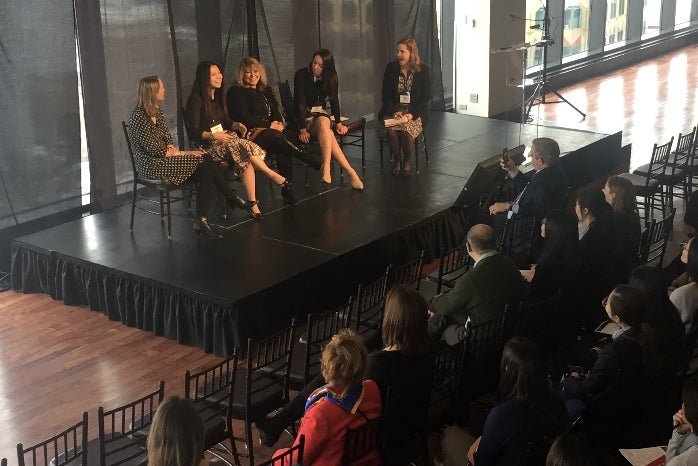 How Women Passively Build Wealth
Management of wealth is as critical as accrual.
"Saving is a really good first step, but you don't control own your financial future unless you start investing that money," Garga said.
The path from earning to investing can be difficult or intimidating, but Wensley advised jumping in.
"Enter into the market as soon as you can afford it — that will appreciate," she said.
Fellow WWF panelists affirmed the importance of active involvement from that point on — knowing where wealth is coming from, what the balance sheet looks like, and what assets are held.
Chaikin considers herself proof of this strategy's efficacy. After suffering a 40-percent portfolio loss at the hands of her adviser in 2009, she took control of her finances, beat the S&P 500 every year thereafter, and now boasts 400-percent gains. At late as 2012, she'd been a investing novice.
"I'm the proof that you don't have to be a financial expert."
Related Links:
April Rudin Talks Fintech's Role In Disrupting How People Think About Investing
Talking Blockchain, Careers And Advice With A Leader In Accounting Services
View Comments and Join the Discussion!
Posted-In: Benzinga's Women's Wealth Forum Women's Wealth ForumPsychology Top Stories Media Personal Finance General Best of Benzinga