How Safe Are Low-Beta Stocks?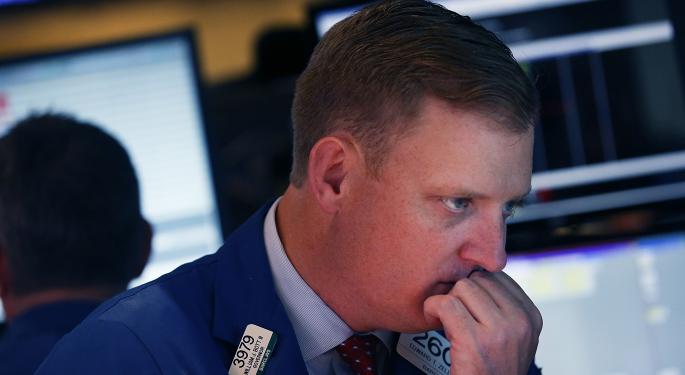 Beta is one of the most commonly-used measures of a stock's volatility. It will often be calculated and considered as a way to determine the "safety" of an investment or a portfolio. The idea is that risk exposure can be reduced during a market downturn by investing in low-beta stocks.
The year 2008 was one of the worst for the stock market in history. The S&P 500 fell 37.6 percent, and billions of dollars of stock market wealth evaporated. That scenario is every trader's worst nightmare and the driving force behind the desire to control portfolio risk.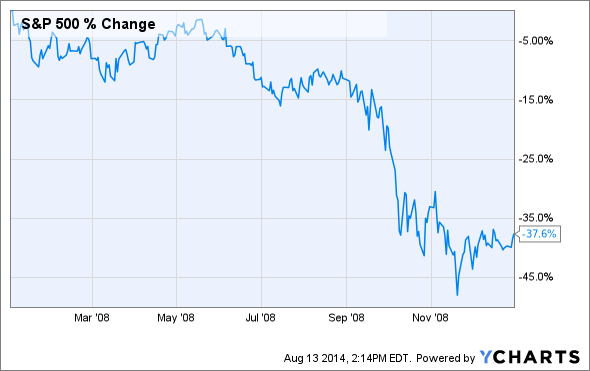 Related Link: Will Takata Airbags Drive The Biggest Automotive Recall?
Safety In Scary Times
In a recent article, CNN Money editor Paul La Monica gave his take on the current market conditions: "So now's the time… to be looking at blue-chip, dividend-paying companies that can hold up well during rocky periods for the broader market." La Monica's idea is that, when times get scary, portfolios should be built around solid, low-volatility, low-risk stocks.
La Monica quotes Brandywine Global managing director Patrick Kaser, who specifically mentions some stocks that he deems to be good, safe, long-term investments, including Cisco Systems, Inc. (NASDAQ: CSCO), Microsoft Corporation (NASDAQ: MSFT), General Motors Company (NYSE: GM), JPMorgan Chase & Co. (NYSE: JPM), Citigroup Inc (NYSE: C) and Metlife Inc (NYSE: MET).
Here's a look at the beta of these six blue-chip companies (according to finviz.com):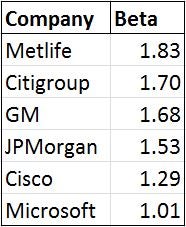 Kaser cites relatively high dividend yields and relatively low valuations for these companies as reasons these stocks are "safe" long-term investments. However, from a strictly volatility-minded perspective, not a single one of these stocks has a beta lower than 1.0.
Regardless, a stock's beta value is measured over a span of time in the past. Does a low-volatility past mean that a stock should have a low-volatility future? Looking back at the market collapse in 2008 helps answer this question.
Blasts From The Past
Here's a list of five mega-cap stocks that would have fit the dividend-paying, reasonably-valued, low-beta description back in January, 2008:

In theory, stocks like these are the "safe" investments during scary times. Here's a chart of the performance of these five stocks during 2008.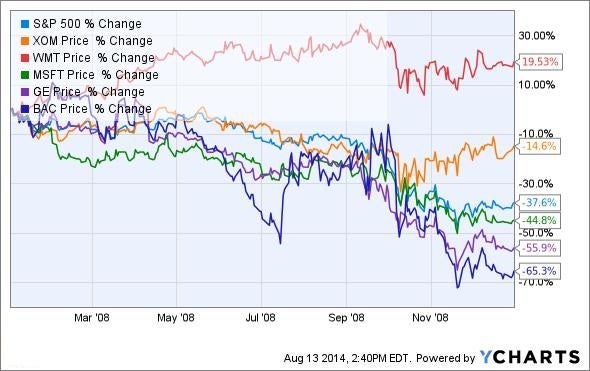 Despite the fact that all five of these companies had a beta under 1.0 at the beginning of 2008, three of the five companies performed even worse than the 37 percent drop the S&P 500 endured. As far as portfolio safety is concerned, Wal-Mart Stores, Inc. (NYSE: WMT) was the only one of the five that managed a gain during 2008. Clearly these stocks' low-beta values prior to the market collapse did not insulate shareholders from heavy losses during the downturn.
What's The Alternative To Low-Beta Stocks?
The most obvious and safest alternative to owning stocks is cash. No graph is required to show that cash majorly outperformed the S&P 500 in 2008. Sometimes a zero-percent gain can be an accomplishment.
Aside from sitting on the sidelines on top of a pile of cash, is there a better place to put money in scary times? Four common ways to profit during a market fall include short-selling stocks, buying put options, buying precious metals and buying inverse ETFs.
Buying high-yielding mega-cap stocks with low valuations and low volatility is generally a good investment strategy for the long term. Make no mistake about it: These stocks are not insurance against heavy losses during market downturns. Under the right circumstances, every stock can take a dive just as hard or harder than the stock market as a whole.
View Comments and Join the Discussion!
Posted-In: Beta market pullback riskEducation Short Ideas Trading Ideas ETFs General Best of Benzinga