Eli Lilly CEO Calls For Uniform Prices, Better Use Of Technology In Health Care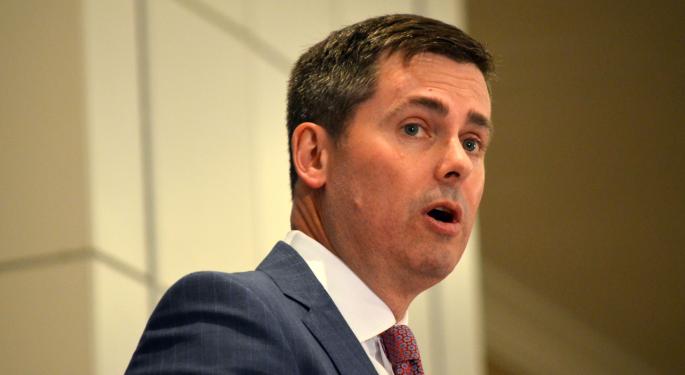 The American health care system is an unsustainable, half-century-old design that engages in price discrimination and has failed to employ technology to its potential to lower costs and expand access, Eli Lilly And Co (NYSE: LLY) CEO David Ricks told the Detroit Economic Club Thursday.
The pharma exec's proposed solution is threefold: the health care system must be digitized to "unleash the power of data," consumers need to be empowered to manage costs and the payment system for health care products and services should be based on the value they produce.
Ricks, 49, who has served as Eli Lilly's CEO since 2017 and worked there for 20 years, offered a stark projection to illustrate the need for reform.
"Thirty years from now, one disease — Alzheimer's — will generate more spending in Medicare and Medicaid than the entire military budget."
A Call For Uniform Drug Pricing
Insulin, Eli Lilly's No. 1 product, shows the wide gap between the amount paid by government-sponsored insurance with "artificially depressed" prices and the amount paid by individuals, Ricks said.
Medicaid pays 10 cents per vial, the lowest price for insulin in the world, he said: "I can assure you that's far below our cost to produce it."
Cash patients pay $300 per vial and are barred from receiving rebates, Ricks said.
"Their payments are actually subsidizing the Medicaid system."
On June 1, the FDA approved Olumiant, Eli Lilly's rheumatoid arthritis drug with partner Incyte Corporation (NASDAQ: INCY).
Olumiant is being launched at a 60-percent discount to competitors, Ricks said Thursday.
"This is a kind of experiment to test out a low-price, low-rebate, less cost-shifting type of model."
At many hospitals, the average markup for drugs is 250 percent, and medicine is used to generate profit, Ricks said.
Ricks spoke optimistically of the health care initiative formed by JPMorgan Chase & Co. (NYSE: JPM) CEO Jamie Dimon, Amazon.com, Inc. (NASDAQ: AMZN) CEO Jeff Bezos and Berkshire Hathaway Inc. (NYSE: BRK-A) (NYSE: BRK-B) CEO Warren Buffett.
"If these three companies can use their scale and technology to create real change and move to value-based payments, it could help move the [health care] system forward."
Targeting Costs, Outcomes With Technology
Advancements in digital technology such as telehealth services, remote monitoring and artificial intelligence present opportunities for cost savings and better outcomes in health care, Ricks said.
The CEO described the proposed shift from a largely destination, or inpatient, health care system to a delivery model as an "Amazon-like" solution to cost control.
"More than a decade after we have iPhones and Skype … there's still spotty reimbursement and scant use of something like telehealth."
The Australian health care system provided remote coordination services to Type 2 diabetes patients, Ricks said.
Patients recorded a corresponding 1-percentage point drop in blood glucose levels — "that's a large enough effective size to get a new drug approved by the FDA," Ricks said — and saw their costs fall by $900 annually.
Mergers, Opioids, The ACA And 'Right To Try'
Ricks offered his take Thursday on other topics at the forefront of health care policy discussions.
The opioid crisis
The number of Americans dying from opioid overdoses daily is equivalent to an airplane crash, Ricks said.
"Believe me, if we were crashing an airplane everyday, we'd be doing something radically different about it."
The most important thing the industry can do is to invent non-addictive pain medication, he said. Eli Lilly has several late-stage non-opioid candidates, he said, including one it plans to submit to the FDA in late 2019 or early 2020 for osteoarthritis and chronic back pain indications.
The Right To Try Act
Eli Lilly has supplied medication "for years" to the patient population affected by The Right To Try Act signed May 30 by President Donald Trump and participated in the FDA's expanded access program for experimental drugs, Ricks said.
Right-to-try could simplify the paperwork for doctors, the FDA and drug companies "a little bit," Ricks said. "We're sympathetic to the population. This is one more avenue to address what has been a longstanding request. We've been very forward leaning and accommodating of those requests."
M&A
When asked about mergers such as CIGNA Corporation (NYSE: CI)'s proposed purchase of Express Scripts Holding Co (NASDAQ: ESRX) and the CVS Health Corp (NYSE: CVS)-Aetna Inc (NYSE: AET) tie-up, Ricks said the deals could help break down silos in health care and apply technological benefits to medical services.
The Affordable Care Act
The drug industry was supportive of the ACA when it was introduced because it promised to expand access to care, Ricks said. "What we've learned is that access does not equal affordability," he said, adding that ACA rules that drove up costs resulted in states and insurance companies shifting costs to individuals.
The question now is whether to pursue a consolidated nationwide system or a localized one with more customization, Ricks said.
"We strongly favor choice in this debate. That's not uniformly true, but that's our company's position."
Related Links:
BMO's Bearish Stance On Eli Lilly Comes To An End
Detroit Economic Club Names Steve Grigorian As CEO
Eli Lilly CEO David Ricks speaks to the Detroit Economic Club at the Westin Book Cadillac Hotel June 7, 2018. Photo by Dustin Blitchok.
Posted-In: David Ricks Detroit Economic Club MedicaidBiotech News Health Care Events General Best of Benzinga
View Comments and Join the Discussion!