Tracking The Busy June PDUFA Calendar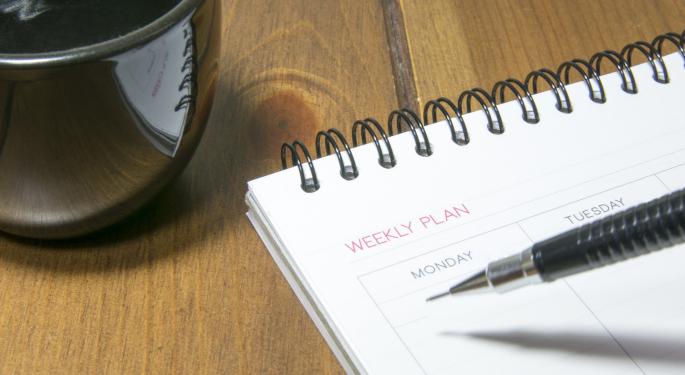 The hot biotech space is set to witness a month of brimming activity in June, as several prospective treatment candidates are up on the altar to receive the blessings of the FDA. Two new molecular entities were approved in May, taking the tally for this year to 20.
How The Sector Has Fared Thus Far In May
Amid light activity levels this month, the performance of the biotech sector thus far this month isn't anything to boast about. The NYSE ARCA Biotech Index has been down 0.14 percent year to date, and the iShares NASDAQ Biotechnology Index (ETF) (NASDAQ: IBB) has been down 2.12 percent.
This compares to a 0.4 percent gain by the S&P 500 and a 1.4 percent advance by the NASDAQ Composite.
However, in the year-to-date period, the NYSE Arca Biotechnology Index and the iShares NASDAQ Biotechnology Index have been up 18.09 percent and 9.76 percent, respectively, signaling that the momentum is still with the sector.
Source: Y Charts
A Recap Of May Decisions
Among the FDA verdicts announced in May:
June — A Month Of Plenty
1. Alkerems Seeks To Increase Dosing Interval With Arisdata sNDA
Company: Alkermes Plc (NASDAQ: ALKS)
Type of Application: sNDA
Drug Candidate: Aristada (aripiprazole lauroxil, chemically)
Indication: Schizophrenia
Date: June 5
The sNDA for the extended-release injectable suspension has been submitted for a two-month dosing interval on August 8, 2016. sNDA application allows a company to make changes in a product, in dosing, packaging, ingredients etc., that already has an approved new drug application, or NDA.
Aristada was approved by the FDA in October 2015 as the first long-acting atypical antipsychotic, with once-monthly and once-every six-week dosing options.
2. Coherus Seeks FDA Approval Amid Patent Challenge
Company: Coherus Biosciences Inc (NASDAQ: CHRS)
Type of Application: aBLA
Drug/Treatment Candidate: CHS-1701, a pegfilgrastim ( Amgen, Inc. (NASDAQ: AMGN)'s Neulasta) biosimilar candidate.
Indication: treating infection during chemotherapy (by stimulating bone marrow)
Potential: $4 billion in sales in 2016 for Amgen
Expected Launch Date: Mid-second half of 2017
Date: June 9
ABLA, or abbreviated Biologic License Approval, provides for the review and ultimate approval of a generic or biosimilar biologic product. In August 2016, Coherus announced the FDA accepted its aBLA for CHS-1701, and 20 days after the FDA acceptance, Coherus had to provide Amgen, the reference product sponsor, with the copy of the application and information regarding the manufacturing process.
Meanwhile, Amgen announced on May 1, it has sued Coherus in a Delaware court for infringing its patent covering Neulasta.
Incidentally, Novartis' Sandoz division, Mylan N.V. (NASDAQ: MYL) and Apotex have also applied for approval for Neulasta biosimilars, although they are yet to get regulatory clearance.
3. Merck's Keytruda Up For 3 Indications
Company: Merck & Co., Inc. (NYSE: MRK)
Type of Application: sBLA
Drug/Treatment Candidate: Keytruda
Indication: 1) previously treated patients with advanced microsatellite instability-high (MSI-H) cancer 2) / advanced urothelial cancer, both as first-line and second-line treatments.
Date: June 9 & June 14
Merck announced on March 14 the FDA has extended the PDUFA date for the sBLA for Keytruda, which is a humanized antibody that works by increasing the ability of the body's immune system to help detect and fight tumor cells. It acts by blocking the interaction between PD-1 and its ligands PD-L1 and PD-L2, activating T lymphocytes, which attacks both tumor and healthy cells. The PDUFA action date is June 9.
The extension was due to the submission of additional data, which was considered a major amendment to the sBLA.
Two more sBLAs for Keytruda are also pending before the FDA for locally advanced or metastatic urothelial cancer, a type of bladder cancer, both for first-line use in patients ineligible for cisplatin-containing therapy, and as second-line for patients with disease progression on or after platinum-containing chemotherapy. The PDUFA action date is June 14.

Source: Merck
4. Will Third Time Be The Charm For Adamis?
Company: Adamis Pharmaceuticals Corp (NASDAQ: ADMP)
Type of Application: NDA
Drug/Treatment Candidate: Epinephrine Pre-filled Syringe
Indication: Emergency treatment of anaphylaxis.
Date: June 15
The product candidate was issued CRL on March 27, 2015 and yet again on June 6, 2016. Following NDA resubmission on December 16, 2016, the company said the FDA accepted it for review on January 19, 2017. The PDUFA date of June 15, 2017 was deduced using a 6-month timeframe from the resubmission.
5. Johnson & Johnson's sBLA For Multiple Myeloma Treatment On FDA Altar
Company: Johnson & Johnson (NYSE: JNJ) unit Janssen Pharmaceutica & Danish biotech Gemmab
Type of Application: sBLA
Drug/Treatment Candidate: DARZALEX (Daratumumab) + pomalidomide and dexamethasone
Indication: treatment of patients with relapsed or refractory multiple myeloma who have received at least two prior therapies, with a proteasome inhibitor and an immunomodulatory agent.
Date: June 17
This PDUFA date for the combo, which was accorded standard review status, is set for June 17.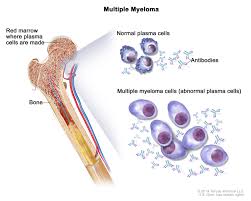 Source: National Cancer Institute
6. Neos' Second Try
Company: Neos Therapeutics Inc (NASDAQ: NEOS)
Type of Application: NDA
Drug/Treatment Candidate: Cotempla XR-ODT, (methylphenidate extended-release orally disintegrating tablet)
Indication: ADHD
Date: June 19
Following the issue of CRL in November 2015, the company announced the resubmission of the NDA on December 20, 2016. A six-month period for the resubmission would mean a PDUFA date of June 19.
7. Ligand Pharma's Bacterial Skin Infection Treatment
Company: Ligand Pharmaceuticals Inc. (NASDAQ: LGND) along with Melinta Therapeutics
Type of Application: NDA
Drug/Treatment Candidate: oral as well as IV Baxdela
Indication: Treatment of patients with acute bacterial skin and skin structure infections
Date: June 19
8. Will Portola's Anticoagulant Solidify FDA Views?
Company: Portola Pharmaceuticals Inc (NASDAQ: PTLA)
Type of Application: NDA
Drug/Treatment Candidate: Betrixaban, a factor Xa anticoagulant
Indication: Extended-duration prevention of venous thromboembolism (blood clots) in acute medically ill patients, such as those with heart failure, stroke, infection and pulmonary disease.
Date: June 24
Related Links:

Emulating The Unthinkable: FDA's Tech Bet With 'Organ-On-A-Chip'
View Comments and Join the Discussion!
Posted-In: AristadaBiotech News Health Care Previews FDA Trading Ideas General Best of Benzinga