Mark Your Calendar For These Days In May To Play The Volatility Around FDA Decision Dates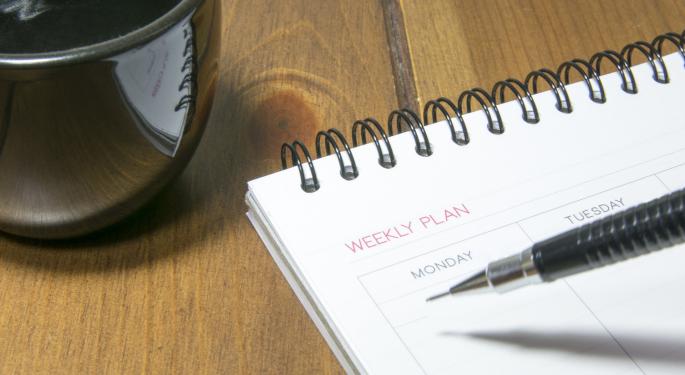 Investment in biotech stocks is fraught with risks. These stocks trade in anticipation of some "make-or-break" events called catalysts and therefore face the danger of seeing wild swings in the eventuality of the widely expected catalytic events achieving success or they turn out to be disappointing.
Some of the key catalytic events a biotech investors can look forward to include the results of clinical trials, FDA panel votes and FDA decisions.
Therefore, it's beneficial for investors to be aware of the imminent catalysts, the probability of success or failure and the implications of the outcome.
Resurgence In 2017
After a lackluster 2016, biotech stocks have begun the New Year well, as reflected by the 15.17 percent gain of the NYSE ARCA BIOTECH INDEX and the 10.60 percent advance by the iShares NASDAQ Biotechnology Index (ETF) (NASDAQ: IBB) in the year-to-date period.

Source: Y Charts
PDUFA: Key Catalytic Event
PDUFA, or the Prescription Drug User Fee Act, a law passed originally in 1992, allows the FDA to collect fees from drug manufacturers with the objective of expediting the approval process. PDUFA date is a deadline by which the FDA should have reviewed an NDA, or New Drug Application. The review period can range from six months if it is a priority review or 10 months for a standard review.
Reviews look at new molecular entities, or NMEs, which are innovative new products that never before have been used in clinical practice, or others, which are similar or related to previously approved products.
NME approvals thus far this year have numbered 14 compared to the 22 approved for the whole of 2016.
Q2 Got Off To Solid Start
Among the FDA approvals in April:
Teva Pharmaceutical Industries Ltd (ADR) (NYSE: TEVA) received FDA approval for its Austedo, used to treat involuntary, random and sudden, twisting and/or writhing movements associated with Huntington's disease.
Neurocrine Biosciences, Inc. (NASDAQ: NBIX) received FDA approval for its VMAT2 inhibitor Ingrezza to treat adults with tardive dyskinesia. Ingrezza is a NME. The stock jumped 25 percent on April 12 in reaction to the decision.

Source: Y Charts
Eli Lilly and Co (NYSE: LLY) and Incyte Corporation (NASDAQ: INCY) were in for a disappointment, as the FDA poured cold water on their hopes by choosing to issue a complete response letter, or CRL, for its rheumatoid arthritis drug baricitinib. The CRL suggests that the FDA would like to see more clinical data to allay safety concerns before it can give its nod. Eli Lilly lost about 6 percent over three sessions following the decision but has since then recovered some lost ground. Incyte is down a steeper 12 percent since the decision.
BioMarin Pharmaceutical Inc. (NASDAQ: BMRN) is anticipating FDA verdict on its Bineura for treating CLN2, a form of Batten disease, by Thursday. The symptoms show up in children aged 2–4, manifesting as language delay and seizure followed by movement disorders, dementia and blindness. Often it proves lethal.
What Is In Store For Companies Awaiting FDA Verdicts in May?
TerapeuticsMD's Yuvvexy
TherapeuticsMD Inc (NYSE: TXMD) Yuvvexy is up for approval by the FDA, which accepted the investigational bio-identical 17β-estradiol vaginal softgel capsule for the treatment of moderate-to-severe vaginal pain during sexual intercourse, called dyspareunia.
Dyspareunia is a symptom of vulvar vaginal atrophy, or VVA, in postmenopausal women.
Date: May 7, 2016.
"If approved, Yuvvexy has the potential to be a highly differentiated treatment option for the 32 million postmenopausal women in the United States who suffer from symptoms of VVA. Yuvvexy is the first product candidate from our pipeline of novel hormone therapies in development to address women's unmet health needs," the company had said in a release announcing the FDA acceptance of the NDA.
However, certain events in the interim have reduced the probability of the treatment option getting the FDA blessing, which has wreaked havoc for the stock. On April 10, the FDA said it identified deficiencies that preclude discussion of labeling and post-marketing requirements.

Source: Y Charts
Merck's Possible Double Delight
The FDA is set to decide on the sBLA, Merck & Co., Inc (NYSE: MRK)'s Keytruda, which was accorded priority review.
Keytruda is being reviewed as a first-line treatment of metastatic non-squamous non-small cell lung cancer along with chemotherapy.
Date: May 10, 2017.
Merck is also awaiting FDA approval for its Isentress to treat HIV-1. Isentress is an integrase inhibitor for the treatment of HIV-1 infection in adult and pediatric patients ages four weeks and older and weighing at least 3kg as part of combination HIV therapy.
Date: May 27, 2017.
Novartis' Rare Blood Cancer Treatment On FDA Altar
Novartis AG (ADR) (NYSE: NVS)'s Midostaurin PKC412 is being evaluated for newly-diagnosed FLT3-mutated acute myeloid leukemia. This was accorded priority review on November 14, 2016, and accordingly the PDUFA date is estimated at May 14, 2017 (6 months from the acceptance).
Date: May 14, 2017.
Novo Nordisk Seeks FDA Blessing For Hemophilia B Treatment
The FDA is scheduled to decide on Novo Nordisk A/S (ADR) (NYSE: NVO)'s BLA for its hemophilia B treatment candidate Nonacog beta pegol this month. The BLA filing was done on May 16, 2016.
Hemophilia B is a genetic disorder caused due to a missing or defective clotting protein called factor IX, which leads to excessive bleeding.
After a torrid second half in 2016, the shares of the company had stemmed the bleeding in 2017. Will the hemophilia B treatment continue to offer soothing touch?

Source: Y Charts
Date: May 16, 2017.
Related Links:
Your Guide To 2017's Emerging Pharmaceuticals Catalysts
Emulating The Unthinkable: FDA's Tech Bet With 'Organ-On-A-Chip'
Posted-In: Biotech News Health Care Previews FDA Trading Ideas General Best of Benzinga
View Comments and Join the Discussion!