Starbucks, Huntington Bancshares and Other Stocks Insiders Are Buying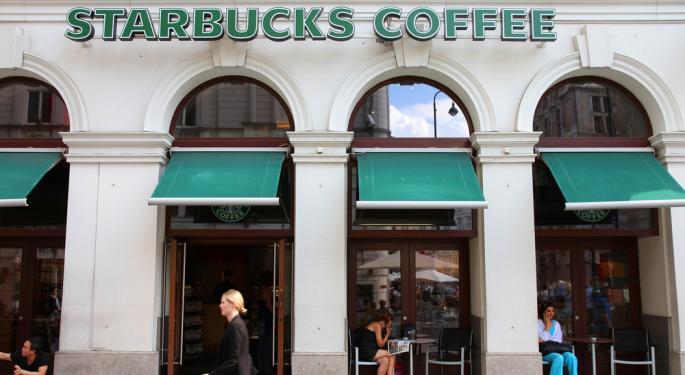 Insiders may sell shares for any number of reasons, but conventional wisdom is that insiders really only buy shares of a company for one reason -- they believe the stock price will move higher and they want to profit from it.
Pullbacks and sell-offs provide a perfect opportunity for investors who have faith in a company to snap up shares. Here are some stocks that have seen insider buying recently.
Huntington Bancshares
The CEO and two directors bought more than 112,000 shares in the past two weeks. Altogether, that was worth more than $797,000. This commercial and consumer banking services provider recently boosted its dividend and last week named a new head of its treasury management division.
This Columbus, Ohio-based regional bank has a market capitalization of about $6.1 billion and a dividend yield near 2.8 percent. The price-to-earnings (P/E) ratio is lower than the industry average and the return on equity is less than 12 percent.
Shares of Huntington Bancshares (NASDAQ: HBAN) pulled back about eight percent in mid-April but have begun to recover. But over the past six months, the stock has underperformed competitors Fifth Third Bancorp (NASDAQ: FITB) and Keycorp (NYSE: KEY).
Key Energy Services
The CEO, COO, controller and two directors last week bought a combined 112,500 shares, which was worth more than $613,000, of this Houston-based onshore rig-based well servicing contractor. First-quarter EPS fell more than expected due to a falling inland rig count.
Key Energy Services (NYSE: KEG) has a market cap near $948 million. While the long-term EPS growth forecast is about nine percent, the return on equity is less than nine percent. The share price is down more than 12 percent year-to-date and hit a multiyear low last week. Over the past six months, the stock has underperformed the Dow Jones Industrial Average.
NuStar Energy
Three directors recently purchased 61,000 shares altogether of this San Antonio-based master limited partnership (MLP). That was worth more than $3.1 million. The company saw an analyst downgrade after posting first-quarter earnings that fell short of expectations.
NuStar Energy (NYSE: NS) has a market cap of about $3.8 billion and its dividend yield equivalent is near 8.7 percent. The forward earnings multiple is less than the industry average P/E ratio, but the return on equity is in negative territory. Shares have retreated more than 14 percent since the earnings report, but the stock has outperformed larger BP (NYSE: BP) over the past six months.
Opko Health
The chairman continues to buy batches of shares periodically, as he has done for more than a year. He scooped up more than 220,000 Opko Health (NYSE: OPK) shares in the past week, at a price of more than $1 million. An executive vice president also bought 4,300 shares.
This Miami-based health care company recently acquired Prolor Biotech, and it has a market cap near $2.2 billion. Short interest is about 19 percent of the float. Shares have retreated more than 14 percent from the multiyear high reached in mid-March. The stock has outperformed competitors such as Allergan (NYSE: AGN) over the past six months.
Starbucks
This past week, a director purchased more than 3,000 shares, which was worth almost $200,000. Also last week, this Seattle-based retailer and distributor of specialty coffee products announced changes to its senior leadership, as well as the launch of its new Caramel Ribbon Crunch Frappuccino and the return of the Mocha Cookie Crumble Frappuccino.
The market cap is more than $46 billion and the dividend yield is near 1.4 percent. The long-term EPS growth forecast is almost 19 percent, and the return on equity is almost 29 percent. No pull back here, as the share price reached a new 52-week high on Friday.
Over the past six months, Starbucks (NASDAQ: SBUX) has outperformed McDonald's (NYSE: MCD) and the broader markets but underperformed competitor Dunkin' Brands (NYSE: DNKN).
ETFs and Alternatives
Investors interested in exchange traded funds focused on insider sentiment might want to consider the following trades.
Direxion All Cap Insider Sentiment Shares (NYSE: KNOW) is up more than 16 percent year-to-date.
Guggenheim Insider Sentiment (NYSE: NFO) is up about 15 percent year-to-date.
Traders may prefer to consider these alternatives to some of the stocks listed above:
Neither Benzinga nor its staff recommend that you buy, sell, or hold any security. We do not offer investment advice, personalized or otherwise. Benzinga recommends that you conduct your own due diligence and consult a certified financial professional for personalized advice about your financial situation.
Posted-In: Allergan bp Buckeye Partners Cheniere EnergyLong Ideas Short Ideas Insider Trades Trading Ideas Best of Benzinga
View Comments and Join the Discussion!