SLIDESHOW: 13 High Beta Stocks to Watch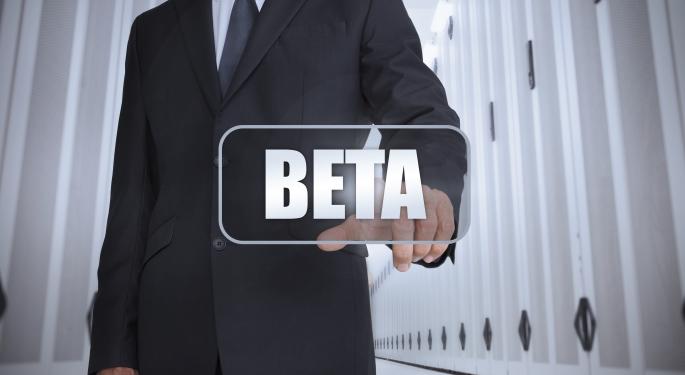 Short term traders know that the way to make money is through volatility. Stocks that keep their cool through good times and bad are perfect for income investors looking for dividend yield but for the trader who is searching for market inefficiencies, they need hyperactive stocks.
The way to find those stocks is by looking at beta. Beta is a measure of volatility where a beta of one indicates that the stock will move roughly inline with the S&P 500. A beta of 2 means that the stock will move at twice the rate of the S&P 500.
Beta is a little more complicated than our simple explanation. Read this article to learn more but in general, remember that a stock with a beta of 2 is going to have a chart full of big moves and as a trader, you're looking for quality names with volatility.
We conducted a search of stocks with a market cap. of at least $2 billion, volume of at least 500,000, a price of at least $5, and a beta at or above two.
Posted-In: S&P 500 slideshowTrading Ideas Best of Benzinga
Alcoa

Alcoa (NYSE: AA) Beta: 2.14-

Alcoa used to be the bellwether of earnings season.

When it reported positive earnings, it was said to set the tone for the rest of earnings season. While that's no longer true, what is true is that this stock sets up well for volatility traders.

It's currently sitting at horizontal support around $8 and its sitting at its 20 day moving average. Look for further breakdown in the name.

Related: Is High Beta Worth the Risk?

Bank of America

Bank of America (NYSE: BAC) Beta: 2.44-

Because beta is an average over time, sometimes the chart of recent months doesn't support the high beta claim.

Bank of America spent February through June living up to its high beta number, but recently, the stock has calmed down.

The run up from about $12.50 to $14.52 could produce profit-taking in the near future.

Tata Motors

Tata Motors (NYSE: TTM) Beta: 2.27-

If you're looking for the type of volatility that will keep you up at night, look no further than Tata Motors.

This Indian auto manufacturer has traded in a general range of $22.50 to $29 since March with wild swings along the way.

Wynn Resorts

Wynn Resorts (NASDAQ: WYNN) Beta: 2.39-

The company known for its hotels and Casinos in Las Vegas and Macau has been in a solid uptrend throughout much of 2013 but traders on both sides have gone to battle over this stock making it a great volatility play.

It currently sits at its 50 day moving average.

Other Names Worth Researching

Other names worth researching:

Don't commit money to a stock based on beta alone but if you're looking for volatility, these will get your research started.

Check Out These Other Great Slideshows
View Comments and Join the Discussion!