Are These Tech Companies Too Reliant On One Major Customer?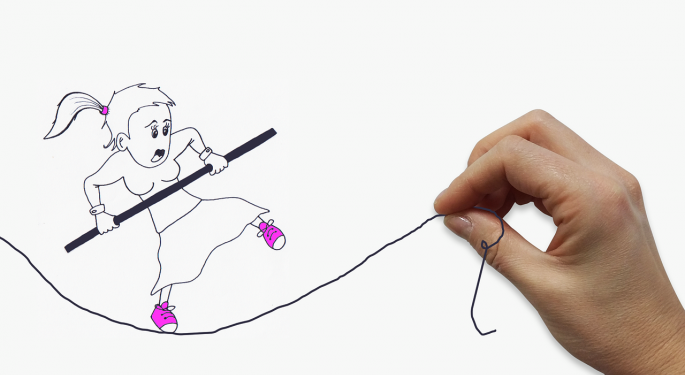 Companies relying too much on a single product or a single major customer are always risky propositions. If the product fails big time or this big customer chooses to ditch the company in favor of competition, the resultant loss would be insurmountable. In some cases, the development could push the company to the brink of bankruptcy.
Apart from overexposure to a single client, overexposure to a single market, distributor or an industry could also spell doom. Over-reliance is common among startup firms, as they set the ball rolling, servicing one market, customer or distributor. However, this approach does not work when businesses wish to survive and flourish.
Mobileye's Short-Sightedness
Mobileye NV (NYSE: MBLY), a technology provider of advanced driver assistance systems, is one such company, too reliant on a few major customers. General Motors Company (NYSE: GM) reportedly accounted for 24 percent of the company's revenues in 2015 and 30 percent in 2014. Tesla Motors Inc (NASDAQ: TSLA), with which the company terminated partnership in September 2016, had been contributing to roughly 10 percent of the total revenues.
The severing of ties followed Tesla's leanings toward radar-based sensor systems, away from the optical sensor technologies being used by Mobileye.
Ambarella Spreading
Ambarella Inc (NASDAQ: AMBA), a maker of image processing SoCs or systems on chips used in GoPro Inc (NASDAQ: GPRO)'s camera, derives roughly 25 percent of its revenues from GoPro. However, the company is increasingly striving to diversify away from its over-reliance on GoPro and focus on other growth segments such as drones, consumer surveillance cameras and wearables, excluding GoPro.
Ambarella's offerings that include features such as 4K resolution and electronic image stabilization could help it fare better in the drone market.
Cirrus' Strong Ties
Cirrus Logic, Inc. (NASDAQ: CRUS), which makes audio chips, revealed in its latest 10-Q filing that Apple Inc. (NASDAQ: AAPL) accounted for 78 percent of its revenues in the second quarter ended September 2016, up from 63 percent in the year-ago period.
In 2016, Apple decided to use Cirrus-powered wireless headphones for the iPhone 7 instead of the traditional 3.5-millimeter headphone jack. This proved salubrious for the company's stock, as it rose roughly 92 percent. With the firm's fortunes closely tied to Apple, any setback to Apple could heavily impact Cirrus Logic.
Glu(ed) Mobile
Glu Mobile Inc. (NASDAQ: GLUU), which develops and publishes games for smartphone and tablet users, though not qualifying as a component supplier to Apple, is heavily reliant on games sold through direct-to-consumer digital storefronts such as Apple App Store, Google Play Store (Alphabet Inc (NASDAQ: GOOG) (NASDAQ: GOOGL)), Amazon Appstore (Amazon.com, Inc. (NASDAQ: AMZN)), etc.
Sales through Apple's App Store accounted for 52.7 percent of its revenues in the third quarter of 2016, while Google Play Store fetched it 27.1 percent of its revenues.
Though pursuing a path which is fraught with risks, the efforts initiated to diversify in a bid to mitigate the risks could begin to pay-off, if not now, at least in the intermediate to long term. Until then, these companies are living a precarious existence.
View Comments and Join the Discussion!
Posted-In: Top Stories Tech Trading Ideas General Best of Benzinga