7 Ways American Malls Are Dodging A Demographic Bullet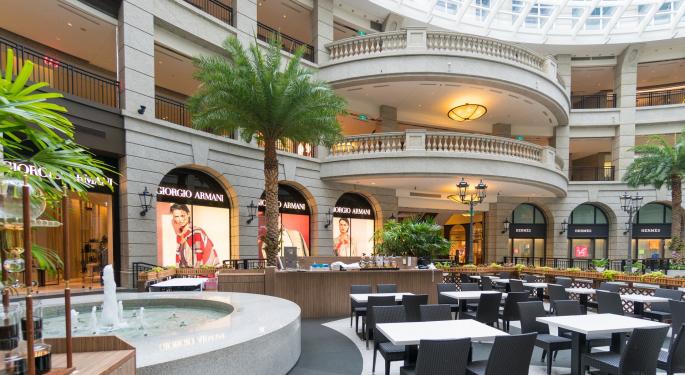 Mallrats are a dying breed, and the smart-mouth punks back then are now known as millennials — those unabashed young adults who helped bring down their tribal hangout by blithely moving their culture, along with retail, online.
Media have written way too many obits about the death of the mall, a concept that exploded in the 1960s and now seems doomed as the big-box superstores choke on their failure to take the measure of the monster known as Amazon.com, Inc. (NASDAQ: AMZN) and its many minions.
This is not a story about the death of the mall. This is not about how people will reminisce about a society once centered around a piece of real estate anchored by a Macy's Inc (NYSE: M) on one end and a Sears Holdings Corp (NASDAQ: SHLD) on the other, with a Lord & Taylor stuffed up the middle.
This story is not about quaint-but-dead icons like a Frederick's of Hollywood (1947–2015) Sharper Image (1977–2008), KB Toys (1922–2009), Sam Goody (1951–2006) Noodle Kidoodle (1931–2001) Waldenbooks (1933–2011), Gadzooks (1983–2005) and The Limited (previously of L Brands Inc (NYSE: LB) fame) (1963–2017).
"I represent Foot Locker, Inc. (NYSE: FL) and I keep telling these guys we have to move these stores out," says John Gottesman, head of Gottesman Group LLC and a former leasing manager at metropolitan Detroit's Oakland Mall.
This Story Is Not About Foot Locker
This is a story about the circle of life, the evolution of culture and the fierce challenges that force people to either adapt, evolve or die. This is about how malls will survive, in one form or another.
It's also a story about what people are already doing with all that real estate.
I Was A Teenage Mallrat
"I was a Mallrat," confessed Alec Kawasaki. "We'd spend the day cruising the mall and the night drinking/smoking, etc. behind the mall ... next to the creek ... good times."
He said this not in a mall, but on the Youtube trailer for Kevin Smith's seminal 1995 movie "Mallrats," a flick that captured a subculture before it died, like so many canaries in so many coal mines. He was 15 when it came out, and now he is bringing the hammer down on the mall that coughed him up and spit him out into the world that considers malls obsolete.
Now What?
"It's a different landscape out there," said Peter McGrath, a commercial real estate associate with Colliers International. "You have to be creative and you have to be lucky and you have to be well-located. And that's not easy."
What to do with structures on property of varying value that seems intrinsically designed to be nothing but a mall? Innovate.
Here are some left-for-dead shopping malls that managed to escape the zombie apocalypse and position themselves for the future.
1. Revving Up The Ford Fairlane
It was once the name of a Ford Motor Company (NYSE: F) car, and also the name of the Fairlane Town Center Mall in suburban Detroit. Now it's a bit of both. Earlier this year, Ford moved nearly 2,000 employees into vacant space once occupied by 25 retailers, including a shuttered Lord & Taylor.
"That's awesome for the shopping element and specifically the food element," Gottesman said.
2. Cure For Mall Malaise
Nashville's 100 Oaks Mall opened in 1967 as the city's first super mall, but by 2007 it had fallen into mall malaise. Then, more than half of 100 Oak's 800,000 square feet was rented by the Vanderbilt University Medical Center.
The mall now has roughly 20 clinics taking the place of the old stores. Retail lives on, though, in half the rest of the mall. The people who provide care and those who get it are dependable traffic.
"The urgent care centers are surging," said Gottesman. "People don't want to go hospital unless it's absolutely necessary."
3. Retail Meets Water Park
Aquatics International, a trade group for the nation's water parks, is hungrily eyeing the mall space to fill with new technology in water sports. Real estate developer Triple Five Group's plans to build on New Jersey landfills and land in Miami to merge mega-malls with super-sized water parks. Others are following suit.
"Beyond these high-profile projects are many similar concepts in the works throughout the U.S. and globally, representing an emerging market for waterpark operators to tap into.
"In some cases, malls own the aquatics facility but hand the keys over to an experienced operator," Aquatics International said.
4. Back To School
The baby boomer bulge left behind a bunch of empty schools when it passed through the demographic digestive tract of the United States. The resulting "boomlets" and their spawn have created a demand for educational space. The demand for affordable, post-high school education is unabated.
The Highland Mall in Austin, Texas, was virtually empty by 2010, but the Austin Community College that existed on the edges jumped on the open space.
The college bought that mall and turned it into school.
5. It Takes A Village To Save A Mall
Englewood, Colorado, created a new mixed-use downtown out of the Cinderella City Mall, which had been the largest mall west of the Mississippi when it opened in 1968. Most famously was the transformation of The Arcade in Providence, Rhode Island, the oldest indoor mall in the country. In 2012, it re-invented itself as a fashionable living space with microlofts.
6. Way To Worship
The Lexington Mall in Kentucky, turned its carcass over to the Southland Christian Church for $8.1 million in 2010. The former Grand Village Mall in Michigan was donated to the Mars Hill Bible Church, which spent about $2.3 million on renovations.
7. Back To Nature
And some malls have been turned into public space used directly to benefit the surrounding community. The City Center Mall in downtown Columbus, Ohio, closed in 2009, and was converted into a park.
Which means that though the mall may be dead, long live the mall. It's part of the cycle of life.
"This is nothing new. Twenty years from now it will happen again," said Gottesman. "Businesses go out of business."
It's more human behavior than rational thought.
"Not everything is cheaper on Amazon."
Joel Elconin and Mike Marshall contributed to this report.
Posted-In: REIT Education Opinion Top Stories Exclusives Interview General Real Estate Best of Benzinga
View Comments and Join the Discussion!