Meet The New Boss: Gen MX Driving Global Economy, Study Shows; Boomers Could Break Stock Market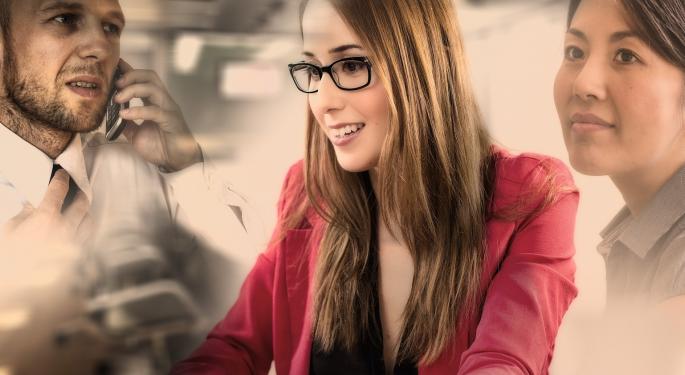 A wealthy slice of Gen Xers and older millennials share surprisingly similar banking practices, a new study showed Wednesday, while a pair of analysts dueled over whether baby boomers will crash the stock market when they cash out their retirement savings.
About three-quarters of Gen Xers (36 to 51) and "senior millennials" (26 to 36) — dubbed collectively Gen MX — handle their banking online or with mobile devices, according to a study released Wednesday by Fidelity National Information Servcs Inc (NYSE: FIS).
The survey, the third annual Performance Against Customer Expectations (PACE), was based on a poll of 8,000 banking consumers in eight countries, including the United States.
"GEN MX is now in the driver's seat of the global economy," said Anthony Jabbour, chief operating officer, banking and payments, at FIS. "This super segment of consumers earn more than any other age group, are starting and running businesses, and are about to inherit the biggest transfer of wealth in history."
Generation Landslide
The data suggest that this group:
Is more likely than other age groups to use regional banks as their primary financial institutions.
Share, in the same order, the 10 most important attributes that they want most from their banks, ranging from safety and security at the top to simplicity, transparency, omnichannel options and ability to anticipate and meet their financial needs.
Three-quarters of their banking contacts are handled via online and mobile channels, and they do more than twice as many mobile banking interactions as baby boomers, on average.
Nearly two-thirds of senior millennials and half of Gen Xers have at least one major life event planned within the next two to three years that will affect their finances.
Both segments indicated a significant preference for using their primary banking provider as their first choice of where to turn for assistance with their finances.
The study showed that the U.K. had the highest percentage of "financially unhealthy" respondents at 23 percent, followed by Australia (22 percent), Canada (18 percent) and U.S. (17 percent).
Will Baby Boomers Break The Stock Market?
In another set of studies focusing on baby boomers, a pair of analysts came to different assessments of whether the group will hurt the stock market in the near future.
Samuel Gruen of Lightfield Capital suggested in March that this is a pivotal year for the over-70 set.
"The first Boomers, those born in 1946, are turning 71 this year. By law, that is the age at which they must start withdrawing funds from their retirement plan," he wrote. "At the same time, younger Boomers will continue rebalancing their portfolio towards less volatile assets. This 'natural' outflow from equities will increase drastically over the next decade."
A blog post by portfolio manager Ben Carlson of Ritholtz Wealth Management took issue with that assumption.
He said boomers are "woefully unprepared for retirement," and even if many do cash in their IRAs and 401ks when the government requires them to, they can always reinvest it or pass on to their kids.
Related Links:
What The New Gig Economy Bill Means For Workers, In Layman's Terms
Zuckerberg Delivers Powerful Message Of Purpose At Harvard Commencement
Posted-In: Anthony Jabbour FISFinancial Advisors Education Top Stories Media Personal Finance General Best of Benzinga
View Comments and Join the Discussion!