How Did The Comms Sector Play Through Q2 And What's Ahead?
Fasten your seat belts. Tightly!
As Q2 earnings reports begin trickling in, investors everywhere should prepare for what one headline writer called "The Ugliest Earnings Season since the Financial Crisis."
The year-over-year fallout from the coronavirus pandemic that kept most of the world in family confinement for many months has widely been expected to show its nastiest side in Q2 earnings results, and we're about to find out how hideous it was.
FactSet, for example, is predicting all 11 sectors of the S&P 500 could fall into negative territory for a white-knuckled 43.8% drop into the earnings abyss for the quarter. The biggest loser leaders include Energy, Consumer Discretionary, Industrials and Financial sectors, according to FactSet's John Butters.
"If -43.8% is the actual decline for the quarter, it will mark the largest year-over-year decline in earnings for the index since Q4 2008 (-69.1%)," he wrote in a recent update.
On the other side of the biggest loser equation is the sector with the smallest expected setback—the Communications Services sector. With some of the largest and most well-known companies in it, such as Netflix Inc (NASDAQ: NFLX), Walt Disney Co (NYSE: DIS), Facebook Inc (NASDAQ: FB), Google parent Alphabet Inc (NASDAQ: GOOG) (NASDAQ: GOOGL), and Twitter Inc (NYSE: TWTR), Comms represents the nonliving lifeblood of nearly every American who turns to their phones, computers or TVs to work, live or play. They also rely on AT&T Inc. (NYSET) and Verizon Communications Inc (NYSE: VZ) to access many of those platforms.
Comms Sector Results A Guesstimate
Here's something to chew on: 100% of the Comms companies that have issued guidance for Q2 have made positive calls. That's directly opposite of the calls from the Utilities or Industrials sectors, according to FactSet.
Still, FactSet is looking at a 30.9% drop in Q2 Comms sector earnings growth today compared to a 2.7% decline at the end of Q1. Revenue growth projections have fallen to a minus-5.7% today vs. where they stood at Q1's end at a 4.4% gain.
That could help in understanding FactSet's percentages of buy, hold, and sell ratings on the sector. Some 58% of analysts are recommending buys on stocks in the sector, while 35% say hold and 6% say sell. Only Energy and Health Care sectors scored higher buy percentages at 62% and 61%, respectively.
The positive outlook for Comms—relative to other sectors—has helped power share prices as well (see chart below).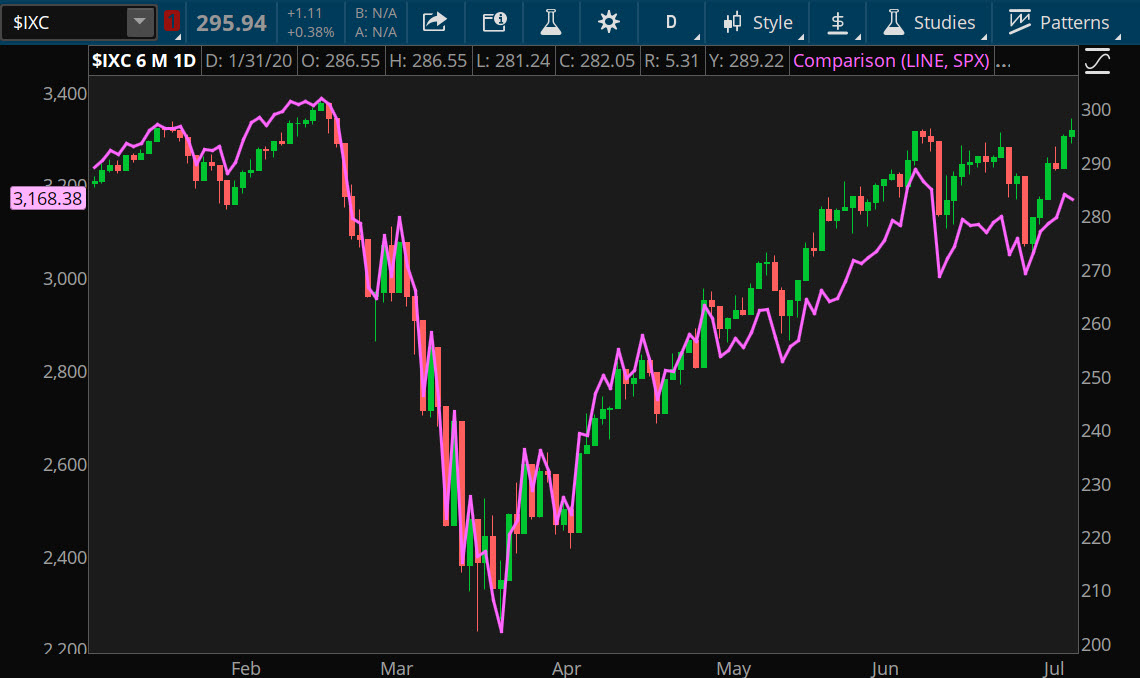 FIGURE 1: BREAKING AWAY. During the height of the pandemic meltdown in March, the Communications Services sector ($IXC—candlestick) fell hard along with the broader market S&P 500 Index (SPX—purple line), but since then has become the pacesetter. Data source: S&P Dow Jones Indices. Chart source: The thinkorswim® platform from TD Ameritrade. For illustrative purposes only. Past performance does not guarantee future results.
But here's something else to munch on: With so much uncertainty ahead for COVID-19 outbreaks, companies have failed to offer up guidance. Or, as Bank of America's Savita Subramanian wrote in a recent note, it's all a guesstimate.
"At this point, exactly 400 companies within the S&P 500 have failed to guide over the last three months...suggesting that corporate sentiment is neither positive nor negative, but simply a big question mark," she said.
A NFLX Exception?
If it feels like NFLX is hitting fresh highs most weeks, it's probably because it has. Since tumbling with the rest of the stock market in mid March, NFLX shares have soared better than 65%. After bottoming at a 52-week low in mid September of last year, the stock has doubled in value.
Thanks to NFLX, there was some much-needed therapy available to help provide solace from the long days and nights of staying in one place—often with bored children, and spouses—that the tandem effect of the coronavirus pandemic and a near worldwide quarantine created.
Investors largely expected NFLX to add high numbers of new subscribers in Q1 as folks desperate for entertainment, even the mind-numbing sort, turned to the streaming video provider.
Investors might want to keep tabs on anything NFLX executives might say about pricing power, something some analysts are thinking will come sooner rather than later, given the momentum and the still cloudy outlook for containing Covid-19 outbreaks in the U.S.
"With many consumers continuing to stay home and limiting outdoor social activities amid uneven reopenings, Netflix engagement has likely remained high," Cowen analyst John Blackledge said in a recent note to clients.
Disney Not Throwing Away Its Shot
It's been barely eight months since DIS rolled out its Disney+ streaming service and analysts say the quarantine gave it an immediate bump into the big leagues competing against NFLX and Amazon.com Inc's (NASDAQ: AMZN) Prime streaming service. Desperate parents might have had a big hand in that, helping to account for the 54.5 million worldwide subscribers to the service in just the first six months, according to the company.
Its recent release of musical Hamilton spurred a 74% hike in mobile downloads over the 4th of July weekend, equivalent to 752,451 times globally, according to analytics firm Apptopia. And even that number could be low considering it only accounts for the mobile app download and doesn't include downloads to online services or via smart TVs, Variety noted in a recent article.
While all that's well and good, analysts said Disney+'s gains aren't nearly enough to overcome the lost revenues when it was forced to close down its theme parks, resorts and cruise lines. At the same time, movie theaters went dark, and it's unclear whether DIS will have to find other means of distributing movies like "Mulan," slated for release in July, if movie theaters don't open or even if they do, but at limited capacities.
The GOOG, FB, TWTR Ad Revenue Conundrum
On the social media side of Comms, nothing seems to be piquing the Q2 interests of analysts more than advertising revenues, which stumbled in March and looked to be on an uneven path into Q2, according to GOOG, FB and TWTR Q1 earnings statements and conference calls.
As the pandemic got into full swing in mid to late March and consumers stayed hunkered down at home, out of shopping centers and malls, fitness facilities and restaurants, advertising revenues dropped. That didn't put too big of a dent in revenues—all three posted double-digit gains—but it forewarned of an ambiguous near-term future, meaning Q2 and Q3.
GOOG also saw its ad revenues take a "significant and sudden hit" in March that Chief Executive Sundar Pichai "correlated to the locations and sectors impacted by the virus and related shutdown orders."
The company anticipated Q2 would be a "difficult one" but said in April it would be "premature to comment on timing, given all the variables here." Both companies saw ad revenues stabilizing as they edged in April but were wary.
TWTR, too, pulled in new users in Q1 as people everywhere were searching for information about the pandemic's march across the world. As Chief Executive Jack Dorsey said in a statement, "In this difficult time, Twitter's purpose is proving more vital than ever. We are helping the world stay informed."
But TWTR saw the writing on the wall in March as advertisers began pulling back spending and warned investors at the time. Analysts have noted TWTR could get a bigger hit to its ad base because it leans toward brand advertising, typically the first ads to get cut when finances get tight.
FB's Other Ad Revenue Troubles
It's a boycott by some 750 of the platform's largest advertisers in July, including VZ, Coca-Cola Co (NYSE: KO), Starbucks Corporatio (NASDAQ: SBUX) and Unilever NV (NYSE: UN) to prompt FB to announce tougher actions on what they consider inappropriate messaging on Facebook and Instagram.
The initiative was launched last month in an open letter to FB advertisers from the Anti-Defamation League, aimed at cleaning up its approach to "divisive, hateful and conspiratorial content."
"Every day, we see ads from companies placed adjacent to hateful content, occupying the same space as extremist recruitment groups and harmful disinformation campaigns," the June 25 letter stated.
FB CEO Mark Zuckerberg was expected to have a virtual meeting with the Anti-Defamation League and other like-minded civil rights groups but had not publicly made a statement about the boycott. It could be interesting to see how this unfolds and whether Zuckerberg discusses it on the conference call.
GOOG, FB, TWTR and their International Challenges
As these three continue to face regulatory issues in the U.S., the trio is also in the same boat abroad. Keep an eye on the European Union's efforts to rein in GOOG, AMZN, and FB's alleged anticompetitive behavior and an ear bent to what those giants might have to say about them. (AMZN isn't a Comms sector company but could be worth watching with these others nonetheless.)
The EU's top antitrust boss is devising a playbook for techs that includes heavier taxes and "compelling them to shoulder more responsibility for illegal content on their platforms," according to a Wall Street Journal article.
"It's a full complex of things. It's not done with just one piece of legislation," Margrethe Vestager said in an interview with a small group of reporters, according to WSJ. "After the first mandate and the first specific competition cases, what I have seen very clearly is that we need rigorous competition-law enforcement, but we also need regulation," she said.
GOOG, FB, and TWTR also appear to be putting themselves on a collision course with the Chinese government after recently halting all user data requests from Hong Kong's law enforcement agencies.
That follows Beijing's new national security law that is said to be aimed at quelling opposition and all those Hong Kong protests against the ruling Communist Party, according to published reports. Hong Kong residents have reportedly relied without retribution on the social media giants for a variety of communications, including expressing political opinions, just like U.S. citizens.
The law, passed in secrecy June 30 and put into effect July 7, says that police who suspect an "electronic message" that might risk "national security" could turn to the platform, host, or network provider to remove or restrict access, according to the Wall Street Journal.
Regardless of how the new measures pan out, there could be an impact to the revenue these companies get from advertisers on the messaging boards.
T and VZ: Streaming, 5G, Plus More
There's been a bundle of news coming out of T in recent weeks, including reports of a potential sale of the Warner Bros Interactive Entertainment division, the gaming arm. CNBC reported in mid June that T was considering a sale that would pull in $4 billion.
That's a lot of moolah but remember T has a boatload of debt, much of it tied to the $104 billion purchase of TimeWarner and its debt in 2018. T pulled its guidance April 22, noting the coronavirus impact. Analysts said they're looking for more insight on revenue numbers as well as debt-reduction plans. In June, T said its debt was now more "manageable" after it had paid down $4.3 billion in bonds and another $1 billion prepayment of term loans.
"This series of transactions is consistent with AT&T's plans to continue improving its credit quality even as it remains committed to paying a dividend to its shareholders and investing in its growth areas—fiber, 5G and HBO Max," the statement said.
Not long after, the WarnerMedia division announced plans to sell the iconic CNN Center in downtown Atlanta, with plans to lease back the space for a minimum of five years, the company said in a June 29 statement.
At the same time, T has said it's focusing on the streaming service business, which could mean they may turn their attention to HBO Max.
Then, of course, there's the 5G plan. T was the first 5G carrier in the industry and has said its policy framework will concentrate on mobile 5G, fixed wireless, and edge computing. It also said it would have nationwide coverage of 5G by the end of the year, albeit with some on a lower frequency spectrum.
Something to listen for heading into T's earnings call is if those plans are still in place and if there's any possibility of fast-tracking any of the super-fast internet plans at a time when work-at-home is the new norm as is school-at-home and binge-at-home.
Speaking of 5G, VZ is apparently the speed leader in the 5G race because it relies on what's called mmWave spectrum, according to OpenSignal, an independent mobile analytics group. Will the higher speed give VZ the ability to overpower T?
Last month, VZ announced its trials of dynamic spectrum sharing, DSS, technology in a couple of states. This gave VZ the confidence to move ahead with its plan to launch 5G this year, according to industry watchers. Something to listen for during VZ's earnings call is how the company plans to roll that out, as the nation grapples with the pandemic.
The company was one of the few to provide some guidance for Q2, lowering its expected adjusted earnings per share to a range of 2% to minus-2% from an earlier forecast of 2% to 4% increase.
The need for VZ services may have jacked up in Q1, but did the company stay on that path in Q2? And how did VZ juggle that with aggressive plans to move forward on its tech plays? Stay tuned.
TD Ameritrade® commentary for educational purposes only. Member SIPC.
Photo by Glenn Carstens-Peters on Unsplash
View Comments and Join the Discussion!
Posted-In: TD AmeritradeEarnings News Previews Markets Trading Ideas General