Retail Job Losses: Does This Point Toward Protracted Sectoral Weakness?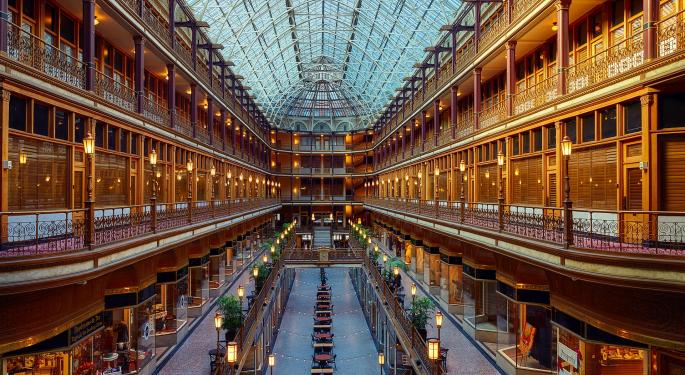 That the retail sector is struggling is no secret. Brick-and-mortar stores are reeling under the impact their online counterparts are having on the way things are bought. Several of them are closing down underperforming stores, while some of them are going out of the business — arguably quite the ominous sign for the sector.
Sears Holdings Corp (NASDAQ: SHLD) is closing 66 more stores, as it struggles to return its other stores to profitability, a report in USA Today revealed Tuesday. This was on top of the 150 store closures the company announced in January.
Retail bankruptcies in the first quarter of 2017 alone equaled the bankruptcies filed for all of 2016, according to a report by CNBC, quoting Alix Partners consulting firm. In the first quarter of 2017, nine retail firms filed for bankruptcy, and the year's number look poised to top the post-Great Recession high of 18 for 2009.
Some of the retailers, which have shut shop for good, include Gander Mountain, Wet Seal, RadioShack and Limited Stores.
The National Bureau of Economic Research defines recession as a significant decline in economic activity, lasting more than a few months, normally visible real GDP, real income, employment, industrial production and wholesale-retail sales.
Assessing the sector from a few of these perspectives:
Retail Sales
The Commerce Department's monthly retail sales, which include retail as well as food services sales, are not flashing alarm bells. As has been the wont, after a holiday season surge, sales, in value terms saw a setback in February but has seen a pick up since then.
Source: US Retail and Food Services Sales, Y Charts
Employment
The retail sector has been seeing job losses for four months now. After adding 13,300 jobs in December 2016, and 35,300 jobs in January 2017, the sector has been bleeding jobs.
February: (-28,700) March: (-39,500) April: (-5,800) May: (-6,100)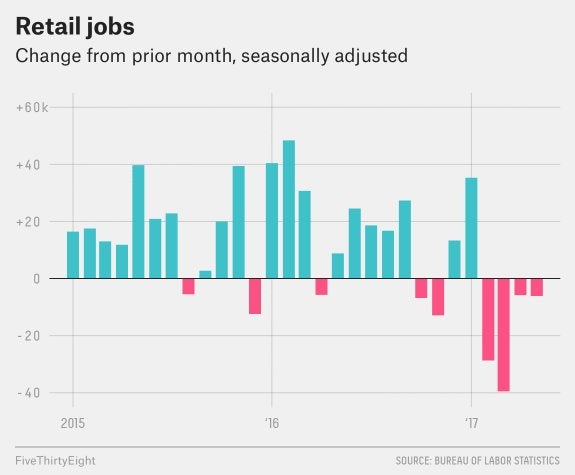 The first-quarter earnings season provided ample proof for the struggles the sector is witnessing. Department store Macy's Inc (NYSE: M) plunged 7 percent on May 11 after it reported first-quarter earnings and sales that fell grossly below expectations. On Tuesday, the stock declined 7 percent after the company's chief financial officer, Karen Hoguet, suggested at its annual investor day that second-quarter gross margin is contracting.
Other department stores such as Dillard's, Inc. (NYSE: DDS) and Kohl's Corporation (NYSE: KSS), luxury retailers such as Ralph Lauren Corp (NYSE: RL) and LVMH Moet Hennessy Louis Vuitton SE(ADR) (OTC: LVMUY) did not find the going smooth either.
Meanwhile, there were others like Home Depot Inc (NYSE: HD), TJX Companies Inc (NYSE: TJX) and Advance Auto Parts, Inc. (NYSE: AAP), which withstood the vagaries of the rough retail weather.
Going by these metrics, the sector isn't really facing the risk of falling off the cliff. Retail sales are still growing and the job losses, though disconcerting, is reflecting the fundamental woes of the industry, as more sales move online and physical retailers are forced to shut shop. That said, the trend isn't viewed healthy, as e-commerce retailers aren't likely to accommodate all the jobs that are lost in the sector.
A Business Insider article, quoting Mark Cohen, the director of retail studies at Columbia Business School, said the loss of retail jobs is likely to hurt local economies hard.
"This is creating a slow-rolling crisis. The people that work in retail stores will lose their jobs, then spend less money in retail stores because they are no longer employed. That creates a cascade of economic challenges," Cohen was quoted as saying.
Even as the whole sector is blanketed by a sense of despair, all doesn't seem to be lost. Fundamental factors are not hindering. The economy has been expanding at a near normal pace, with consumer spending remaining buoyant. Consumer confidence is upbeat.
One way retailers can take on the pure-play e-commerce companies is to make a big push into e-commerce to take advantage of the potential the online channel offers. By engaging the customers and gaining insights into their buying habits, preferences and payment mode, retailers should strive to make buying a seamless experience to win back customers.
Related Links:
How Empathy Will Save Brick-And-Mortar Retail
View Comments and Join the Discussion!
Posted-In: Earnings News REIT Sector ETFs Top Stories Economics Trading Ideas ETFs Best of Benzinga