4 Q4 Earnings Stories To Keep An Eye On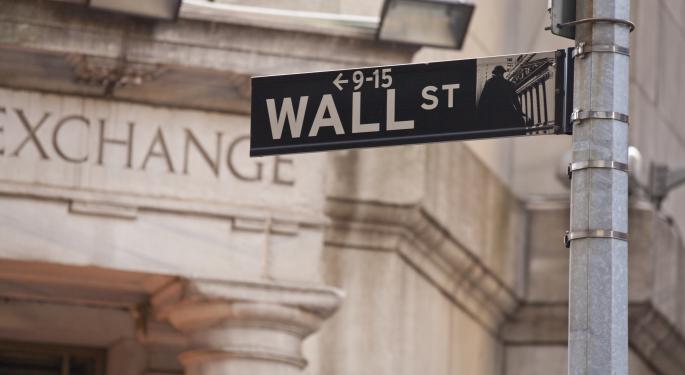 Alcoa Inc (NYSE: AA) offers the traditional kickoff to the new earnings season on Monday. Although the stock is no longer a Dow Jones Industrial Average component, analysts are looking for positive results for the fourth quarter.
Much of the focus this week, though, will be on earnings from the big banks. The consensus forecasts for Bank of America Corp (NYSE: BAC), Goldman Sachs Group Inc (NYSE: GS), JPMorgan Chase & Co. (NYSE: JPM) and Wells Fargo & Co (NYSE: WFC) call for growth in earnings, relative to a year ago. However, smaller earnings are anticipated from Citigroup Inc (NYSE: C) when it shares its fourth-quarter results.
Intel Corporation (NASDAQ: INTC) and Schlumberger Limited. (NYSE: SLB) also step into the earnings spotlight this week.
Let's take a quick look at the numbers for some of this week's most anticipated quarterly reports.
See also: Apple's Fiscal Q1 2015 Results Could Be 'Wickedly Successful'
Alcoa
The fourth-quarter forecast for this leading aluminum producer calls for the earnings per share (EPS) to have jumped from $0.04 in the year-ago period to $0.26. Revenues for the period that ended in December are expected to have grown more than 7 percent to $5.99 billion. Note that analysts underestimated Alcoa's per-share earnings in the past three quarters by between 34 percent to 80 percent.
For the full year, analysts are looking for EPS of $0.86 and $23.53 billion in revenue in Monday afternoon's report. That would be up from earnings of $0.33 per share and revenue of $23.03 billion posted for the previous year.
Big Banks
JP Morgan and Wells Fargo start things off for the big banks on Wednesday morning. Analysts predict the former will report EPS of $1.35, which would be up by a nickel from a year ago, while revenue of $24.06 billion would be essentially the same as last year. The latter bank is expected say EPS were up $0.02 from last year to $1.02. Revenue growth of less than 3 percent to $21.20 billion is predicted as well.
The analysts are looking for EPS of $0.32 on revenue of $21.38 billion when Bank of America reports Thursday morning. That would compare to last year's reported $0.29 per share and $21.49 billion. Citigroup also reports early Thursday, but expectations are different: earnings of $0.13 (down almost 83 percent) with $19.02 billion in revenue (up about 7 percent).
When Goldman Sachs shares its fourth-quarter results before the opening bell Friday, it will post a profit of $4.63 per share on revenue of $8.12 billion, if analysts are correct. That would compare to a reported profit of $4.60 per share and $8.78 billion in revenue in the year-ago period.
Analysts are also looking for earnings growth from PNC Financial Services and SunTrust Banks when they share results this week.
Intel
The forecast for this leading semiconductor chip maker calls for EPS for its fourth quarter to have increased year-over-year by more than 22 percent to $0.66. Revenue is predicted be more than 6 percent higher to $14.70 million. Analysts underestimated EPS by a penny or three in the previous three quarters.
For the full year, the consensus estimates are $2.25 in EPS and $55.88 billion in revenue. That would be up from earnings of $1.89 per share and sales of $52.71 billion in the previous year. Intel is scheduled to share its results Thursday after the markets close.
Linear Technology and Taiwan Semiconductor Manufacturing are expected to show year-on-year earnings growth this week as well.
See also: Taiwan Semiconductor's Internet of Things Platform to Go Into Mass Production
Schlumberger
In its report late Thursday, this oil services giant is expected to say that earnings rose more than 8 percent from in the year-ago quarter to $1.48 per share for the three months that ended in December. The full-year per-share earnings estimate calls for a gain of more than 14 percent to $5.55. But note that 60 days ago the EPS forecasts called for $1.55 for the quarter and $5.62 for 2014.
Revenues for the fourth quarter and the full year are predicted to be more than 7 percent higher year-over-year to $12.83 billion and $48.71 billion, respectively. So far the consensus forecast for the current quarter has revenue up more than 7 percent as well.
Keep up with all the latest breaking news and trading ideas by following Benzinga on Twitter.
Posted-In: Alcoa Bank of America Citigroup Goldman SachsEarnings Previews Top Stories Trading Ideas Best of Benzinga
View Comments and Join the Discussion!