#PreMarket Primer: Monday, December 9: Taper Talk Subdued Despite Strong Jobs Data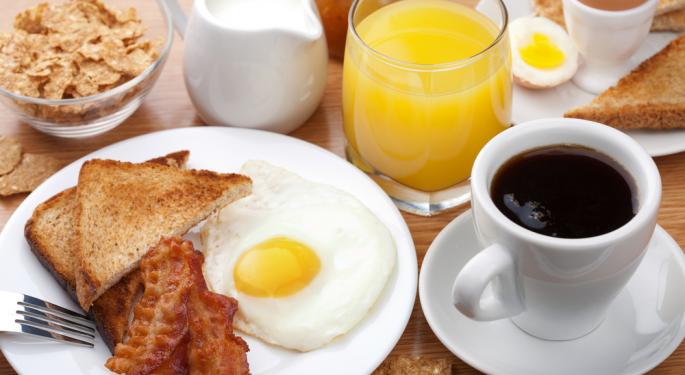 When and how the Federal Reserve plans to taper has been on investors' minds since September when Ben Bernanke first suggested it was a possibility.
However, the latest US jobs data, which would support the case for a Fed taper, has been cautiously received by traders who are waiting for more concrete signs that the bank plans to cut back. US non-farm payrolls data showed that 203,000 jobs were added in November and unemployment fell to seven percent, a five year low.
Although the US central bank has said its tapering plans are closely linked to employment figures, most traders are still betting that the bank will hold off on tapering until 2014. This week, focus will be on economic data as well as Fed members Bullard, Lacker and Fisher, all due to speak at the beginning of the week.
Thailand's political crisis worsened over the weekend as 150,000 anti-government protestors continued their rallies. In an effort to calm the masses, the nation's Prime Minister has asked for royal approval to dissolve the Parliament and hold new elections. However, protest leaders have said the call for a referendum is little more than a political stunt and that it will do little to stop their calls for a "people's assembly" to replace the current government.
Ukrainian anti-government protestors sent a clear message to President Viktor Yanukovich over the weekend as they toppled a statue of Soviet state founder Vladimir Lenin before destroying it with hammers in Kiev over the weekend. Yanukovitch's decision to turn away from a partnership with the EU in order to protect the nation's relationship with Russia has angered Ukrainian citizens and sparked protests across the nation calling for Yanukovitch's removal from office.
Chinese inflation data out on Monday showed that the nation's annual consumer inflation unexpectedly fell to 3 percent in November. The figure suggested that the Chinese government would hold off on policy tightening for the time being.
Covidien inked a deal with Given Imaging on Sunday in which it will acquire Given Imaging for $860 million. Given Imaging makes ingestible pills which take photos inside of the consumer's body.
Asian markets began the week on a high note, the Japanese NIKKEI rose 2.29 percent, the South Korean KOSPI was up 1.01 percent, China's Shenzhen composite gained 0.56 percent and the Hang Seng index gained 0.22 percent.
European Markets
European markets also kicked off the week on a high, the UK's FTSE gained 0.83 percent and the eurozone's STOXX 600 was up 0.91 percent. France's CAC 40 gained 0.72 percent and the German DAX rose 0.96 percent.
Energy futures were quiet on Monday morning, Brent futures were up 0.01 percent and WTI futures rose 0.06 percent. Gold and silver both lost 0.04 percent and industrial metals were up across the board with aluminum posting the largest gains, up 1.19 percent.
The euro was steady at $1.37 and the pound gained 0.09 percent against the dollar. The dollar rose 0.15 percent against the yen and 0.19 percent against the Australian dollar.
Earnings
Notable earnings released on Friday included:
American Eagle Outfitters, Inc. (NYSE: AEO) reported third quarter EPS of $0.23 on revenue of $857.30 million, compared to last year's EPS of $0.41 on revenue of $901.37 million.
Bank of Nova Scotia (NYSE: BNS) reported fourth quarter EPS of $1.31, compared to last year's EPS of $1.21 on revenue of $4.94 billion.
Stocks moving in the Premarket included:
General Electric (NYSE: GE) gained 0.22 percent in premarket trade after jumping 1.85 percent on Friday.
Notable earnings expected on Monday include:
Pep Boys- Manny, Moe & Jack (NYSE: PBY) is expected to report third quarter EPS of $0.14 on revenue of $521.74 million, compared to last year's EPS of $0.12 on revenue of $509.61 million.
Vail Resorts, Inc. (NYSE: MTN) is expected to report a first quarter loss of $1.89 on revenue of $121.33 million, compared to last year's loss of $1.70 on revenue of $166.35 million.
ABM Industries Incorporated (NYSE: ABM) is expected to report fourth quarter EPS of $0.45 on revenue of $1.23 billion, compared to last year's EPS of $0.50 on revenue of $1.09 billion.
Economics
Monday's economic calendar will be relatively quiet with notable releases including British house price balance data, German industrial production, eurozone investor confidence and German trade balance data.
For a recap of Friday's market action, click here.
Tune into Benzinga's pre-market info show with Dennis Dick and Joel Elconin here.
View Comments and Join the Discussion!
Posted-In: Earnings News Eurozone Futures Previews Forex Global Economics Best of Benzinga