Market Wrap For December 6: Investors and Traders Cheer Today's Economic Data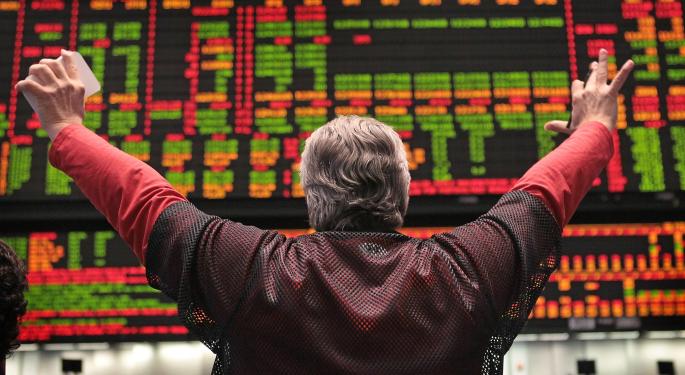 Investors had been anxiously and nervously waiting for today's job reports which could have sent major indices moving sharply in either direction.
The November Nonfarm Payroll increased 203K, above consensus of 180K and above the previous reading of 200K. The Unemployment rate rang in at 7.0 percent, below the 7.2 percent consensus and below the 7.3 percent prior reading.
The strong positive economic data unleashed markets in to "bull mode" as traders and investors finally digest some good news.
The Dow gained 1.26 percent, closing at 16,020.20.
The S&P 500 gained 1.12 percent, closing at 1,805.09.
The Nasdaq gained 0.73 percent, closing at 4,062.52.
Gold lost 0.32 percent, trading at $1,228.00 an ounce.
Oil gained 0.24 percent, trading at $97.61 a barrel.
Silver lost 0.51 percent, trading at $19.47 an ounce.
Related: Dollar Indecisive After Positive U.S. Employment Report
News of Note
The December Reuters/ UofM Consumer Sentiment came in at 82.5 which was noticeably higher than the expectation of 75.5.
In an interview with Bloomberg Radio, Bill Gross put the odds of a taper beginning in December at 50/50. Gross noted that yesterday's GDP number and today's large job numbers beat should give the FOMC the green light to begin tapering.
HSBC noted that investor sentiment could turn positive when it comes to big oil stocks in 2014. The analysts noted that cash flow picture at many of the big oil companies are underappreciated by investors.
Bitcoin tumbled again today as Bloomberg reported that Baidu (NASDAQ: BIDU), China' largest search engine, stopped accepting the virtual currency as payment due to recent volatility.
Equities-Specific News of Note
LinkedIn (NASDAQ: LNKD) was upgraded to Outperform by analysts at BMO Capital markets with a $270 price target, increased from a previous $235 target. The analyst believes that the company is set to release a customized platform for the Chinese market in 2014. The company is also set to release standalone versions of its social media networking site for salespeople, a large market that has yet to be fully monetized. Shares gained 2.89 percent, closing at $232.99.
SodaStream International (NASDAQ: SODA) was downgraded to Neutral from Buy at Longbow. The analyst noted the company's promotional activity and holiday shopping performance is unlikely to come in at the higher end of the Street's estimates. Shares lost 4.08 percent, closing at $53.38.
The Gap (NYSE: GPS) was downgraded to Hold from Buy at Jefferies with a $40 price target, lowered from a previous $51 target. The analyst noted the company's comps are slowing and visibility on consumer patters are low as the company is forced to increase its promotionally activity to stay competitive. Meanwhile, the company reported a 3 percent gain in sales at Old Navy Global and a 2 percent gain with Gap. Shares lost 1.94 percent, closing at $39.46.
Lowe's (NYSE: LOW) was initiated with an Outperform rating at Wedbush with a $60 price target. The analyst noted that the company has strong leadership at the CEO rank who is driving the company in the right direction. Shares gained 2.94 percent, closing at $47.98.
IBM (NYSE: IBM) was downgraded to Market Perform from Outperform at Cowen with a $165 price target, lowered form a previous $234 target. The analyst noted the company is seeing a decline in a number of important metrics. Despite the bearish nod, shares gained 0.90 percent, closing at $177.67.
Related: IBM Downgraded at Cowen
Intel (NASDAQ: INTC) was upgraded to Buy from Neutral at Citigroup with an unchanged price target of $28. The analyst notes the stabilizing corporate PC market is favorable for the company moving forward. Shares gained 2.25 percent, closing at $24.81.
Green Mountain Coffee Roasters (NASDAQ: GMCR) could reveal it will be entering the cold beverage market, according to a report by Bank of America. The company's CEO Brian Kelley is scheduled to speak at Beverage Digest's "Future Smarts," a major soft-drink industry conference. The analyst speculated that the single serve coffee brewer is set to enter the single serve carbonated beverage market according to patent applications. Shares gained 2.83 percent, closing at $71.29.
Sears Holdings (NASDAQ: SHLD) announced that it will spin off Lands' End. In premarket trading, investors took this news announcement to be a positive sign as shares were trading higher by 3 percent. Analysts at Credit Suisse noted that the spin-off hurts Sears. Shares lost 3.76 percent, closing at $48.10.
Following reports that Spotify will offer a free mobile version of its service on mobile devices, shares of Pandora (NYSE: P) sold off, losing 2.86 percent to close at $28.52.
Citron Research (@CitronResearch) took to Twitter to call at Questcor Pharmaceuticals (NASDAQ: QCOR) not once, not twice, but three times today. Shares lost 6.96 percent, closing at $52.64.
Nielson Data indicated that General Mills (NYSE: GIS) gained market share in five of its top ten categories.
According to FCC Republican commission Ajit Pai, the Obama administration likely won't approve Comcast (NASDAQ: CMCSA) acquiring Time Warner Cable (NYSE: TWC). Shares of Comcast gained 0.37 percent, closing at $49.26 while Time Warner Cable lost 1.17 percent, closing at $130.98.
Winners of Note
Analysts at Piper Jaffray defended Electronic Arts (NYSE: EA) noting that the company's recent decision to prioritize its current woes won't affect future development releases dates, such as Battlefield 5 in 2015. Shares gained 5.85 percent, closing at $22.24.
ChannelAdvisor (NASDAQ: ECOM) was the recipient of a bullish note from analyst at Stifel Nicolaus. The analyst upgraded the company's price target to $42 from $38 while reiterating a Buy rating nothing strong trends and same store sales increases at Amazon.com (NASDAQ: AMZN) rose 37.1 percent, while same store sales at eBay (NASDAQ: EBAY) rose 23.3 percent. Shares of CannelAdvisor gained 6.64 percent, closing at $39.68
Decliners of Note
After news surfaced that Total SA (NYSE: TOT) had agreed to buy a 61.3 percent stake in InterOil's (NYSE: IOC) Papua New Guinea gas fields. Shares were halted premarket as the clarity of the deal was questioned. The press releases issued by InterOil was dramatically different from those released by Total. Shares of InterOil were halted until early afternoon and traded as low as $51.00 a share, a mere pennies above its 52 week lows of $50.95. Shares of InterOil plunged 37.06 percent, closing at $55.78.
Barnes & Noble (NYSE: BKS) announced it is under investigation by the SEC for its accounting practices. Shares lost 11.99 percent, closing at $14.43.
Ulta Salon, Cosmetics & Fragrances (NASDAQ: ULTA) reported weak third quarter results after the bell yesterday and the company announced it is undertaking a strategic review of its long-term growth strategy. Shares lost 20.54 percent, closing at $93.76.
Big Lots (NYSE: BIG) announced a weak fourth quarter guidance yesterday that came in below analyst expectations at a $1.40 to $1.55 range while the consensus estimate was for $2.11. This morning, during its conference call the company noted it will exit the Canadian market where it operates 78 stores, citing "execution risk." Shares lost 12.55 percent, closing at $32.47.
OSI Systems (NASDAQ: OSIS) lost a $60 million contract with the TSA following several months of warnings over its products. Oppenheimer issued a bearish statement "The failure sounds rather pederstrian but in the context of the recent dispute with the TSA raises serious questions about the day-to-day management of OSI's most important segment." Shares lost 9.72 percent, closing at $64.75.
Earnings of Note
American Eagle (NYSE: AEO) announced its third quarter results this morning. EPS of $0.19 edged out the consensus of $0.18 while revenues of $857 million beat the consensus of $844.76 million. Comparable-store sales fell 5 percent during the quarter, while gross margin declined 670 bps to 34.9 percent of sales. Looking forward, management sees same-store sales falling at a mid-single digit rate in the fourth quarter. Shares plunged 9.45 percent, closing at $14.85.
Quote of the Day
"I learned that courage was not the absence of fear, but the triumph over it. The brave man is not he who does not feel afraid, but he who conquers that fear." - Nelson Mandela
Posted-In: Ajit Pai American Eagle Baidu Baidu Bitcoin Barnes & NobleNews Short Sellers After-Hours Center Best of Benzinga
View Comments and Join the Discussion!