Despite Volatility, FANG Continues to Prove Its Popularity
In 2013, Jim Cramer and Bob Lang observed that four tech stocks outperformed the overall market (when compared to the S&P 500 Index) that year.
Those four stocks— Facebook, Inc. (NASDAQ: FB), Amazon.com, Inc. (NASDAQ: AMZN), Netflix Inc. (NASDAQ: NFLX) and Google, now Alphabet Inc. (NASDAQ: GOOG) (NASDAQ: GOOGL)—made for a tidy acronym: FANG. Throw Apple Inc. (NASDAQ: AAPL) into that group, and you've got FAANG.
FANG has gained notoriety in the years since, with the group standing out as one of the key drivers of equity markets. And the popularity of the FANG trade has not stopped, even seven years after the term was coined.
An increase in demand for the MicroSectors FANG+ Index -3X Inverse Leveraged ETN (NYSE: FNGD), an inverse exchange-traded note that attempts to deliver three times the inverse daily return of the NYSE FANG+ Index, resulted in the Bank of Montreal increasing the note's aggregate principal amount from $225 million to $325 million in February 2020. It's the sixth such time the note has had to be upsized since inception.
"Despite a strong tech-led rally to start 2020, we've seen a considerable pullback in the equity markets," said Scott Acheychek, president of REX Shares. "With FNGD, investors now have the opportunity to trade the FANG stocks in bearish market."
Alternatively, for bullish traders, the MicroSectors FANG+ Index 3X Leveraged ETN (NYSE: FNGU), is a leveraged exchange-traded note that attempts to deliver three times the daily return of the NYSE FANG+ Index.
The NYSE FANG+ Index—an equal-weighted index that includes the FAANG stocks plus Alibaba (NYSE: BABA), Baidu (NASDAQ: BIDU), NVIDIA Corporation (NASDAQ: NVDA), Tesla Motors (NASDAQ: TSLA) and Twitter Inc. (NYSE: TWTR)—has outperformed both the S&P 500® Index (SPX) and Nasdaq-100 (NDX) since September 19, 2014 on a total return basis.
"Unlike the traditional benchmark technology indices, the NYSE FANG+ Index offers an investment solution focused on direct FAANG exposure," said Acheychek.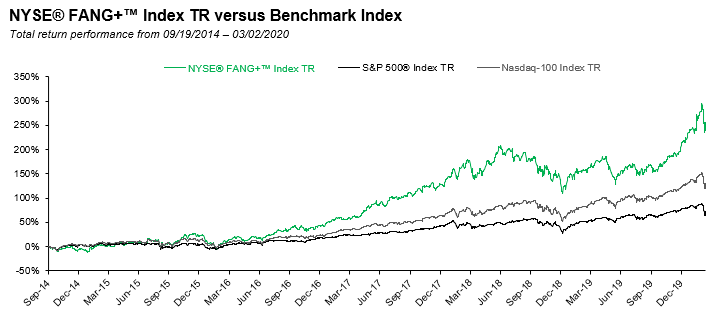 Source: Bloomberg LP
To learn about how to invest in the NYSE FANG+ Index, please visit www.microsectors.com
Please note that leveraged, inverse and inverse leveraged ETNs seek a return on the underlying index for a single day. Those investments are not "buy and hold" investments, and should not be expected to provide the respective return of the underlying index's cumulative return for periods greater than a day. The investments are intended to be daily trading tools for sophisticated investors to manage daily trading risks as part of an overall diversified portfolio. They are designed to achieve their stated investment objectives only on a daily basis. Leveraged investments include risk and are not suitable for all investors. Please read the disclosure documents, including the relevant pricing supplements and product supplements for information.
Bank of Montreal, the issuer of the ETNs, has filed a registration statement (including pricing supplements, a prospectus supplement and a prospectus) with the Securities and Exchange Commission (the "SEC") about the ETNs that are being offered by this free writing prospectus. Please read those documents and the other documents relating to these offerings that Bank of Montreal has filed with the SEC for more complete information about Bank of Montreal and these offerings. These documents may be obtained without cost by visiting EDGAR on the SEC website at www.sec.gov. Alternatively, Bank of Montreal, any agent or any dealer participating in these offerings will arrange to send the applicable documents if so requested by calling toll-free at 1-877-369-5412.
View Comments and Join the Discussion!
Posted-In: FANGNews Specialty ETFs Markets Tech Trading Ideas ETFs General Best of Benzinga