Ahead Of Mid-Week Pause, Investors Fret Over Trade Pact Details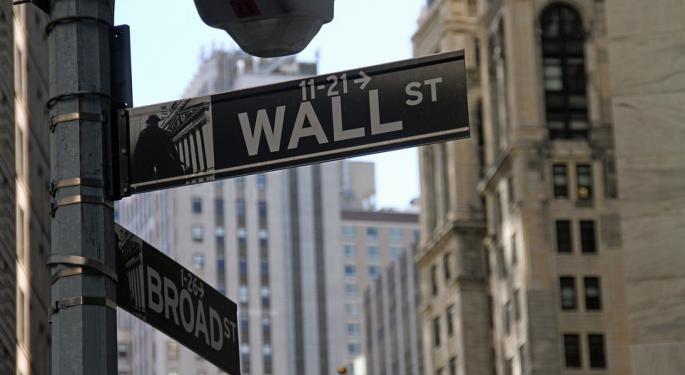 It looks like "second thoughts" time. Markets around the world fell overnight and pressure seemed to spill into the U.S. as investors considered the U.S. trade deal with China and started worrying about details.
Before diving back into the deal and its possible market ramifications for Tuesday, a reminder that U.S. financial markets are closed tomorrow in honor of the late President George H.W. Bush. Trading could be thin today, with some market participants maybe feeling hesitant to take on big new positions with an off-day immediately ahead.
Of course, foreign markets will be open Wednesday, and might bear watching. Also, aside from equity and interest rate futures and options, the rest of the futures market will be open tomorrow, so that means metals, ags, currencies and crude have the U.S. stage to themselves for one day.
Another consideration: Some of the events that had been scheduled for Wednesday have been pushed back. This includes earnings from lululemon (LULU), which the company now says will come out after the close Thursday. Also, some companies have said that dividends scheduled for Wednesday will now be paid Thursday.
In addition, active traders might want to take note: Check your positions for anything—including SPX and SPY options—that may have had its expiration or delivery date changed or affected by Wednesday's market closure. If you have questions about anything expiring this Wednesday, consider calling the trade desk.
Also, VIX expiration that had been scheduled for Wednesday has been rescheduled to Thursday.
Buy the Rumor; Sell the News?
Perhaps it's more like "buy the headline; sell the fine print." Though at first blush, the progress made on trade in Buenos Aires appears to be good news—with promises to work together to resolve issues, an agreement by China to buy more U.S. goods, and no new impositions of tariffs for the next 90 days—perhaps the overnight pullback is a sign that investors may be considering the situation a little more closely.
For example, let's look at some of the big items at play and follow them to a possible conclusion. Suppose China does buy more soybeans, energy products, autos, and maybe even licensing fees for use of U.S-owned intellectual property? Does that mean China will have less available to invest in U.S. Treasuries? In addition, more competition for U.S. raw materials and finished products could be inflationary. Losing some of the buying interest for Treasuries could also be inflationary, as the U.S. would need to pay a higher rate to entice sufficient buying interest.
So, while there may be sector winners and losers depending on how any final agreement shapes up, the overall longer-term effect on the market remains hazy.
Another thing to remember is we're still lacking a lot of details on the agreement, and it appears the initial euphoria might be short-lived if there's no timely follow-up. A bit of apparent confusion in Washington about deal terms surfaced in media reports early Tuesday, adding to concerns.
The U.S. has a 90-day timeline on negotiations, and a lot of the complex issues remain to be ironed out. It's hard to imagine 20 years or more of trade disputes being solved in three months.
There's also fear that even with the trade truce, the bad blood between the U.S. and China might already be having an impact. The fact that the recent U.S. earnings season was so strong isn't necessarily an indication that the trade war isn't taking a toll. Some say the tariffs haven't affected earnings yet, but what they could be forgetting is that much of the stuff being sold was planned in inventory to be pushed out before the tariffs were in place. That might have shifted some demand forward, potentially affecting Q4 and Q1 company results, but we'll have to wait and see when Q4 earnings start to come out just over a month from now.
So overall, the deal looks like a positive development, but one meeting doesn't put everything aside. It may be best not to get too excited until there are more details.
Powell Put Off
Investors who'd hoped for more insight from Fed Chair Jerome Powell this week will have to stay on edge a while longer, because it doesn't appear to be happening. Powell's testimony to the Senate originally scheduled for Wednesday has been postponed "until a later date," Reuters reported, due to the day of mourning for President Bush. It could be interesting to see what date Powell's testimony gets rescheduled for, especially with a blackout period soon to begin for Fed comments on monetary policy ahead of the next Federal Open Market Committee (FOMC) meeting Dec. 18-19.
Pushing Powell off of this week's calendar could potentially mean a little less volatility this week, especially in Treasury notes. The 10-year Treasury yield fell as low as 2.93 percent early Tuesday despite widespread hopes for economic strength with the immediate tariff worries lifted. However, Powell's dovish comments last week might still be having a bigger effect on Treasuries, judging from recent action. With yields now down nearly 30 basis points from their fall highs, the question is whether dividend-friendly sectors like utilities and health care might enjoy further strength. Financials, too, might be worth watching for any potential bearish response to falling yields.
Yield Curve Inversion
As yields fell, the yield curve—or the gap between longer- and shorter-term yields—became inverted for three- and five-year Treasury notes, meaning yields are lower for the longer-term note than for the shorter-term one. The more closely-watched gap between two-year and 10-year notes is down to 14, the lowest this year. This situation could be weighing on shares of some of the regional banks, potentially hitting the financial sector as a whole.
Some economists associate flattening or inverted yield curves with recession risk, though it's kind of a chicken and egg story. Also, past recessions that occurred when the yield curve got inverted mostly happened with rates at far higher levels than they are today. So it's debatable if a narrowing curve represents the same kind of recession signal it might once have.
Meanwhile, market volatility as measured by the VIX slipped 9 percent to around 16.8 by early Tuesday, down from recent highs above 20. This might end up being a brief respite, however, especially with the payrolls report coming soon and this month's Fed meeting still ahead.
Risk-On Trade Seemed Back Monday
Looking back at Monday's rally, the "risk-on" trading that began to take hold last week persisted. Some of the leading sectors included energy, consumer discretionary, and info tech. All of the FAANG stocks climbed, with Apple Inc. (NASDAQ: AAPL) up more than 3 percent and Amazon.com, Inc. (NASDAQ: AMZN) up nearly 5 percent as investors seemed cheered by the agreement over the weekend between China and the U.S. Other multinational stocks getting a boost included Boeing Co. (NYSE: BA), Caterpillar Inc. (NYSE: CAT), Tesla Inc. (NASDAQ: TSLA), and Deere & Company (NYSE: DE), among many others.
As the day advanced, initial thoughts that the agreement was a "kick the can down the road" kind of scenario got challenged by more optimistic analysts. One school of thought is that China's willingness to make actual concessions through buying more U.S. agricultural products and bringing down tariffs on U.S. cars showed a desire for progress on some nitty-gritty issues.
Other analysts said it's not so much what China and the U.S. agreed to that matters. Instead, the weekend marked an important change of tone in their relationship that might pay dividends down the road. However, it's possible the tentative agreement might mark some sort of reset, especially if the administration's positive words Monday are any indication.
Data Check
Monday's batch of data looked mixed. October construction spending slipped 0.1 percent, well below the 0.3 percent consensus, according to Briefing.com. A good number came out of the manufacturing sector, where the ISM manufacturing index for November hit 59.3, not far below recent highs above 60. New orders looked particularly strong, even as the prices paid component fell significantly from October. That could be another sign of inflation staying relatively tame.
More data are on their way later this week, including the Fed's Beige Book and productivity. Of course, the big gorilla is payrolls, due Friday morning.
Considering how dire things looked just a couple of weeks ago, you might call it a moral victory that the S&P 500 (SPX) rose more than 2 percent in November and is now back above its 200-day moving average of 2762. That level may now again form a technical support point for the index, so investors might want to consider keeping a close eye on it if stocks pull back again. Another level to consider watching might be 2780, which is the midpoint between the SPX's low close of Nov. 23 and its high close of Sept. 20.
Figure 1: Dollar Contained, Yields Restrained: After the weekend trade agreement, the U.S. dollar (candlestick) on Monday stayed near its recent highs, but inched back slightly as hopes arose that better trade relations between China and the U.S. might help emerging markets. Meanwhile, the 10-year yield (purple line), continued to sink and fell back below 3 percent, mainly due to easing rate hike fears. Both of these indicators could be bullish for stocks. Data Sources: ICE, Cboe Global Markets. Chart source: The thinkorswim® platform from TD Ameritrade. For illustrative purposes only. Past performance does not guarantee future results.
Biotech Out of Breath
Health care has performed well over the last three months, rising more than 2 percent even as most other sectors fell into the red. At the same time, though, the biotech segment of health care—as measured by the Nasdaq Biotechnology Index—is down nearly 10 percent. Why the discrepancy? Well, for one thing, many of the rallying health stocks are the so-called "big pharma" names like Merck & Co., Inc. (nyse: MRK) and Eli Lilly and Co. (NYSE: LLY), which often receive investor love when hard times hit other segments of the stock market. Health care can be seen as a "defensive" sector offering solid dividends and less exposure to global issues like the trade battle with China.
Biotech, on the other hand, is a far more cyclical character than its big brother, and tends to do better when investors feel confident about good times ahead. One thing biotech tends to thrive on is mergers, but when the stock market cools off, companies sometimes get more frugal about taking risks. Initial public offerings and secondary offerings also can ignite excitement around biotech. Even though biotech is under pressure, U.S. biotech companies have raised nearly $26 billion in secondary offerings this year, the second-highest on record, The Wall Street Journal reported last week. Moderna Therapeutics plans an IPO later this week, so investors might want to watch that one for possible clues on biotech industry health.
Bargain Basement
When U.S. crude prices briefly dipped below $50 a barrel last week— the lowest in more than a year—it seemed pretty cheap compared with a four-year high of $76 just a couple months ago. Surging U.S. production, sanction waivers for Iranian oil sales, and growing stockpiles all contributed to cratering crude, though this week's OPEC meeting could mean production cuts. However, if $50 seems like a bargain, it's downright expensive compared with a certain variety of Canadian crude oil. How does $11 a barrel sound? That was the price of Western Canadian Select oil last week. This type of crude is a heavy variety from the Canadian oil sands region, and it's traditionally among the cheapest crude oils in the world. Rarely this cheap, though. The last time U.S. crude was at $11? Exactly 20 years ago in December 1998, when the Asian economic crisis helped push down oil prices around the world. By the way, Western Canadian Select enjoyed a little rally Monday, taking it all the way up to…wait for it…$16.93.
Free Gas, Anyone?
Though Western Canadian oil seems downright cheap, that can't compare with free. Natural gas prices fell essentially below zero in the Permian Basin area of Texas recently. It seems oil drillers there are pumping out so much crude that they've run out of storage space for the natural gas generated as a byproduct. So they've been paying to have it taken off their hands, according to OilPrice.com, an energy news site. Want some really cheap (or free) natural gas? Consider heading to Texas.
Information from TDA is not intended to be investment advice or construed as a recommendation or endorsement of any particular investment or investment strategy, and is for illustrative purposes only. Be sure to understand all risks involved with each strategy, including commission costs, before attempting to place any trade.
Posted-In: TD Ameritrade yield curveNews Commodities Federal Reserve Markets
View Comments and Join the Discussion!