From 'Ellis Island' To Graffiti Canvas: The Story Of Ford's Newly Acquired Michigan Central Station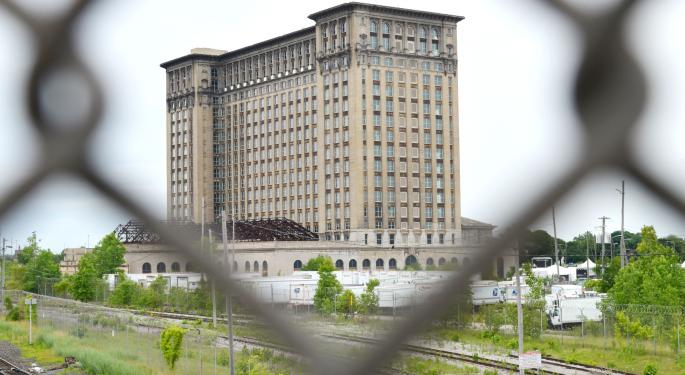 If buildings could blush, the Michigan Central Station would have turned red from embarrassment a decade ago.
The 13-story, 625,382-square-foot building is one of the Detroit's most-photographed, from every angle and for every purpose, from wedding photos to drone fly-throughs.
The Beaux Arts train depot's appeal can be chalked up to both its landmark architecture and the dystopian sense of decay it conveyed after the last train left the station in 1988.
The sprawling structure — which was never fully used, even when the station was at its busiest — sat without windows until the end of 2015 and was open to frequent trespass by scrappers, graffiti artists, vandals, thrill-seekers and photographers for years until its longtime owner, the Moroun family, finally secured it properly.
On Tuesday, the station was decked in blue as its new owner, Ford Motor Company (NYSE: F), announced it will be the centerpiece of the automaker's next-generation mobility campus in the Corktown neighborhood.
Executive Chairman Bill Ford Jr. said the depot is reflective of Detroit's boom-and-bust history in many ways.
"It's time to remake the station into a place of possibility again," Ford said Tuesday.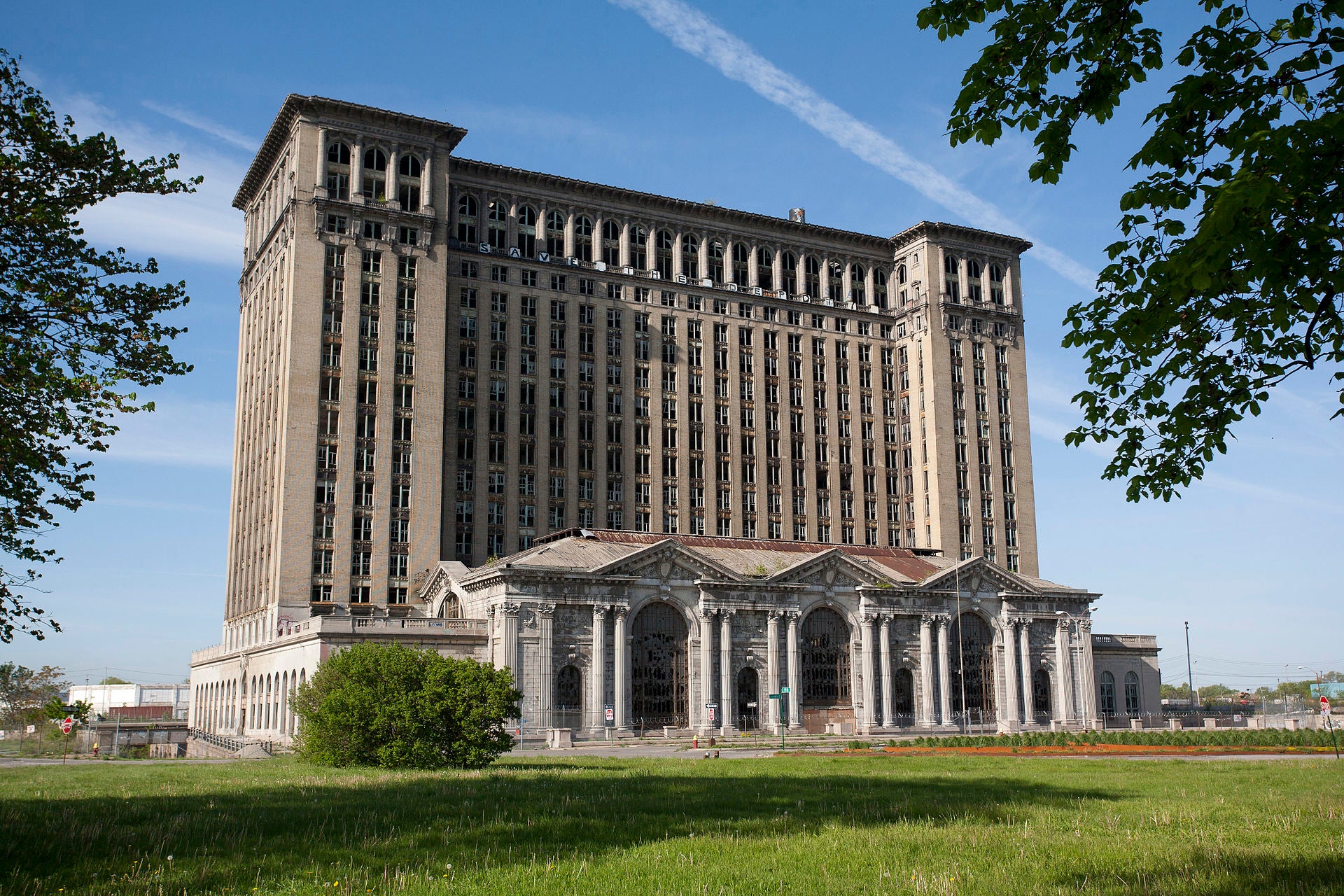 The Michigan Central Train Station, as seen from Roosevelt Park in Detroit. Photo by Albert Duce, 2010 (Wikimedia).
From Immigrant Landing Point To Movie Set
Michigan Central Station went into service in 1913 and, as Ford pointed out, "was our Ellis Island," serving as the point of arrival for many of Detroit's immigrants.
Roosevelt Park, which lies between the depot and Michigan Avenue, is named for President Theodore Roosevelt, who visited the station in 1916.
The waiting room at the station, which once served 4,000 passengers daily, closed in 1967. It was taken over in 1971 by Amtrak, which reopened the waiting room in 1975 — the same year the structure joined the National Register of Historic Places.
A vintage postcard of Michigan Central Station's waiting room. Photo courtesy of the Burton Historical Collection, Detroit Public Library.
The station was purchased by Kaybee Corp. in 1985 and changed hands again in the 1990s. The buyer, billionaire trucking magnate Manuel "Matty" Moroun, now 91, owns the Ambassador Bridge between Detroit and Windsor, Ontario.
Moroun has spent years battling city, state and federal officials for approval of a second border crossing next to the Ambassador. The elderly businessman was briefly jailed in 2012 after failing to comply with an order to finish connecting the Ambassador Bridge to an expressway project.
During its long period of vacancy, the station had few sanctioned uses. Movie scenes were filmed there: "8 Mile" in 2002, "Transformers" in 2007 and "Batman v Superman: Dawn of Justice" in 2016.
Last year, Crain's Detroit Business held the "Detroit Homecoming" event in the station's lobby.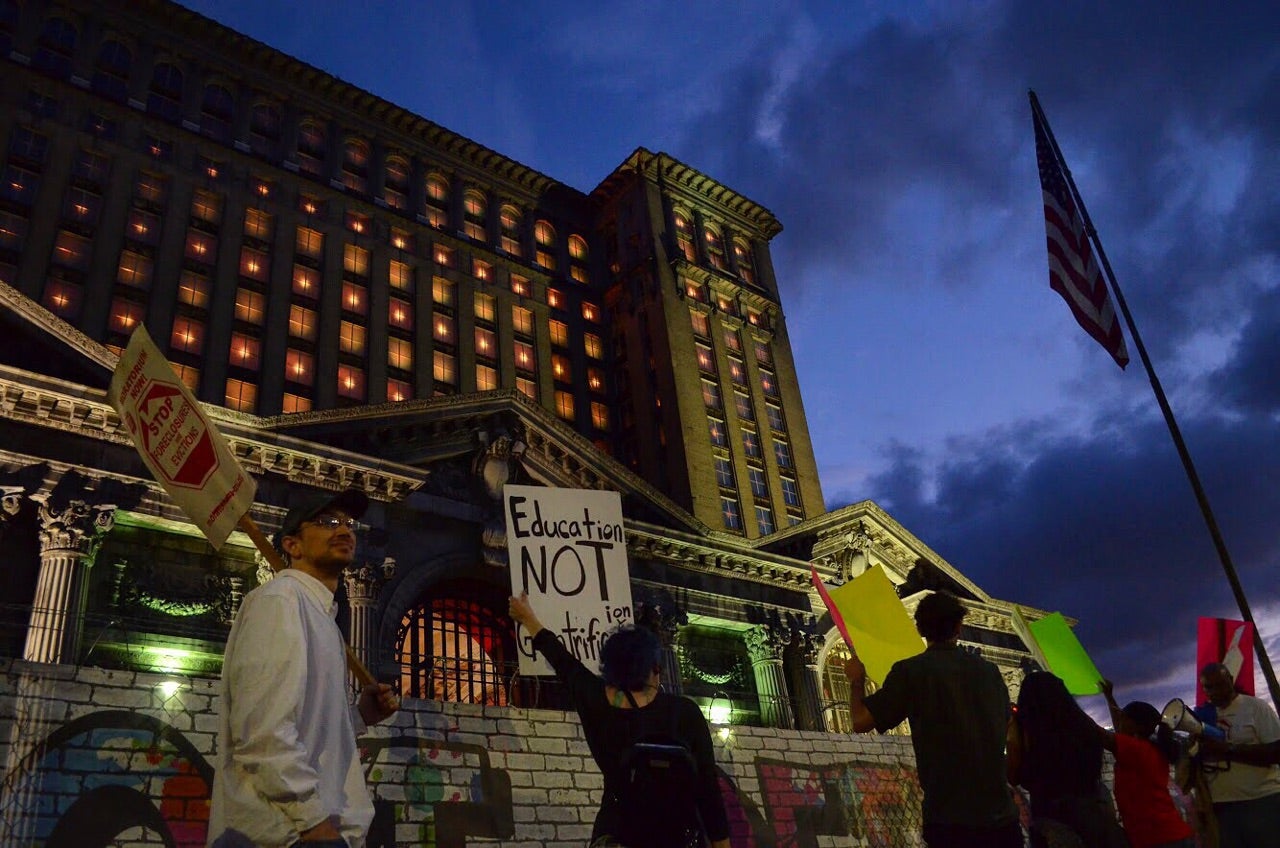 Protesters outside the "Detroit Homecoming" event at Michigan Central Station on Sept. 13, 2017. Photo by Dustin Blitchok.
Station's 'Ruin Porn' Era Comes To An End
Detroit has the dubious distinction of being home to some of America's most imposing castoff structures.
Just as Ford plans to return Michigan Central Station to its proper state, many of the city's other long-abandoned structures are changing hands or appear headed for redevelopment.
The 35-acre Packard Plant site was taken over by Peruvian developer Fernando Palazuelo;
Fisher Body Plant 21, is being eyed as a potential electronic music venue;
And the city has taken redevelopment bids for the 17-story Lee Plaza Hotel, where countless photographers were lured by the eerie visual of an upended grand piano inside the ravaged Art Deco structure.
Countless proposals for Michigan Central Station — from demolition to a casino to former Mayor Kwame Kilpatrick's fizzled idea to relocate the the Detroit Police Department headquarters there — have failed, mostly due to the cost and scope of the work that needed to be done.
In Ford, the train station has finally found a caretaker with the financial wherewithal and the will to undertake a restoration.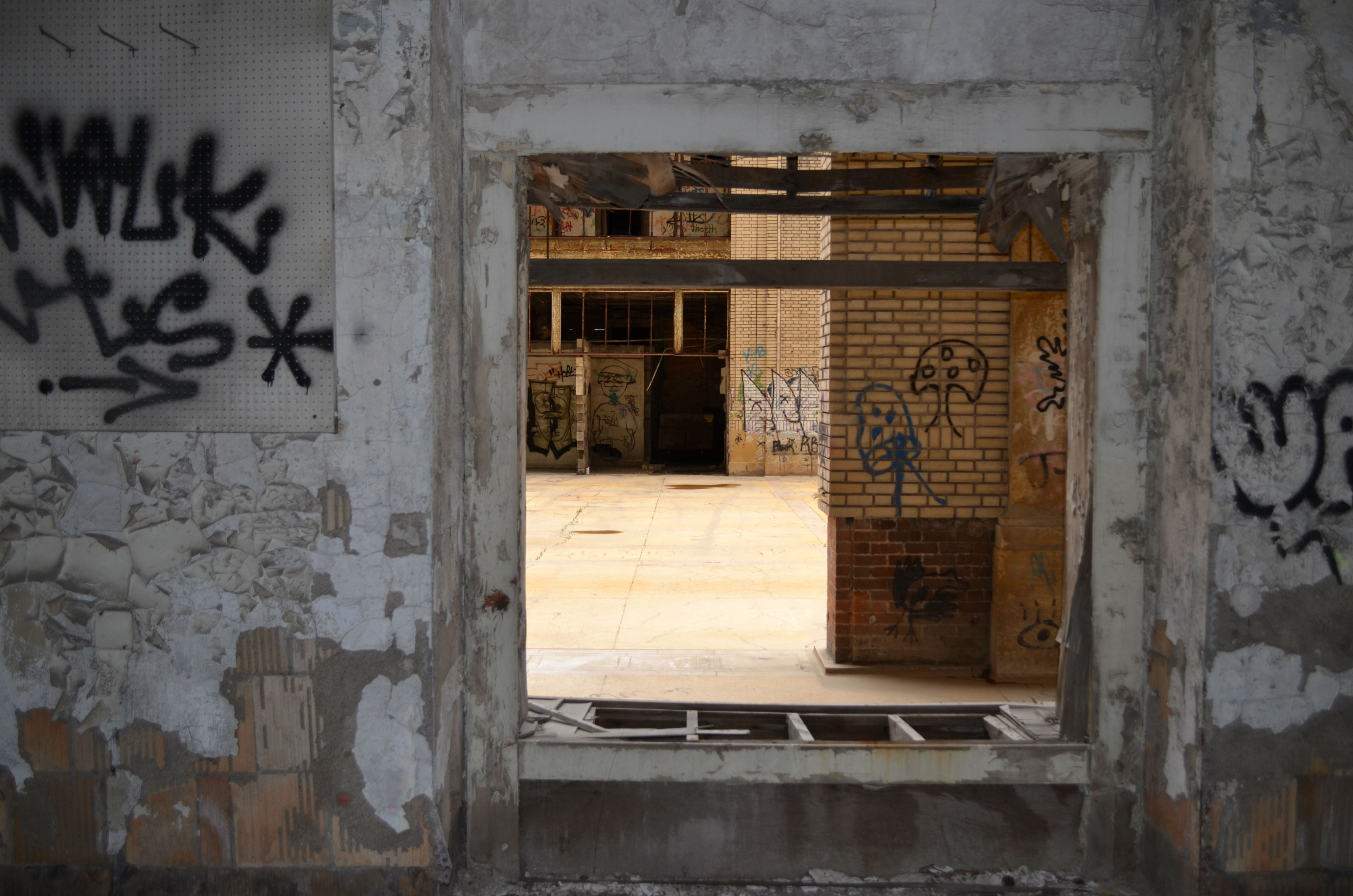 The interior of Michigan Central Station is stripped and covered in graffiti, but the building's structure is reportedly sound. Photo by Dustin Blitchok.
Related Links:
Detroit's Tallest Building Breaks Ground: 'This Is Going To Be A Site Of Our Recovery'
Treasure Hunting With Detroit's John King's 1 Million Titles: 'Books Never Really Went Out Of Style'
Lead photo: Michigan Central Station seen from Bagley Street on June 19, 2018. Photo by Dustin Blitchok.
View Comments and Join the Discussion!
Posted-In: Bill Ford Jr. Detroit Michigan Central StationEducation Top Stories General Best of Benzinga