Lily Tomlin, Jane Fonda Push For Higher Restaurant Wages In Michigan Tour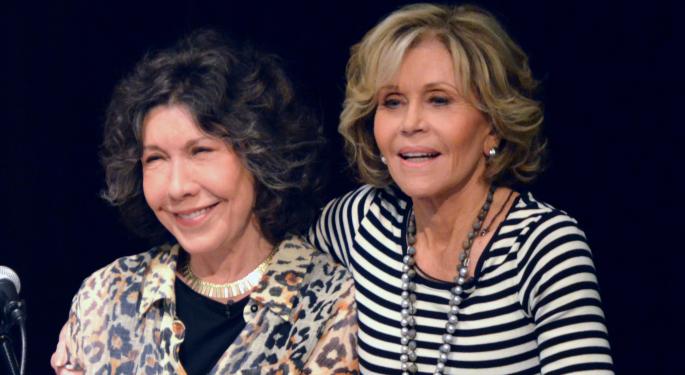 Since the federal minimum wage was instituted in 1938, it's increased from 25 cents to $2.13 for tipped workers. In Michigan, it's $3.38.
Actress and activist Lily Tomlin, speaking in her Judith Beasley character, told a packed auditorium at Wayne State University how she feels about that wage.
"A $3 raise over 80 years. Whoop-de-doo."
Tomlin, 78, a Detroit native, toured Michigan with her "Grace and Frankie" costar Jane Fonda this week to campaign for the One Fair Wage ballot initiative that would raise the state's minimum wage for both tipped and non-tipped workers to $12 by 2024. The two appeared at Kalamazoo College, Wayne State and the University of Michigan.
Fonda and Tomlin also appeared at private fundraisers, including one at Miss Kim, an Ann Arbor restaurant that includes gratuities on customer checks and is part of the Zingerman's community of businesses profiled by Benzinga in July.
It's a continuation of the work the pair began together — along with costar Dolly Parton — in the 1980 film "9 to 5", bringing attention to issues of sexism, equal pay and childcare that women face in the workplace. Seventy percent of tipped restaurant workers in the U.S. are women.
Tomlin recounted the low-wage jobs she worked at the Avalon Theatre on Detroit's west side, Highland Park General Hospital and a Howard Johnson's in Manhattan before breaking into comedy. Tomlin's father worked in a factory and her mother was a nurse's aide.
"I know what it's like to work paycheck-to-paycheck, week-to-week and not have any savings or any cushion," she said.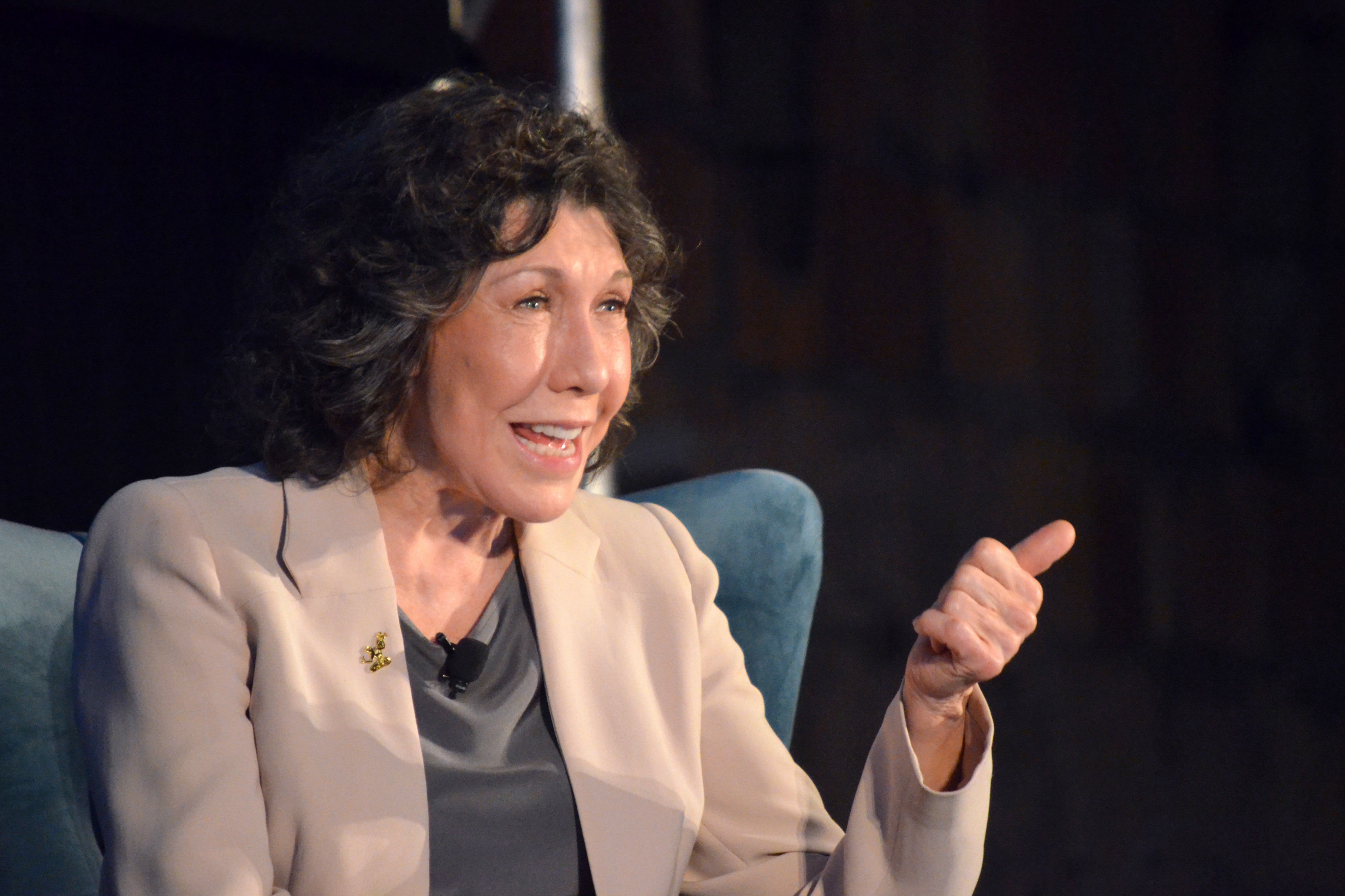 Lily Tomlin speaks after receiving the key to the City of Detroit on Sept. 13. Photo by Dustin Blitchok.
Fonda: Trump 'Pitting Us Against Each Other'
Fonda, 79, who sat down with Benzinga in May for a wide-ranging interview, has a history of political activism dating to her work in the antiwar movement with her second husband Tom Hayden, a Royal Oak native who died last October.
One audience member said he'd seen Fonda speak out against the Vietnam War in Detroit in 1972 when he was a junior at Cass Tech High School.
In 2017, the star of "Coming Home" and "Klute" has turned her attention to President Donald Trump.
He's "pitting us against each other," Fonda said to the Wayne State audience. "Men against women and people of color against white people. That's what's been happening."
The polarization "started before Trump got elected and, believe me, it'll continue after he's gone," Fonda said, pausing in an apparent hint at a presidential impeachment or resignation. The crowd applauded enthusiastically.
"In order for it to be gone after he is, we're really going to have to work together."
Fonda called Saru Jayaraman — the cofounder of ROCACTION, a group advocating for higher wages and improved working conditions in the restaurant industry — "the Cesar Chavez" of service employees. Fonda marched with Chavez and the United Farm Workers on numerous occasions in the 1970s.
The country's largest and fastest-growing industry has the lowest-paying jobs, Jayaraman said.
"It means right now one of three working Americans works full-time and lives in poverty, and in five or six years it's going to be one in two," she said. "What is going to happen to the survival of our country when half of our nation cannot afford to eat?"
In the seven states that have wage parity between tipped and non-tipped workers, the rate of sexual harassment is lower by half, Jayaraman said.
Tomlin Receives Key To The City
Tomlin, a graduate of Cass Tech High School and Wayne State University, was presented with the key to the city Wednesday by Detroit Mayor Mike Duggan.
She was interviewed onstage by Mary Kramer, group publisher for Crain's Detroit Business, at Detroit Homecoming, an event meant to connect Motor City expats with a city that's experiencing capital investment and transformation on multiple fronts after emerging from bankruptcy in 2014.
During the talk, Kramer asked Tomlin about her transition from coming to fame with "Laugh-In" to serious film roles like "Nashville."
"I never really saw any difference between comedy and drama," Tomlin said.
Kramer's conversation with Tomlin was at times drowned out by chants from protesters outside the perimeter of the private event who carried signs such as "Tax The Rich," "Education Not Gentrification" and "Gentrification Is The New Colonialism."
Mary Wilson of The Supremes, former Detroit Tiger right fielder and Baseball Hall of Fame member Al Kaline, Quicken Loans Chairman Dan Gilbert and Detroit Institute of Arts Director Salvador Salort-Pons were among the dignitaries Benzinga spotted at the reception. It was held at the Michigan Central Depot, a century-old, 625,382-square-foot Beaux-Arts train station that last operated in 1988.
Related Links:
What A Boost In Minimum Wage Would Mean For 1 Out Of Every 12 Private-Sector Workers
Main image: Actresses and activists Lily Tomlin, left, and Jane Fonda speak at Wayne State University in Detroit on Thursday, Sept. 14. Photo by Dustin Blitchok
Posted-In: Detroit Homecoming Grace And Frankie Jane Fonda Lily TomlinPolitics Restaurants Economics General Best of Benzinga
View Comments and Join the Discussion!