Ford Motor Buys Michigan Central Station: 'It's Time To Remake This Into A Place Of Possibility Again'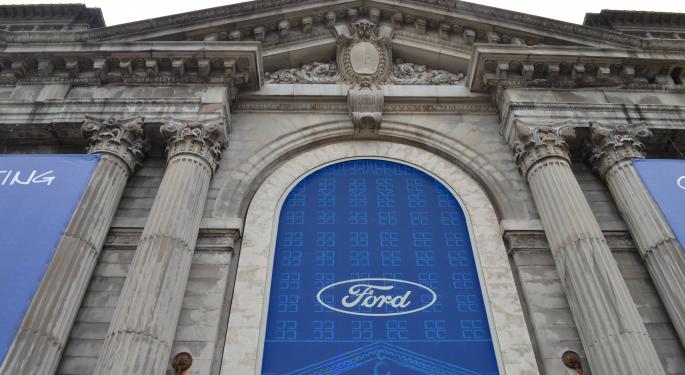 The stage is set for Detroit's Michigan Central Station — a massive architectural landmark that became a symbol of the city's struggles as it sat empty for decades — to return to its former glory as a hub of modern transportation.
In a community celebration including Detroit native Big Sean, Detroit Mayor Mike Duggan, and Michigan Gov. Rick Snyder, Ford Motor Company (NYSE: F) announced Tuesday that it intended to renovate the 18-story building to serve as the center of operation for Auto 2.0 ventures, including mobility and innovation around battery-electric and self-driving cars.
"We're making a big bet on our future," Ford Executive Chairman Bill Ford said. "What Highland Park, Willow Run and The Rouge were to the American economy of the 20th century, we hope Corktown will be to the American economy in the 21st century."
When the project is completed around 2022, Corktown will host all of Ford's mobility teams — about 2,500 Ford jobs — and Michigan Central Station will host a community of entrepreneurs and startups.
The final building will not just be Ford office space, but open to the public.
"We want help from everybody," Ford said. "We want the best startups, the brightest talent, and the kind of thinkers and engineers and problems solvers that see things differently to come and partner with us here in Detroit."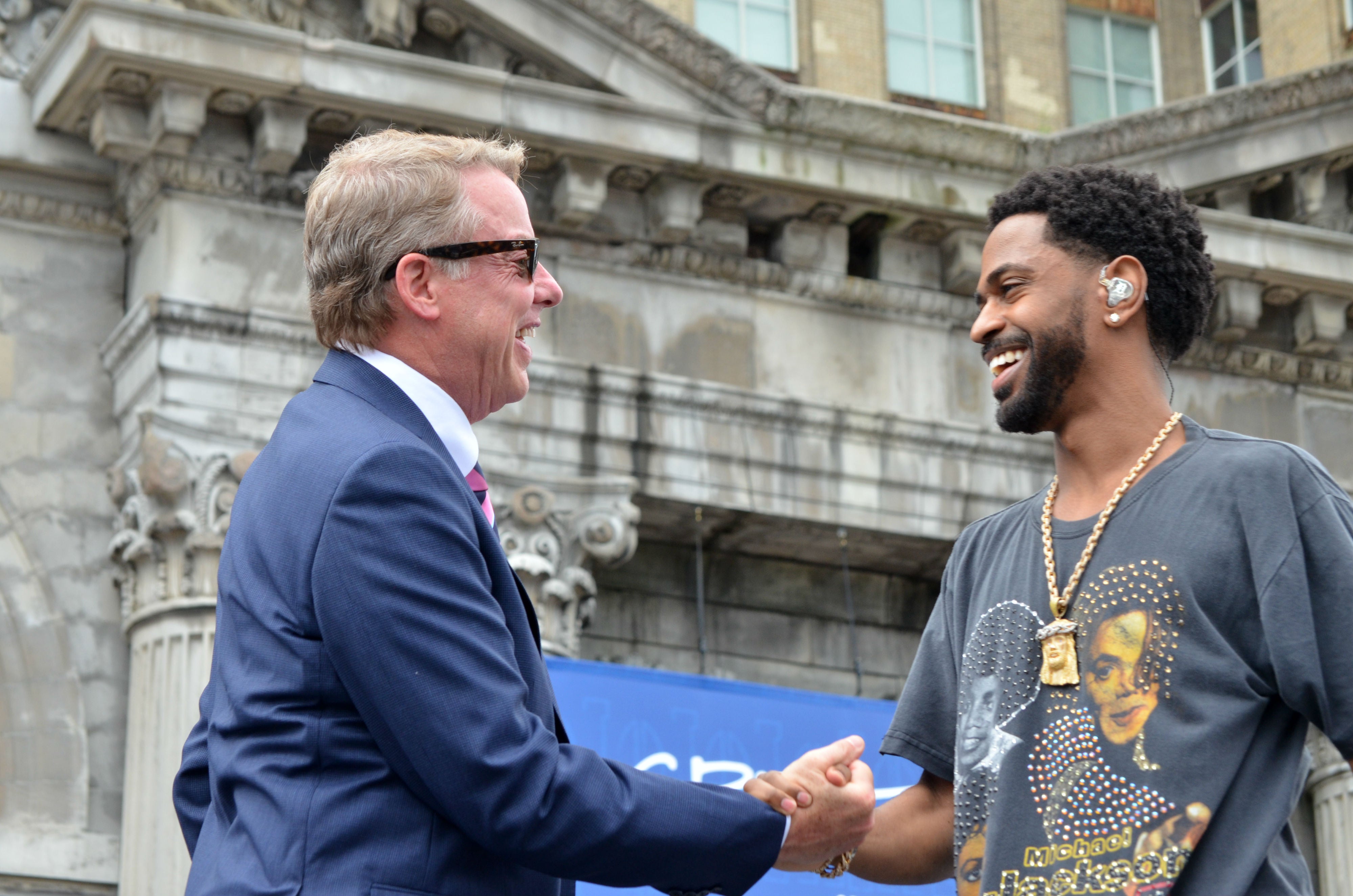 Ford Executive Chairman Bill Ford Jr. shakes hands with rapper and Detroit native Big Sean at the automaker's announcement of its purchase of Detroit's Michigan Central station on Tuesday, June 19. Photo by Dustin Blitchok.
Ford plans to renovate the Grand Hall to "make it majestic again," to stock the lobby with local shops and restaurants, and to develop modern workspace in the station's tower.
"This will be the kind of campus where the emerging economy will thrive," Ford CEO Jim Hackett said.
"As parts of Detroit hollowed out, so did this station. It became a symbol of the city's hard times," Bill Ford. Jr. said "It's time to remake this station…into a place of possibility again."
Why The Station Makes Sense
Bill Ford Jr. said the reinvention of Michigan Central Station is representative of the reinvention of mobility — and Ford's reinvented place in the space.
"This company was born of disruption, and we're all looking at innovation in a different way," Ford said.
Ford confirmed last week that it had bought the 600,000-square-foot station, plus a nearby book depository building, from Detroit's Moroun family to continue transforming Corktown, a neighborhood that welcomed about 220 of Ford's next-gen auto team in The Factory in May.
Detroit's iconic train depot that has long stood vacant and dilapidated since its decommissioning in 1988.
"The next steward of the building is the right one for its future," Matthew Moroun told Crain's Detroit Business. "The depot will become a shiny symbol of Detroit's progress and its success."
Gov. Snyder put the purchase alongside Ford's historic institution of a $5 minimum wage and renovation of The Rouge. This particular Ford investment, he said, positions the company to emerge as a leader in the burgeoning mobility space.
Hackett sees things similarly.
"What Rouge was in the Industrial Age, Corktown will be for Ford in the Information Age," Hackett said. "[…] It helps us fast-track our transformation."
A view toward the train platforms inside Detroit's Michigan Central Station. The last train left the depot Jan. 5, 1988.
What The Station Does For The Stock
The balance sheet's been buffered for the purchase. Bill Ford Jr. told the Detroit Free Press that the company's been pocketing money for five-year rebuilding projects, and the station purchase was "well within that budget." Management is also receiving incentives for restoration.
He added that the company required new office space ahead of the purchase, and the decision to buy Michigan Central Station proved more economical than constructing new facilities.
And he expects the property to pay off over time.
"First of all, it's really a great branding exercise," Ford said in the Freep interview. "Secondly, it becomes a talent magnet for inventing the future. And I'm not sure it does anything for the stock price immediately, [but] over time, I believe absolutely it will."
Hackett confirmed at the Tuesday event that part of the decision behind the Corktown investment was the neighborhood's appeal to good, fresh labor.
Notably, any transitions to the Detroit facilities are seen not to disrupt Ford the firm's Dearborn operations, Hackett confirmed.
Related Links:
Ford's 'Fortress' Balance Sheet, Accelerated Targets Win Over Jefferies
50 Years After Detroit's Rebellion, Business Leaders Talk Race And Lessons Learned
Posted-In: Bill Ford Jr. Dearborn Detroit Jim Hackett Michigan Central StationNews Top Stories Best of Benzinga
View Comments and Join the Discussion!