Detroit's Tallest Building Breaks Ground: 'This Is Going To Be A Site Of Our Recovery'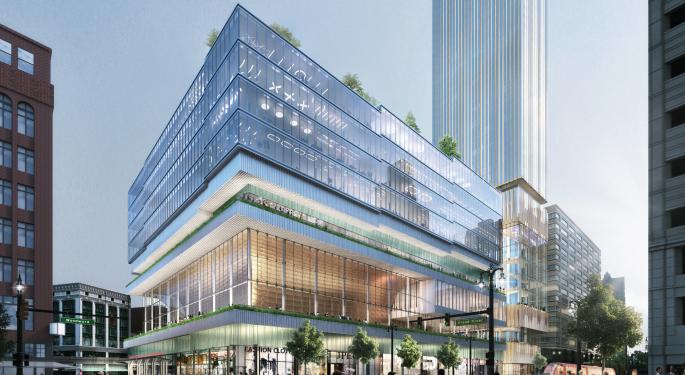 A groundbreaking was held Thursday for a $1-billion, 800-foot development on the onetime site of the Hudson's department store in downtown Detroit that will be the city's tallest structure once completed.
The 1.1-million-square-foot development by Dan Gilbert's Bedrock real estate company — with a 58-story residential tower, second 12-story building and the city's first proper observation deck — would have been unthinkable during the long decline leading to Detroit's $18-billion bankruptcy filing in 2013.
"This city does have beautiful buildings, but they're mostly from a long time ago," said Gilbert, the founder and chairman of Quicken Loans.
The residential, retail and office project is slated to include a market, exhibition space and 330-450 residential units, according to Bedrock.
The project is one of four by Gilbert set to receive a portion of $250 million in subsidies signed into law by Gov. Rick Snyder and approved by the Detroit City Council in November that will be paid for with captured income and sales taxes.
The Hudson's site project is unnamed as of now, and its moniker could depend on building tenants and other factors that aren't yet finalized, Gilbert said.
Crain's Detroit Business reported last month that the project is expected to be completed in 2022.
No Word From Amazon — Yet
Gilbert controls about 100 properties in the city, including many of downtown's most iconic buildings, and his family of companies employ 17,000 people in Detroit.
Detroit is at the center of the automotive, fintech, startup and banking sectors and operates at the intersection of "muscle and brains," Gilbert said.
Despite the hard times in Detroit since Hudson's heyday, Gilbert said some themes in the city are timeless.
"What hasn't changed is that there was a soul and a grit back then and everyone was swinging together."
Gilbert also told the audience at Thursday's groundbreaking that Detroit has yet to receive a response from Amazon.com, Inc. (NASDAQ: AMZN) on its bid for the retailer's HQ2.
"I'll let you know when we do," he said.
Quicken Loans Chairman Dan Gilbert at the groundbreaking of a $1 billion mixed-use development in downtown Detroit on Thursday, Dec. 14. Photo by Dustin Blitchok.
Retail History
Mayor Mike Duggan said he visited the Hudson's store on Christmas Eve 1982, just before it closed. An ornament purchased that day still hangs on Duggan's Christmas tree.
The flagship downtown department store, once the tallest of its kind in the world, closed in 1983 and was imploded in 1998. Since then, the site has sat empty over a subterranean city parking garage.
"Instead of being a site of our decline, this is going to be a site of our recovery," Duggan said.
Through a series of mergers and acquisitions, existing former Hudson's stores were first rebranded as Marshall Field's and then became part of the Macy's Inc (NYSE: M) chain.
Joseph Hudson, the grand-nephew of Hudson's founder J.L. Hudson, became president of the now-defunct company in 1961. He attended Thursday's groundbreaking.
Hudson suggested to developer Gilbert that a recipe from the department store's restaurant that remains beloved in Michigan, the Maurice salad, be resurrected in some form at the new development.
"This has been a success in the past and it will be again in the future," Hudson said of the property.
Related Links:
JPMorgan Chase's $150 Million Detroit Investment: Repair, Revitalize, Reinvest
With The Launch Of The QLine, Detroit Has Its First Streetcar In 60 Years: 'It Validates The City'
View Comments and Join the Discussion!
Posted-In: Bedrock Dan Gilbert Detroit Hudson's J.L. Hudson Marshall FieldsNews Real Estate Best of Benzinga